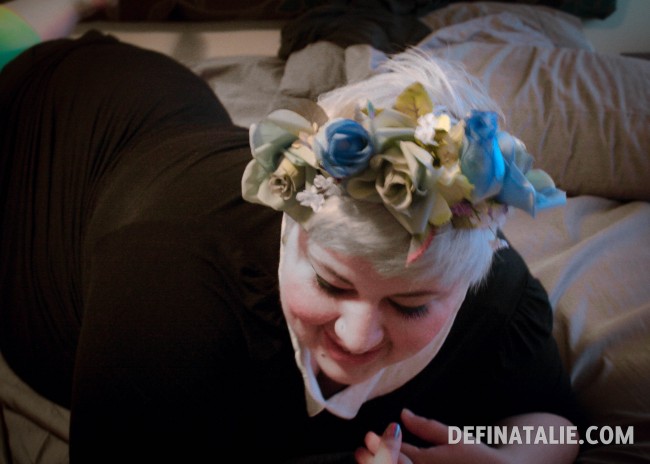 If you've signed up for the Fancy Lady Industries mailing list you probably already know that the patches and flower crowns are up on my shop, but I hadn't posted about it on my blog because my left shoulder decided it would like very much to cause me bogloads of pain. At least today I'm feeling a bit better, and I could sew my own patch on to my jacket to show you just one way to wear it!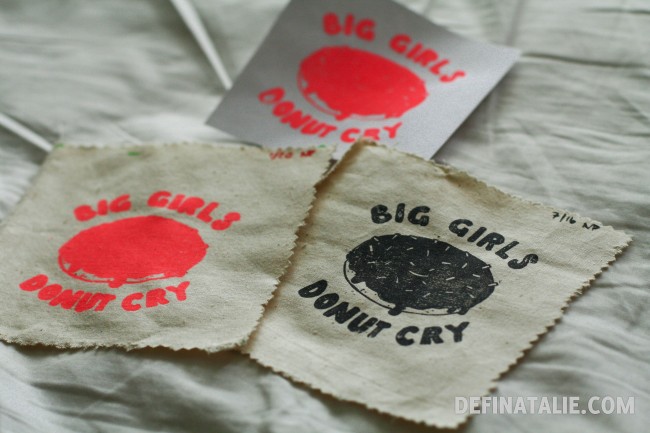 I went through a terrible emotional/ financial journey to bring you these patches. At first I was just going to use some fabric pens I'd bought, but lots of people said they liked the donut design so I figured it'd be kinder on my hand to use my Gocco to print a limited run of patches. Sixteen bulbs and eight screens later, I finally had a properly burnt screen! This will probably be the last thing I ever print using the Gocco simply because the cost of supplies has spiraled out of control. There's another machine called the Yudu that looks fantastic, but sadly it has been discontinued too. WHAT'S THE DEAL?!
When we move I will endeavor to learn proper screen printing so I can continue making stuff like this and t-shirts too! However! In order to move on to bigger and better things, I need capital to invest back in to Fancy Lady Industries so if you want to support me and see me create even more awesome stuff, go on and buy something from the shop! :D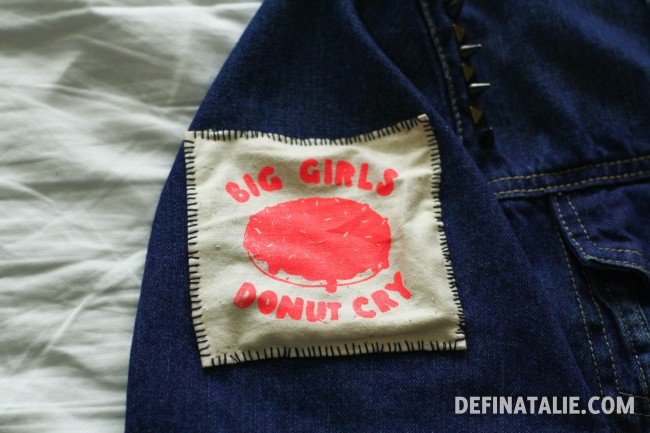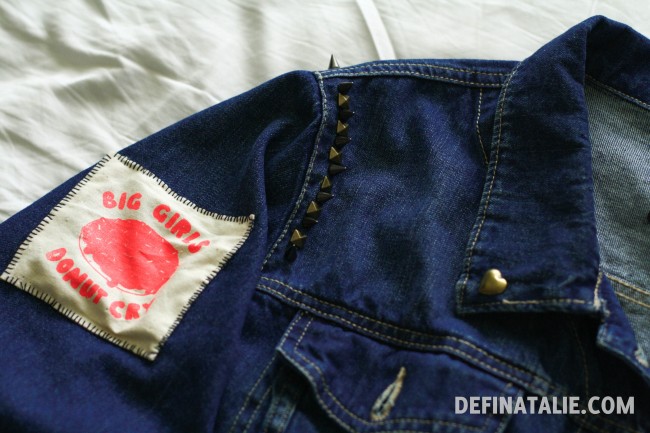 I wanted to have a go at putting my patch on my jacket because I haven't sewn on a patch in years. When I was a Brownie we had these pillows that we were meant to sew our collection of badges on to but I ended up using PVA glue to attach them all because I couldn't be bothered sewing them on. If you want to glue your patch on, make sure you fold back the raw edges behind the patch and iron them so you don't have thread coming off all the time. On the other hand, you might like the raw edge look! It's up to you of course.
For my patch I had to figure out how to blanket stitch again. I know there is probably a better stitch to use, but I like blanket stitch! It was a bit awkward sewing the patch on the sleeve, and I didn't end up with a completely flat patch, but I'm okay with it. I recommend using lots of pins to position the patch, then baste around the whole thing so it doesn't shift as you blanket stitch. Had I basted first, I probably would have had a much flatter result! (Here's a clear "two step" blanket stitch tutorial.)
If you'd rather have someone else attach your patch, embroidery places should only charge a few dollars to run around it and it will look spiffy and profesh.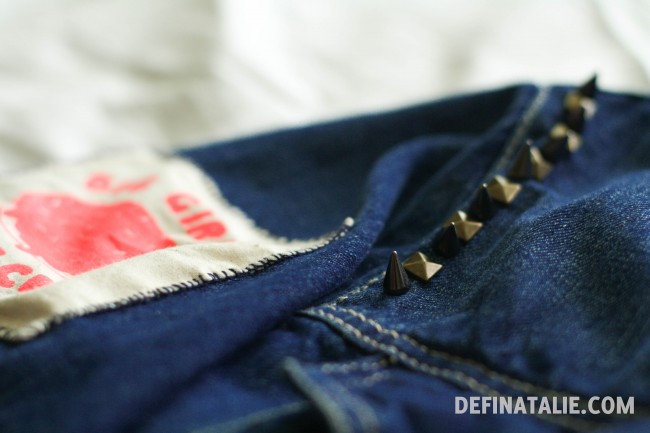 I also added spikes and studs over each shoulder, and a heart shaped stud on each collar point; I really like the idea of turning this jacket into a living garment, one that is adapted over time to reflect my life. It's sort of like a quilt except… badass.
To buy flower crowns, patches, fat and vain necklaces and no diet talk badges waddle over to