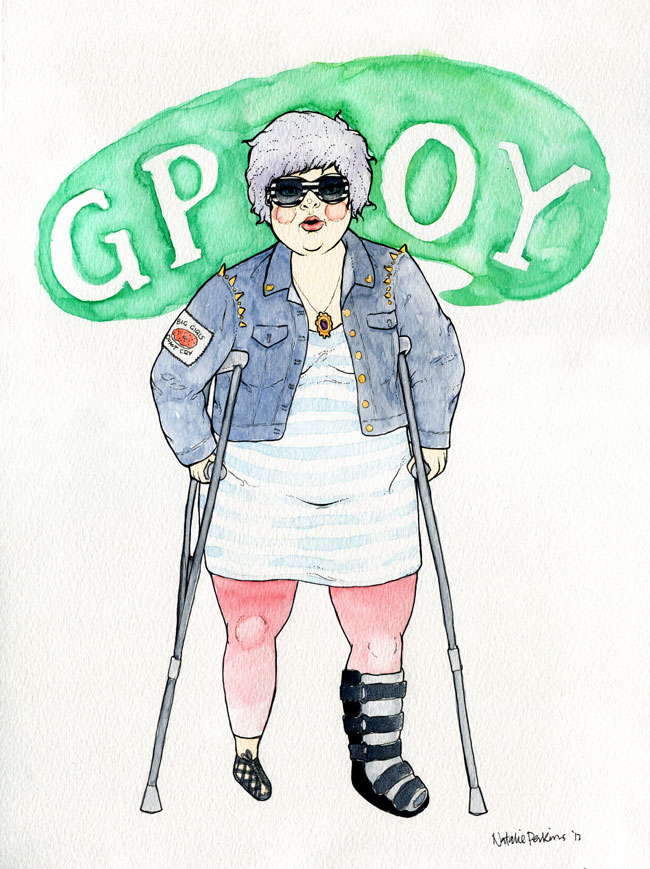 So, two weeks ago Nick and I were set to head down to Coffs Harbour for a few nights after scoring a deal on Wotif for $32 a night accommodation. I was looking forward to the break and I'd even written out an itinerary of things to do and see while we were in the area. Our hotel was next to the Big Banana! But the bed was foam and once you sat down on it you could never escape! And there was a dolphin and seal park where you could get kisses! As well as a tiny model Dutch village! A butterfly house! A carob factory! So! Many! Things!
On our first full day we decided to drive to Armidale to hang out with a super awesome pal, and I had planned on scouring local op shops for magical rural deals on furniture and whatnot. Unfortunately I happened to break my ankle while strolling through one of Armidale's gorgeous parklands, just moments after giggling at a dog bathing in a fountain, and ended up falling into a soft bed of grass and fallen magenta leaves. I was helped up by Sonia and Nick, feeling a bit of a pain in my ankle and a lot of pain when I took a step, but we carried on and swung on swings and looked for deer at UNE.
The pain got a bit much for me and we left to drive back to Coffs, with Nick threatening to take me to the hospital emergency. On a toilet stop I totally planned to show him how good I was at walking and not wincing, but I couldn't take a step unassisted at all! Nick made good on his hospital threat, and well, it was a good idea because I actually broke my ankle. My first ever broken bone!
We left Coffs Harbour the day after I broke my ankle. No dolphin kisses. No Big Banana. No butterflies. No shower because it was in a bath tub and I couldn't get in because I broke my bloody ankle walking in Armidale. Guh.
So I've spent a week at my Mum's, and I'm now back home. I've got a CAM boot as my statement accessory for the next couple of months, as well as a pair of hospital grey crutches. I'm glad I didn't get a plaster cast, but I'm still very grumpy at myself for ruining our nice holiday, not getting a dolphin kiss, and being unable to properly help when we move in a few weeks. Also, it hurts.
Fancy Lady Industries is closed until I can get fully mobile again, and that might be even after we move in early June! I'm planning on doing a print order, probably on a pre-order system, so if you've got requests do let me know!