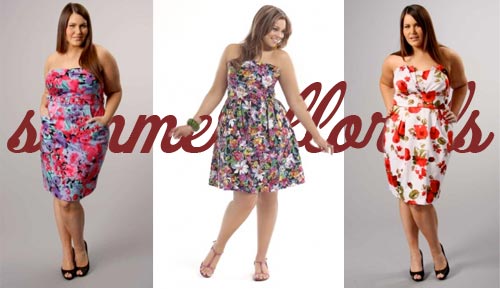 Left to right: City Chic Miami floral dress, Dream Diva floral sundress, City Chic rose garden dress.
I'm pretty excited about summer florals and can't wait to get my hands on some, but alas there isn't much in the budget right now for pretty frocks. Allow me to share some of my favourite things with you, so that you may buy them all up leaving me with no option but to get on with my life!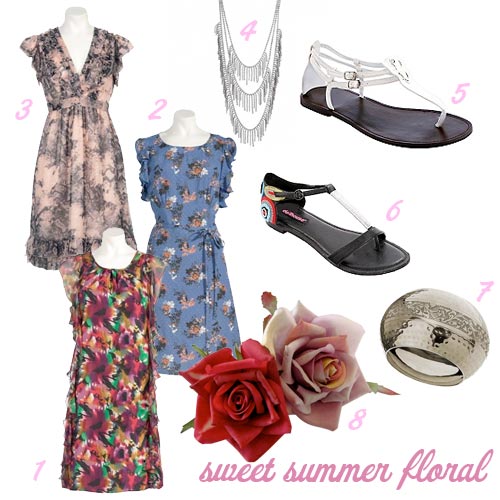 These dresses could be dressed up really sickeningly sweet, or paired with matte blacks or metals.
1. Next floral frill dress
2. Next blue print dress
3. Next print ruffle dress
4. Evans 3 Row Rhinestone Necklace
5. Ivory Jane Gladiator Thong Sandal
6. Dollhouse Black Abiba Thong Sandal from Torrid
7. Evans Mega Engraved Beaten Bangle
8. Elastic Wasteland hair clip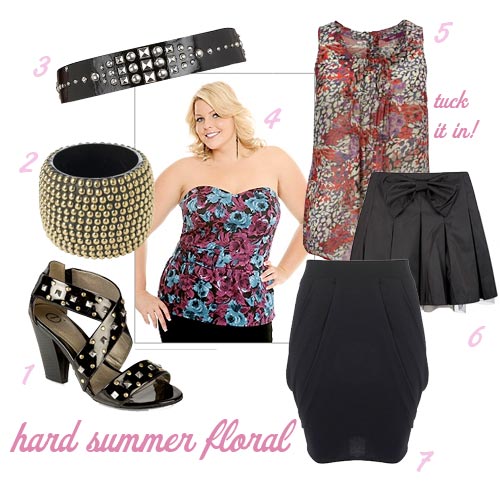 Hardening a floral up even more, for night or office wear (I would totally do this if I had a conventional office job!) is just a matter of tucking your blouse into a skirt and adding studded accessories.
1. Evans Black Crossover Sandals
2. New Look Studded Bangle
3. Evans Black Studded Waisted Belt
4. Torrid Teal and Plum Rose Tube Top
5. New Look blouse (no longer in stock, boo!)
6. Evans Black Bow Skirt
7. Evans Black Jersey Drape Skirt
I'm on the lookout for floral leggings too! So far the only properly plus size floral tights I've found are from Zaftique, but Etsy shop iheartnorwegianwood have the sort I desperately want and may actually do a custom pair for plus sizes. Fingers crossed the AUD leapfrogs the USD soon so they are a tad more accessible!