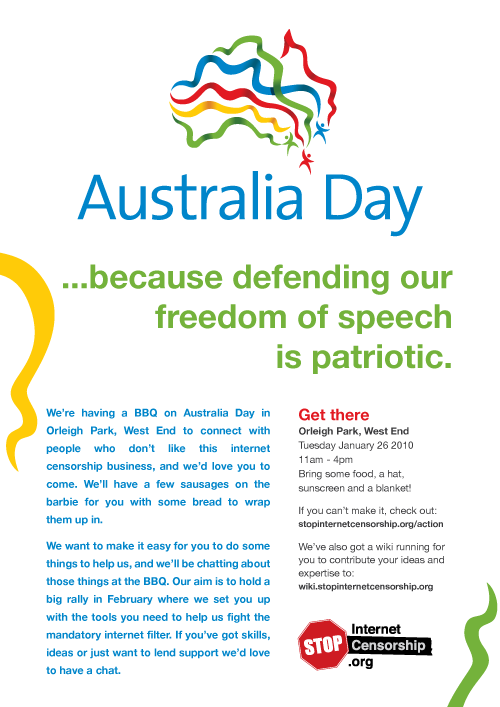 Yep, the government is still planning to install mandatory internet censorship and I'm still flaming angry about it. Nick and I are part of StopInternetCensorship.org and we're having a BBQ in Orleigh Park on Australia Day to chat with supporters and other likely chaps about our campaign against the internet filter.
If you can't make it on Tuesday, there is a handy dandy ACTION page with some things you can do to make your opposition to the internet filter felt by the government. There's also a Stop Internet Censorship wiki where you can contribute your ideas and discuss ways of protesting.
As part of my own personal protest against mandatory internet filtering I will be taking part in The Great Australian Internet Blackout. This means that from January 25-29 this blog, and all the other sites I run, will be going black to demonstrate against Australian internet censorship. My sites will be available – to browse as usual you'll just need to close the blackout box. I hope this doesn't cause too much inconvenience but I wanted to contribute, as a website owner and blogger, to a cause that is close to my heart. If you run a website or a blog and want to demonstrate against the mandatory internet filter, here are instructions on how to black your site out. I hope you do participate, because it means vastly increased visibility and the chance of informing people who perhaps aren't as internetty as you!
The blacklist will contain material that isn't even illegal, and you can bet it will also contain content that the government wants to suppress (e.g: political dissent!) Internet censorship affects me as a web content producer, and you as a web content consumer; moreover, it affects us as Australians and constituents with a right to a transparent government.