The Chilli 'n Spicy Hut at Burleigh is the first excursion on my Malaysia Kitchen Australia tour. I can see that it'll be a catalyst for exploration of the Gold Coast's restaurants, which is pretty important because getting to know a city's foodie offerings makes you feel that much more settled!
So I took Nick and Sheila (my mother-in-law) out to dinner last night to kick off my Malaysia Kitchen Blogger Ambassador stint. We chose The Chilli 'n Spicy Hut on the recommendation of the nice people at Malaysia Kitchen Australia because it's located pretty close to where we now live and we found their menu online. I always like a restaurant that has their menu up somewhere, especially because I'm vegetarian and there's nothing worse than going out for dinner and finding nothing on the menu to eat!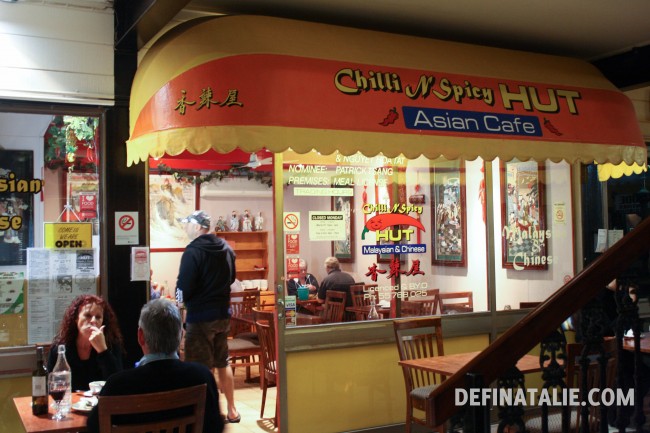 Chilli 'n Spicy Hut is located in the Old Burleigh Theatre Arcade, a great old building full of retailers. The restaurant is just inside the arcade marked by a cheerful yellow and orange awning. It's a very small restaurant with inside and outside tables, and because the restaurant is inside the arcade it wasn't too cold for outdoor diners. There were lots of cheeky chillis strung up inside the restaurant intimidating me because while a little spice is nice, too much makes me cry!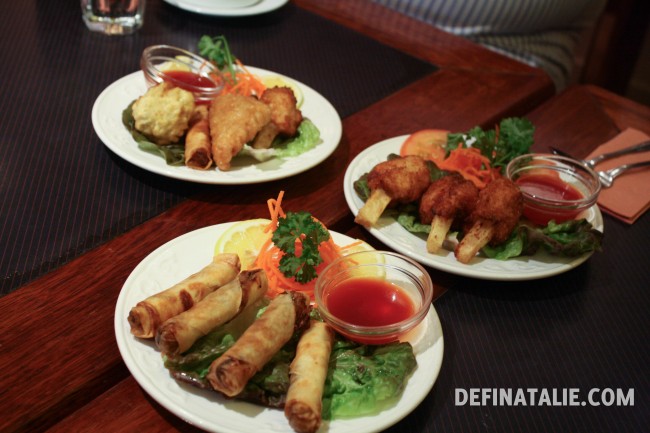 We arrived early and were among the first diners of the night ensuring that our drinks and entrees were served efficiently. The vegetable spring rolls were the only vegetarian entree option, but they were delicious and crunchy with a fresh vegie filling. Sheila had the sugar cane prawns and Nick had the mixed entree, both raved about the sugar cane prawn! None of us had ever seen the dish before so we were all curious about it; the cane sticks out of the batter much like a prawn tail and apparently gave the prawn a subtle sweet flavour.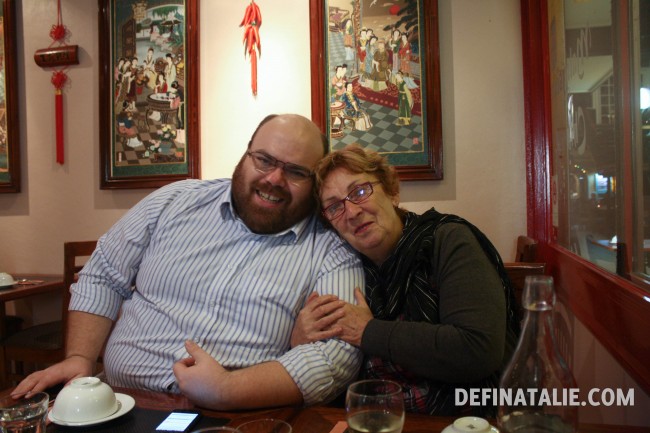 After entrees we chatted and warmed up with our wine. See how cute Nick and Sheila are?! They are super rad. We're living with Sheila now and are getting on famously; it's so nice to listen to stories about Nick as a kid!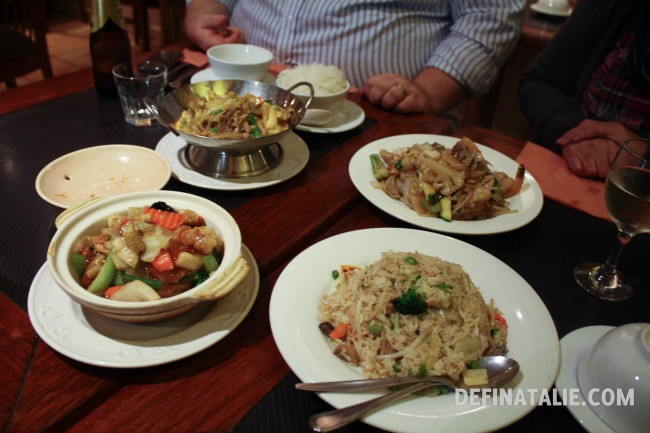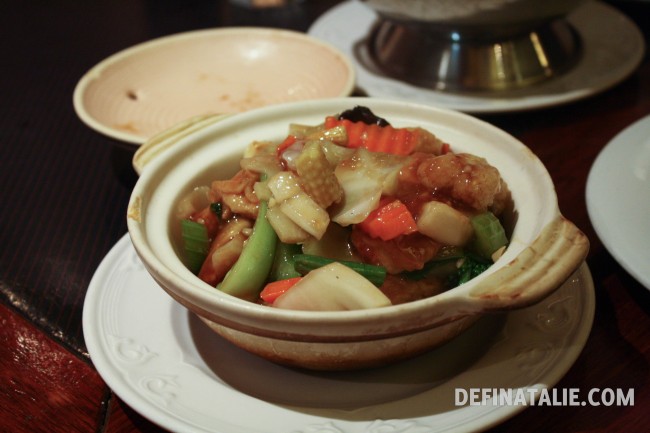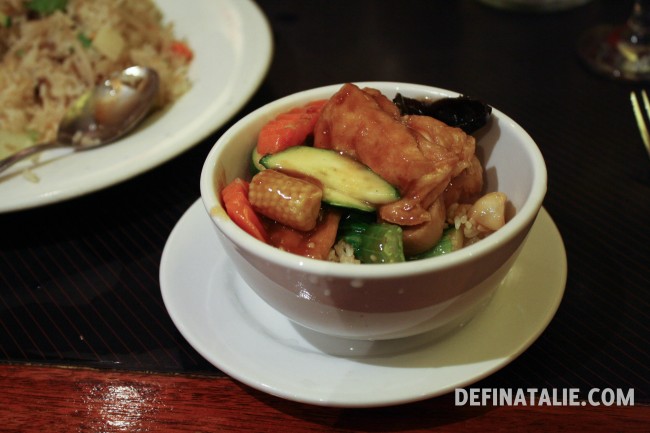 I asked the staff member attending us if she could recommend the vegetarian dish that she liked best and she chose the mixed vegetable with bean curd hot pot. It was one of the only vegie dishes without an ominous chilli symbol beside it and even though I would have given the others a go, I went with her recommendation. I also got the vegetable fried rice and Sheila couldn't stop raving about it! My hot pot was really warming and full of vegetables. The bean curd tasted beautiful but the sauce was very mild. I think it was more of a Chinese dish rather than Malaysian, so I was a bit disappointed there but it was still delicious.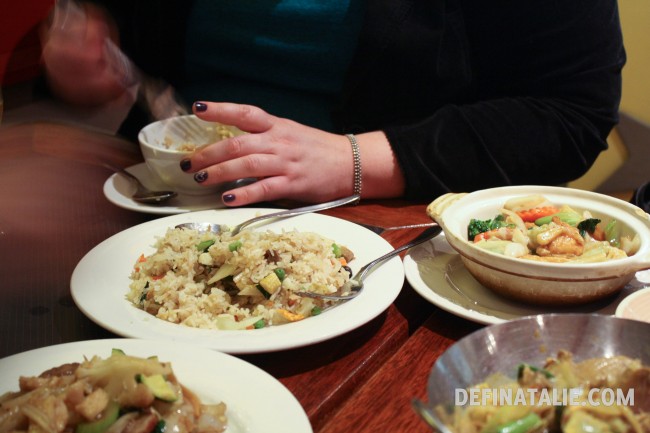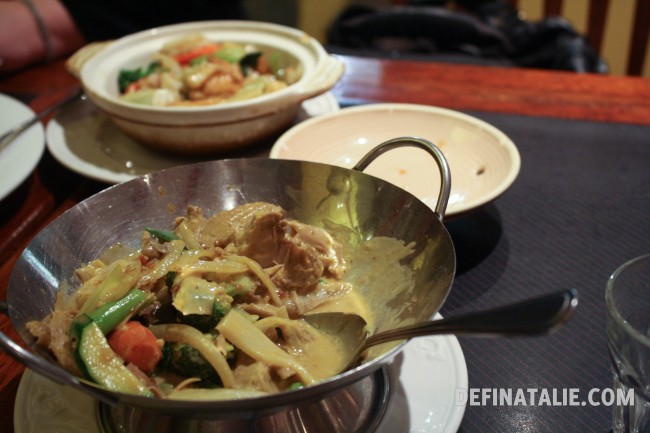 I had a spoon of Nick's curry duck sauce and it was spicy but really delicious with lots of different spice flavours rather than just being hot. I wished I could have a curry bean curd like Nick's! Maybe next time we go back I'll ask if they can do that for me.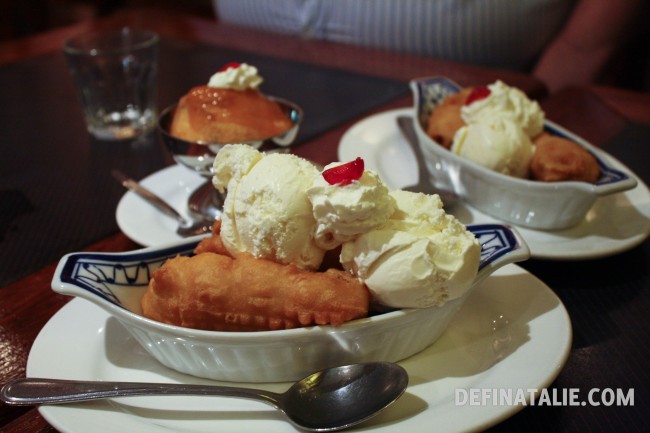 The dessert menu was full of fried delights, not something I usually go for but I figured since I'm doing this ambassador thing I have to go the whole distance. It's my duty as a Malaysia Kitchen Blogger Ambassador! I was glad to see a pineapple fritter on the menu as I've never liked banana, and when our desserts were brought out Sheila and I couldn't believe the task ahead of us. There was so much fritter and ice cream! My pineapple was freshly cut into huge chunks and the batter was nice and crispy. I gave Nick most of my ice cream though, he didn't complain!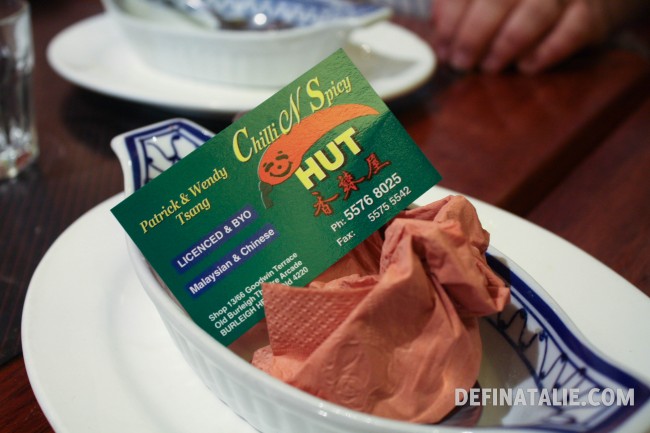 With food in our happy bellies (and the leftovers in gratefully accepted containers!) we left the Chilli 'n Spicy Hut just as it hit peak busy time. The restaurant had a few loyal local diners very friendly with the staff, and it seems like just the place to hang out if you need a big warming meal after a windy day on the beach, which is just opposite the arcade. (What a life, I love the Gold Coast.)
While I left wishing I'd had something a little more traditionally Malaysian, I know I'm now a local and can always come back and try new things!
Chilli 'n Spicy Hut
Shop 13 Old Burleigh Theatre Arcade
66 Goodwin Terrace 4220
Ph – (07) 5576 8025
I dined at Chilli 'n Spicy Hut as a guest of Malaysia Kitchen Australia as a Blogger Ambassador. This is my first review out of four planned reviews over the next four months.