My favourite perfume for the last five or so years has been Burberry Touch and I've always been faithful to it because it suits me so well. I've had a little bit of difficulty finding it at times and it scares me that it might one day be discontinued, so more recently I've been looking into indie perfumers and more unusual scents.
Zoe tweeted about buying samples from The Morbid The Merrier and naturally I took a peek at the etsy store. I was immediately seduced by the sideshowesque packaging, and after taking a look at descriptions of the perfumes available I decided to order some samples.
I received a beautifully packaged bundle of samples and some sweets. The sherberts remind me of being a kid, what a lovely bribe! Here's my thoughts on the samples.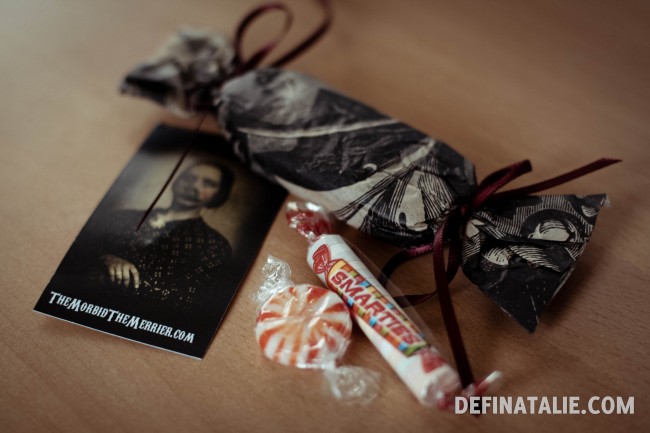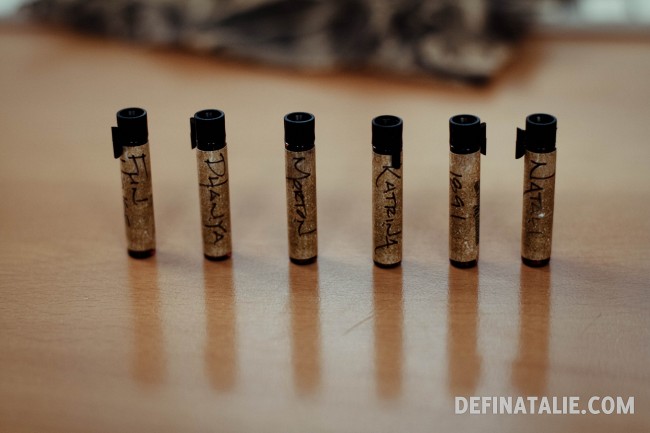 Funhouse – Fresh milk spun with black amber, ripe berries, and bright, wild sunflowers… hints of pepper and incense barely concealed underneath.
When I sniffed this in the bottle I thought it too sickly, but on my skin it's really not sweet at all. The berries hit my nose immediately but it seemed like there was something more complex underneath. Maybe the milk or the pepper? I thought this would be my least favourite but actually, it's up there just outside my top three of this bunch.
Natali is a brooding yet comforting blend of sweet, spicy orange and dark, fragrant chocolate with a heart of vanilla and wood.

Directly out of the tin it smells exactly like a Terry's Chocolate Orange. After a few minutes, however, the scent begins to mellow and change into something extraordinary. A little incense, a little tobacco, a little mystery.
I've never had a Terry's Chocolate Orange (even though I've always wanted one!) so to me this smelt like jaffas or chico babies. I was instantly hooked and kept sniffing myself. Surprisingly it's not a cheep and cheerful chocolate scent (say for instance, Cadbury, har har) and the spice and woodiness lasted for a long time after the initial heady cocoa hit drifted away. One of my favourites, I'd wear it to cheer myself up.
"1891 perfume oil is all man. Masculine, earthy, with just the right amount of sweet thrown in for balance. Notes of amber and rum surface first, followed by spicy clove, smoky wood and moss. A classic, powerful scent. "
I'm not a perfume expert so here's what I wrote in my initial notes when I put this sample on my skin. "Woody? Leather? Smells like escaping into the past, into a forest." A little flowery (my description, not the scent!) but this perfume really affected me. I put this on in the morning and it lasted well into the afternoon on me. I would use even though it's supposed to be masculine.
Dhanya – orange blossom, blackened amber, blood orange, whiskey, and a most decadent Indian white amber.
I have a pretty strong aversion to sweet perfumes and from the description I didn't suspect this one would be. I chose it because I had no idea what amber might smell like but my initial reaction to this was all about orange! Some people may love this scent but on me it was too sweet and overpowering.
Katrina – A trio of white flowers, smoky almond, and spiced pumpkin. Sweet, but somehow really earthy, especially on the dry-down.
Another sweet reaction on my skin, and much more flowery than I would ever wear. I gave Katrina a chance though, and was rewarded with pleasant veggie garden smells.
Morton – earl grey tea, creamy milk, patchouli, vetiver, dirt, wood. I will warn you – this is a dirty, morose blend. It's very beautiful, but heavy on the earth.
A very earthy perfume that appeals to me because it smells like gardening and tea, in fact it reminds me of my Nana and Papa's house when I was a child. I would wear this every day, I find it comforting.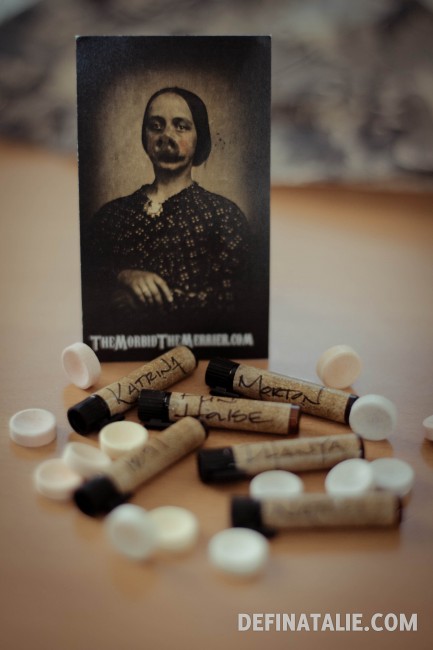 My favourites were Morton, Natali, 1891 and Funhouse and I will be buying the perfume oils as soon as I can afford them. I find it amusing that I liked Natali so much, because I only got the sample in a moment of conceited whimsy!
I'm so impressed with the standard and price of these perfumes. They're complex and interesting, with fabulous packaging. The talent behind this perfumery has impressed me so much, I urge you to check out The Morbid The Merrier and discover something curious and delightful for yourself.