After all the excitement of the last few weeks I'm a little behind on my Malaysia Kitchen exploration! We dined at Little Malaya, Coolangatta on Thursday night after doing some research on Malaysian restaurants on the Gold Coast with more than a few vegetarian options. Nick had enquired about vegetarian dishes at another restaurant but the person on the phone said we'd have to come in to have a look. This isn't good enough, there's no happiness in getting to a restaurant and finding you can't eat anything, so we continued our research. It's hard though when many places don't put their menus online, and I encourage restaurants to do this because I guarantee that I and most of the people I know look up menus online before deciding on where to eat. It's something that can make or break a booking!
Nick came across the menu for Little Malaya and found a whole page of vegie dishes so we set off for Coolie (look how local I am!) After a bit of difficulty finding the restaurant (it's just not actually on Marine Parade, and the street is unnamed on Google Maps) we were welcomed to a quiet restaurant with cool lighting along one wall. I opted to sit down the back in a dark corner but didn't realise it would hamper my photo taking!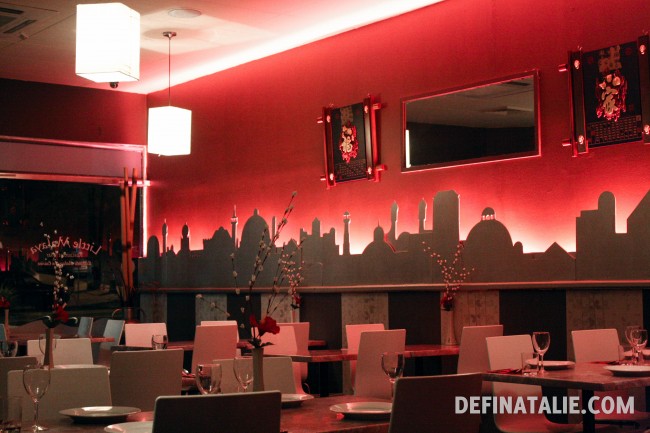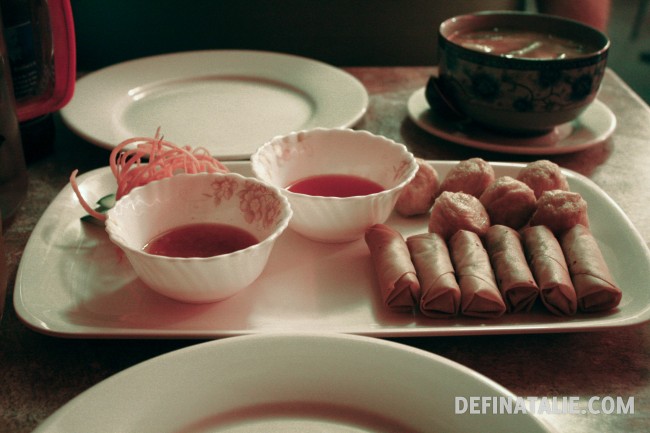 We opened the menus and found that they didn't match the website's offerings, with only a few vegetarian options presented. Eep! I decided to go for some vegetarian spring rolls and laksa, not especially adventurous but it seems that the vegie options I've come across on my Malaysia Kitchen outings have been pretty stock standard. I ought to have asked if they would do me up a special dish but I wasn't feeling too good and just went with one of my favourites! Laksa!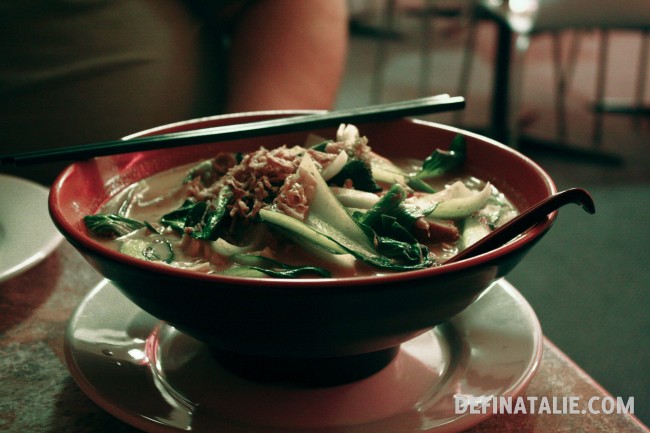 The laksa was HUGE! This is definitely a dish for sharing, or for eating if you're very hungry. The soup was delicious as were the fresh vegetables and silken tofu. I did chomp down on a few kaffir lime leaves accidentally and had a bit of a "WTF WAS THAT?" moment. While I've used them before, I've always taken them out before eating the dish! I managed to eat half of the laksa but had to take the rest home. It made for good eating the next day.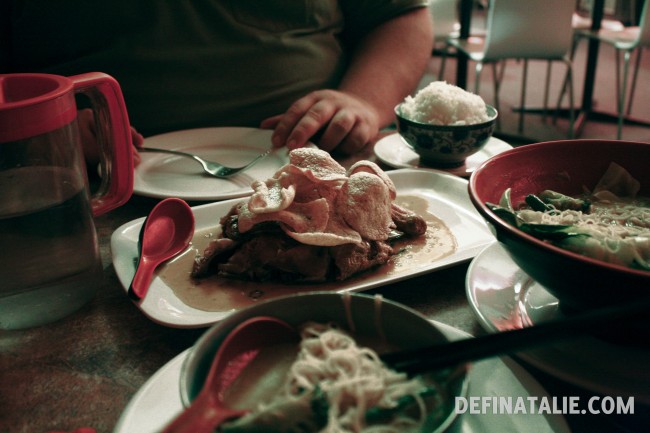 One of the wait staff came out after we'd ordered and encouraged Nick to try a special dish, so he got the crispy skin chicken because he'd never had it before. He was a little shocked to find most of the bird was on the plate and had trouble eating around the bones. The special sauce was apparently very good and he mopped it all up with his coconut rice!
Hi, here is me looking tired and full! On the way out the wait staffer noticed my Malaysia Kitchen eftpos card and so I told him about my blog. Hi if you're reading!
Little Malaya is quiet but has a nice ambiance, I especially liked the cityscape and light treatment on the wall. The vegetarian offerings are pretty standard but the meat dishes look to be more adventurous for those who have a western palate. Next time I get a laksa craving I'll know where to go on the Gold Coast!
Little Malaya
Shop 14-15 Beach House Plaza
52 Marine Parade, Coolangatta, Qld
Ph – (07) 5536 2690
I dined at Little Malaya as a guest of Malaysia Kitchen Australia as a Blogger Ambassador. This is my second review out of four planned reviews over the next few months.