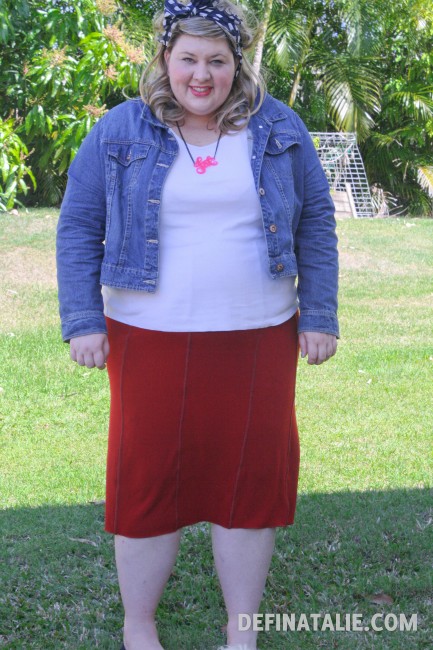 No, this isn't a photo from two years ago, and my hair hasn't magically grown… it's from Wednesday and I'm wearing hair extensions! Nick and I met up with Dr Lauren and Isaac from Griffith Uni to discuss our involvement in an exciting fat studies project, and as Nick took these photos we had Isaac taking photos of us and Lauren taking photos of him taking photos of us. It was all rather meta.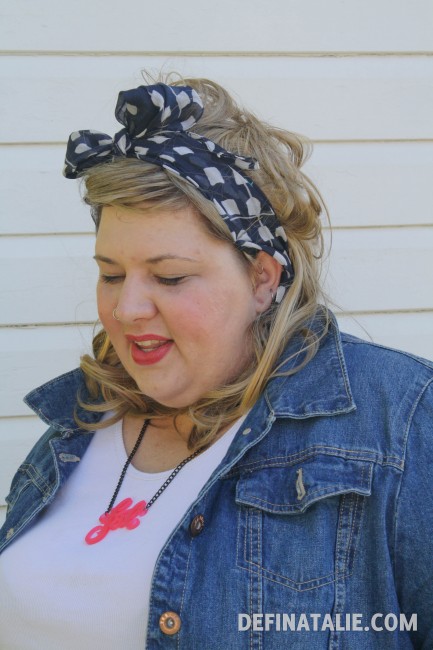 I've been having a hair crisis for the past few weeks and having dyed my almost white hair back to brown, I actually added blonde back into it because I received some Lady Jayne hair extensions in the mail to trial and review. The colour of the extensions didn't match my dark hair at all so I went in search of a streaking kit and enlisted Nick's help in my DIY hair salon. I'm not a huge fan of proper salons, as you might know, and mostly always play around with my hair at home. Fortunately I've had a streak of successes recently (instantrimshot.com) and was pleased that my home dye job was a pretty good match with the hair pieces I was sent.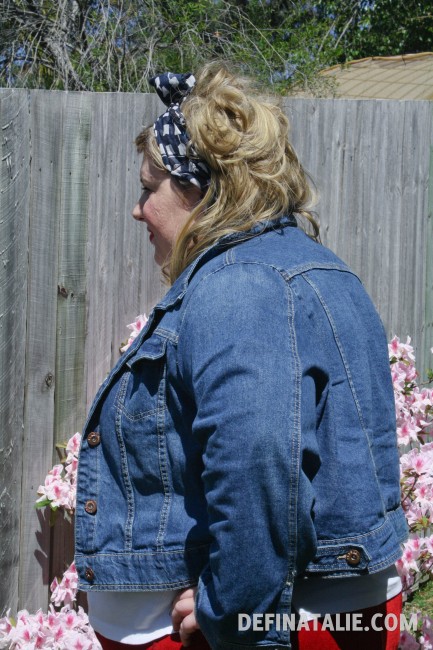 When I first clipped in the extensions I was pretty alarmed because my hair is so short at the back that they don't blend at all. I experimented with pinning a few sections up loosely and decided to go with it! I'm sure with a bit more time I could style them a bit more neatly, with a little back coming and strategic pinning, but I'm always a fan of messy hair. For a seamless result with clip in hair extensions, it's probably better to have more length in the back.
The Lady Jayne extensions are synthetic hair, and while they can't be dyed they can be heat styled up to 210˚C. I own a set of very expensive extensions that I could probably dye to match my current hair colour, but I'm loath to touch them for fear of ruining them! What I noticed about the difference between my set and these Lady Jayne hair extensions was that the latter seems to be a lot fuller and thicker, with clips all along the top and two at the bottom of base of the extension. I used two of the 30 cm hair extensions in golden blonde and they didn't move all morning, even though my hair is about 2″ long at the back and I didn't backcomb it before clipping the pieces in.
As I wear the extensions and figure out how to do different styles with them I'll post updates; I'm pretty excited to have longer hair again, even if my natural hair is a touch too short and I have to play around with the extensions so it doesn't look like I have the most ridiculous mullet ever.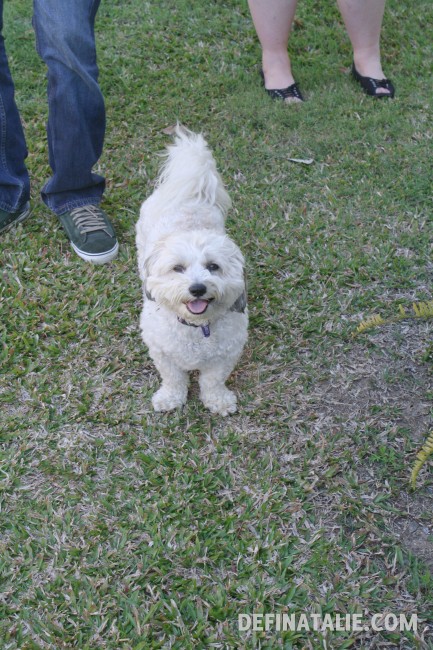 This has been an obligatory Miffy photo!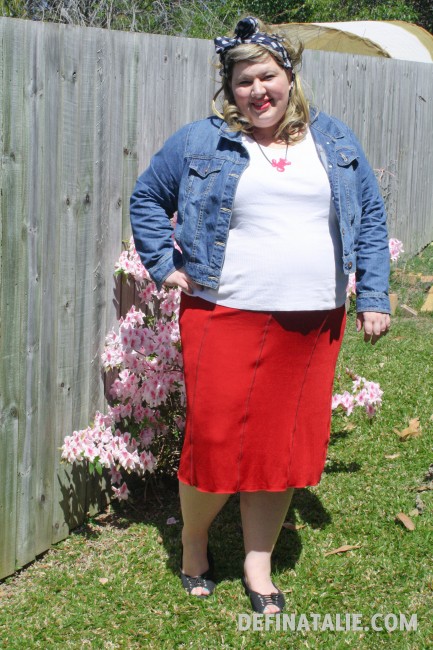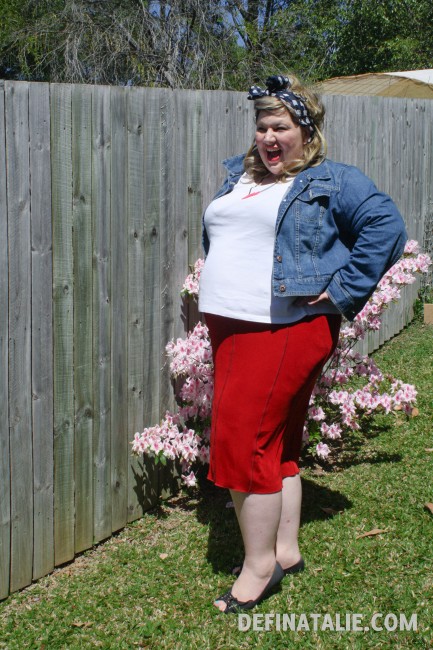 I bought this red skirt for $4 from a local op shop (or, thrift shop for overseas folks). I've written a list of all the op shops in our area and I'm going to be hitting them up over the next few weeks to decipher which ones are rubbish and which are worthy of revisiting. So far, the only one worth going back to is the one I bought this skirt from, Salvos at Palm Beach. They have three and a bit racks of plus size clothing, and while it's not all great it's good fun to look through.
The second photo up there is one I had Nick take especially for an awesome new Tumblr called Fat From the Side. It's all about showing fat bodies from, uh, the side because most outfit photos only show bloggers from the front and when many people see their own bodies from the side, or in other angles, they feel uncomfortable. So I'm going to make a concerted effort to include more angles of my outfits on here from now on! We have three dimensional bodies, dammit, and the front 180˚ isn't the whole picture.
Singlet: Sara
Jacket: New Look
Skirt: Salvos
Shoes: Evans
Necklace: Made by me
Scarf: Swap