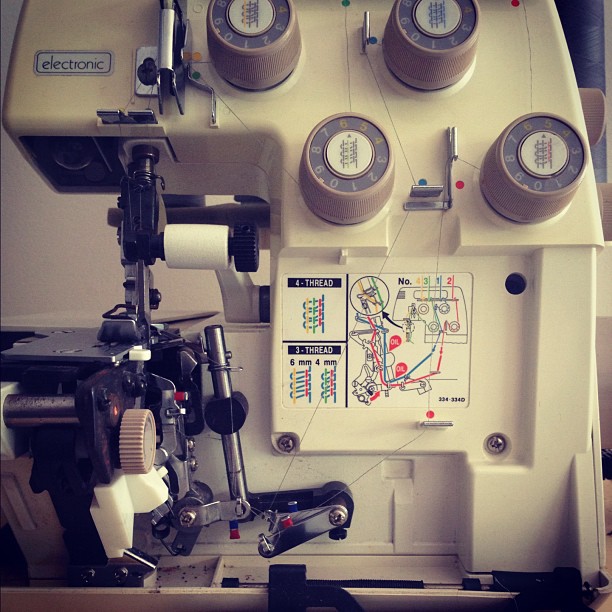 For interest's sake I want to list the costs of making some of my clothes. So take for example my recent black dress.
Fatina Plus pattern – USD$4
2m ponti (50% sale) – AUD$13
Cool so that's easily quantifiable and given a $ value. A $17 dress! Bargain! But there's also the matter of time and access to resources.
Resources:
Internet
Printer
Tracing paper
Sticky tape
Sewing machine
Sewing skills
Energy
Ability
Suitable fabric
Sundry sewing supplies
Time:
Print pattern and sticky tape it together – 30 minutes
Trace pattern and make sizing adjustments – 30 minutes
Dart to princess seam conversion, cap sleeves, side panel slash – 30 minutes
Cut pattern, pin to fabric, mark seam allowances, cut fabric – 30-60 minutes
Construction – 1-2 hours
Pressing – 30 minutes
Fitting – 30 minutes
Adjustments – 30 minutes
Battling with glitchy machine – 1 hr
Hems and finishing – 30-60 minutes
Final pressing – 30 minutes
I'm a pretty competent sewer and cut corners here and there, i.e.: I rarely baste things except when inserting a zip or gathering/ easing fabric. I have no idea how to assign a dollar value to my time but that dress took around 6 hours to make. Maybe more. I can't remember.
A less experienced sewer might spend double the time working on this dress, even more if they follow the often confusing instructions that come with patterns (and they all love telling you to baste ridiculous shit like darts.) Someone with restricted time and ability could be working on this dress for longer than a week. I didn't make a mock up of this dress (a muslin) but I have with more complex patterns. That's extra time and material!
It really chafes my bits when people are smart arses and suggest "oh sew your own clothes" to criticisms fat people have about the clothing they've got access to. It's not a skill everyone has, it's not an activity everyone has the time to do or the physical or mental ability to carry out without barriers.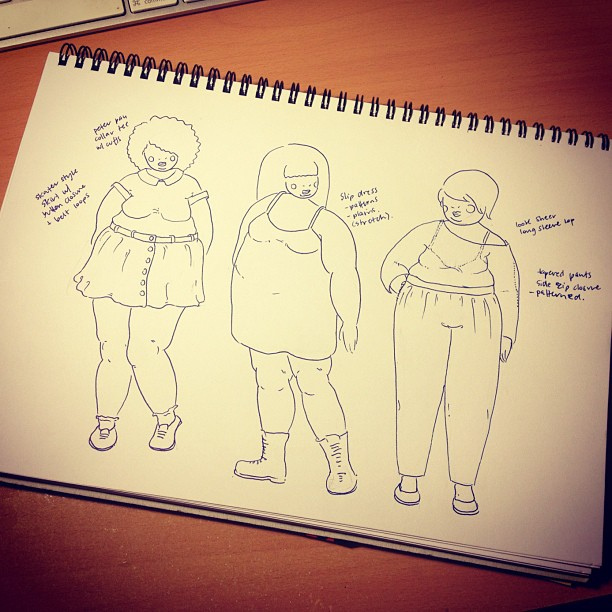 I am very privileged to have an interest in sewing that has been developed by attending a high school that taught me how to do it, and to have a family that has nurtured my sewing. My mother bought me my sewing machine, my Nana gave me her sewing cabinet, and recently my Granma gave me her sewing machine, overlocker, lots of fabric and another sewing cabinet! I am truly fortunate.
For many people though, they don't have access to the skills and resources I have access to. When it comes to clothing for fat people, it's slim pickings and many affordable clothes are produced overseas, sometimes in factories that have poor working conditions. Domestically produced garments, especially in Australia, are way too cost prohibitive for me. It's a situation fraught with the tension of guilt vs class with the added bonus of being too fat to get an actual choice.
Sewing is political. It's something I enjoy, and a skill I use to make the things I don't get an opportunity to purchase in stores. It's not especially cheap, especially when it comes down to time, but it can save cash money. I would never sew as a job because the honest truth is that most people can not or will not pay the true cost of a hand made garment, but then again… we've all got to wear clothes as per our unspoken agreement with society, so what are we to wear if we can't pay domestic designers and machinists? Criticising and shaming poor fat people for wearing cheap clothing produced in questionable (and often outright awful) working conditions is futile because there are few other options, and telling poor fat people the last resort is to sew their own clothes is flat out bullshit.