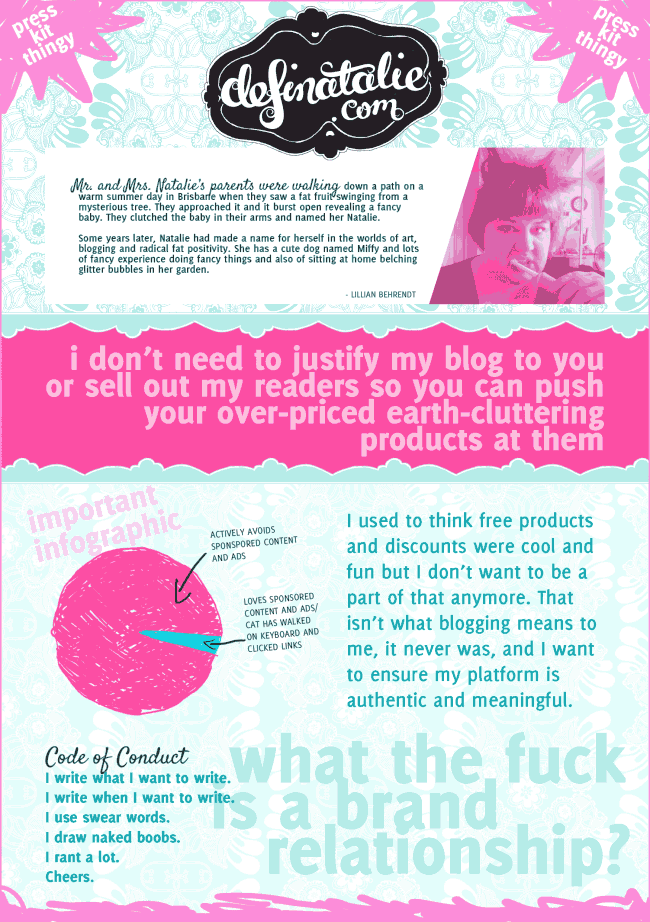 About a year ago I was designing a serious press kit. I was going to get advertising and sponsorship and I would have pretty things and shoes and it would have been SO GRAND. I never finished it because it didn't feel right and I'm glad I didn't go through with it. I know I would have lost the trust of plenty of you, and without you I'm just writing to myself.
It's worth mentioning that I do not have anything against bloggers with press kits who are in brand relationships and earn stuff off their blogs. It's just not something I feel good in my soul about.
My favourite part is the bio written by Lillian who is the most hilarious person ever.
Mr. and Mrs. Natalie's parents were walking down a path on a warm summer day in Brisbane when they saw a fat fruit swinging from a mysterious tree. They approached it and it burst open revealing a fancy baby. They clutched the baby in their arms and named her Natalie.

Some years later, Natalie had made a name for herself in the worlds of art, blogging and radical fat positivity. She has a cute dog named Miffy and lots of fancy experience doing fancy things and also of sitting at home belching glitter bubbles in her garden.
Have you entered the Fancy Lady Industries giveaway? There's still two days left! Get entering!
a Rafflecopter giveaway