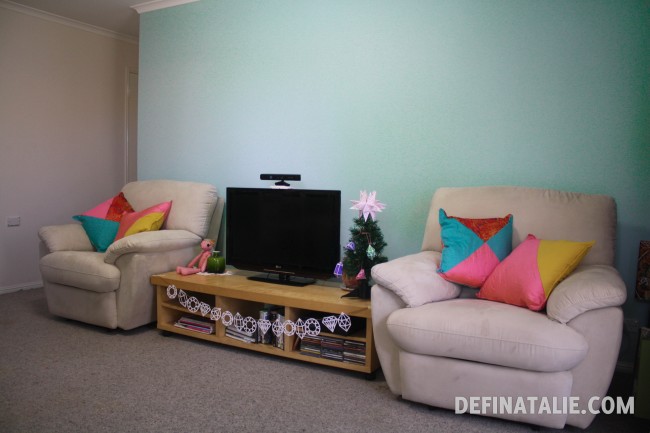 All the years I rented, not having much control over my space or the power to improve it even when it verged on unlivable, I thought buying my own home would be amazing. I was going to paint every wall a different colour and put up pictures! I'd knock out walls, re-tile the bathroom, install ridiculous tap-ware, and make the entire floor of the bedroom a mattress with draped fabric dripping from every corner. After the contract on the house settled and I saw how much money was left at the end of every fortnight I realised my absurd and fanciful home improvement dreams were going to have to wait. Now I'm trying to insert my whimsies in whatever budgetary cracks I can find, and while my beautiful swan-like domicile will unfurl its many coloured wings much slower than I'd have liked, I think it's actually going to prolong the fun.
In the last week we've made significant headway in the living room thanks to Nick playing furniture tetris and finding a much more pleasant way of configuring the bulky lounge suite we bought so cheaply before we moved in. The living and kitchen areas are my problem zones due to the overuse of grey. 50 Shades of Kill-Me-I'm-Living-In-A-Rental-Again Grey. Grey carpet, grey curtains, grey tiles, grey cabinetry, grey counter tops. The sand beige lounge suite pushed me over the edge into blandtopia so I was pretty excited about the offer of leftover paint from my Mum, who tastefully chose a duck egg blue for her sewing room. I know it's a bit out of "fashion" in blog land, everyone was all about duck egg blue in 2008 and I have no idea what they're all about now but I still love it.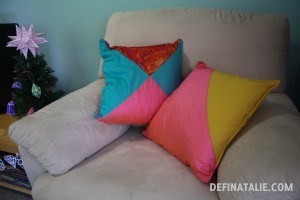 Last night I got out all my fabric including a bunch of scraps from my Granma's stash and set to work salvaging all the best bits of the brightest colours and sewed it into four new cushions. I wasn't intending on doing a colour block/ triangle thing but that's what happened.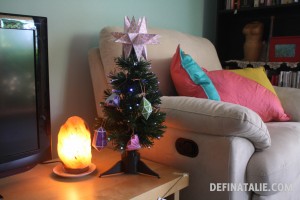 Earlier this week I permitted a small tree during this time of Giftmas, a time of the year so unbearable in temperature and jolliness that I reject reality for several months. This year I thought I'd ease up on the Scrooginess for Nick's sake because he loves Christmas and he ought to be rewarded for tolerating my cantankerous nature for seven years. The paper craft gems are from Mini Eco; I will interrupt my crotchety lady times for a bit of gratuitous paper craft any time of the year. I'm still waiting on Kanye West to respond to my crafternoon invitations, I suspect he'd enjoy paper craft.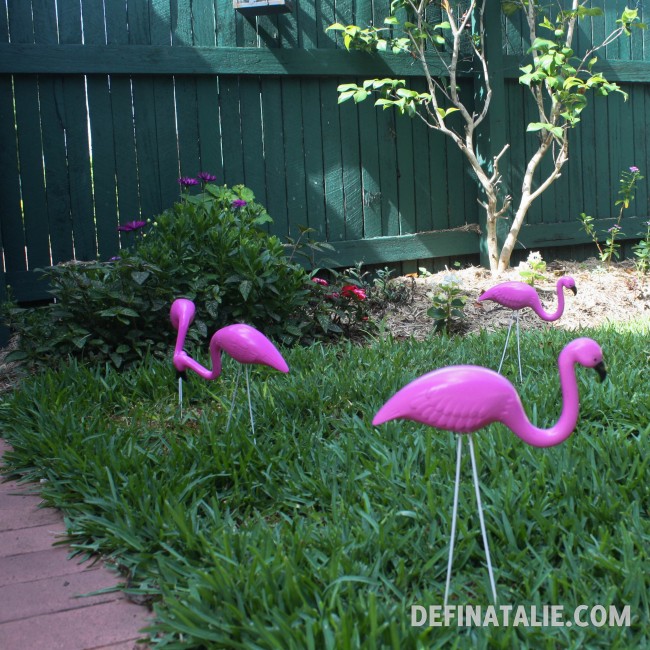 I can't help but shelve my angry pants when I go out to our courtyard. The lawn flamingos are a recent addition and are actually guarding the most burnt patches of grass, thanks to the potency of Miffy's pee. (I know there are things you can add to dog water to alleviate the burnt grass issue but I haven't bought any, and to be frank it's not that distressing.) The cuttings I took from Mum's place are mostly doing well – the daisies and geraniums are loving it, and the polka dot plant will probably flourish anywhere because all it wants to do is propagate all over earth.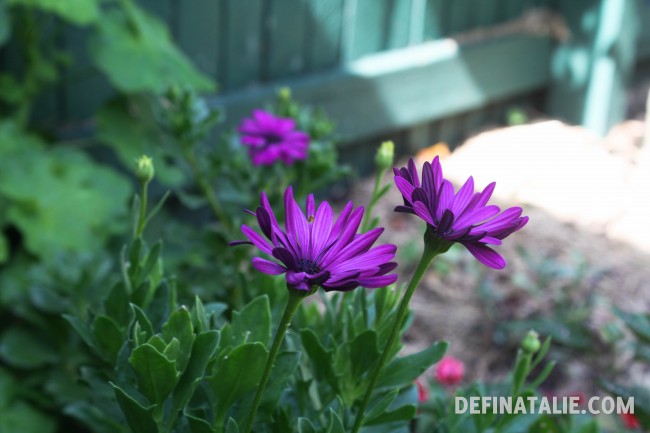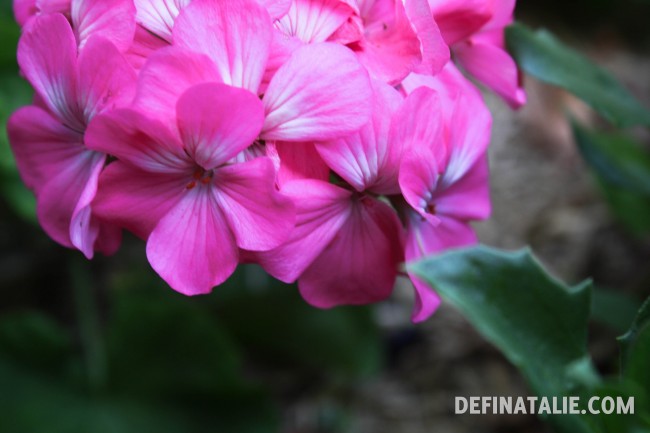 Things that don't grow so well in my garden: chives, pansies, pink begonias and poppies. So far we've enjoyed eating home grown beetroot, basil, shallots and marjoram. I'm currently growing rocket and mignonette lettuce, purple beans, tomatoes and kale. I don't hold high hopes for the tomato and kale because spring melted into a heat wave and many of my seedlings have carked it. Growing plants is very experimental at the moment but it's rewarding and offers me a space for meditation.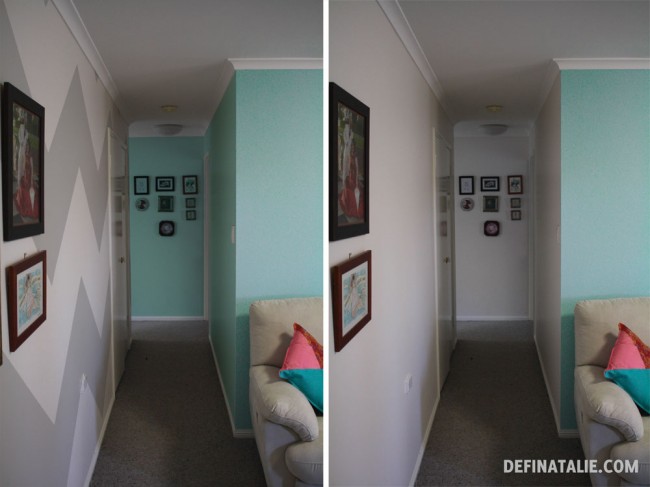 Come back inside and sit down while you listen to my grand plans for the rest of the living room! One thing I definitely know is blog-cool is chevrons and I don't want to be that person, but I didn't know it was cool until I started googling chevron textiles for the bedroom. I want to paint a pretty thick grey chevron pattern down the long wall of the living room that extends into the hall way, and on that wall I will hang an assortment of pictures. The blue wall is currently empty because it's waiting for me to save up for some white floating shelves!
So that's what we're up to at the Perkhaus as 2012 winds down. It's been a year of unexpected things, some good, some challenging and some pretty shit. I am very fortunate to have our little unit though, and look forward to putting it together piece by piece.