Last week Miffy suddenly developed painful glaucoma in her right eye, leading to the necessary removal of the eye. I was absolutely shocked at this rapid unravelling of events as she simply woke up in pain and with a depressed demeanour where the night before she was full of play and fun. When the vet called to say Miffy's eye would have to be removed (enucleation) I was absolutely horrified and blubbering on the phone to my dad who'd called just minutes after the vet enquiring as to how Miffy was.
"SHE HAS TO HAVE HER EYEBALL TAKEN OUT AND SHE HAS SUCH PRETTY EYES OH GOD"
Of course, pretty eyes don't override the simple fact that one of them was causing her a great deal of pain due to the pressure that had built up behind it. We had a two options for surgery: removal of eye, insertion of an "orbital prosthesis" and the lid sutured clothed; and evisceration and intraocular prosthesis, where the inside of the eye is removed and replaced with a prosthetic ball so it moves like a regular eye but with no vision or pain. The second option was obviously more expensive but promised a less distressing result for humans to look at, and we initially thought we would go with this option but then came to the realisation that Miffy wouldn't be able to see either way. Post operative care would also be far less expensive if the eye was sutured shut, not to be crass about money but it's a very real factor; also the eye might be more prone to infection, another unpleasant complication for poor Miffy.
Glaucoma in shih-tzus is pretty common, and because she's a cross breed (with bichon frise) it's very likely Miffy's other eye will succumb to glaucoma too. It's really difficult for us humans to think about this and not project our trauma and pity on to our pets, but blind dogs can cope very well I'm told. With two eyes removed she won't be winning any dog shows but if she requires a second enucleation she will still be able to live a great life.
I'm going to include photos just for other dog owners, because I did a lot of googling to find out about the enucleation and intraocular prosthesis and how it might look after the operation!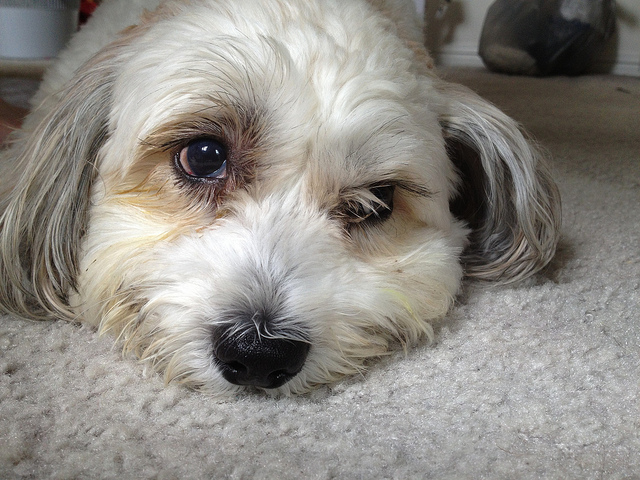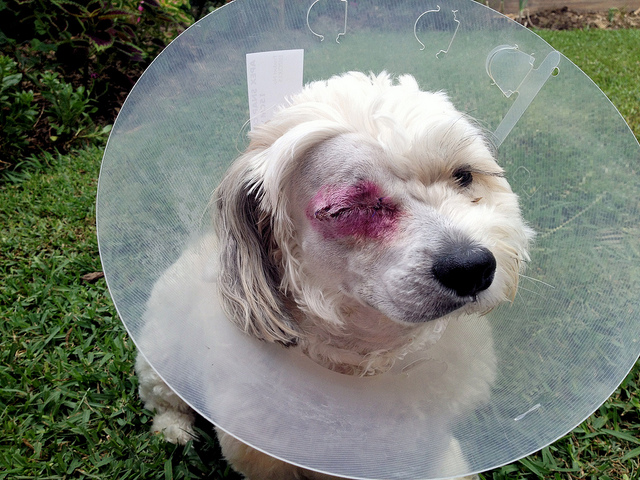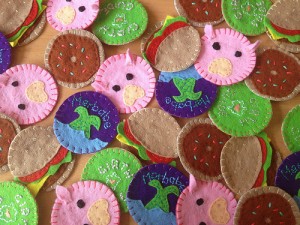 Obviously veterinary testing, consultations and procedures are ridiculously expensive and I need to thank my Mum for generously loaning us money to pay for the operation. If you'd like to buy something from my shop to support Miffy and help us pay Mum back, we'd be so appreciative. I've released my hand embroidered prototypes for Girth Guide badges to raise money for Miffy and there aren't many of each so be quick!