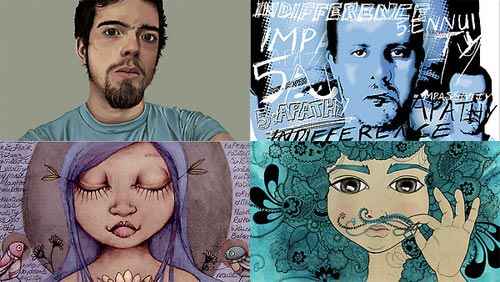 A couple of weeks ago I was notified that I'd been picked by Pilgrim and Stefan Sagmeister as a finalist in the "Happy" design contest on Red Bubble. I was pretty stoked (read: squealing) to be hand picked out of all the entries, because Mr Sagmeister's approach towards graphic design is one I am very influenced by.
My prize was a copy of Stefan's 2001 monograph "Made You Look", complete with a personal message scrawled in his own distinct penmanship. I don't get to buy books often, especially the most luxe of design and art books, so this is one I will put in the "pool room" along with the Marian Bantjes – Fox River Paper promotional booklet that I managed to get shipped over to Australia by a kind fellow designer!

The book is infused with the spirit in which Sagmeister undertakes all of his work. Written by Peter Hall with loads of hand written notes, his story to date is fascinating and inspiring and speaks of his quest to design things with meaning and heart.

This little flick animation is just one of the surprising things in the book! I love how I felt encouraged to really use the book, as if it wanted me to pour over it and find all it's little secrets.
Thank you so much Red Bubble and Stefan!