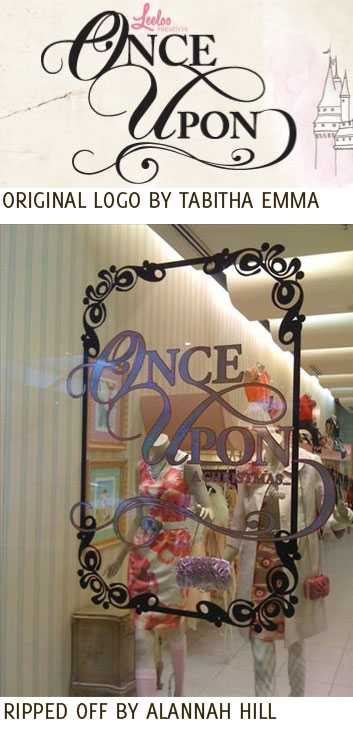 Alannah Hill has completely ripped off the "Once Upon" logotype that was designed by Tabitha Emma for the show of the same name. Yep – that's the show I was recently part of. I'm pretty shocked, to tell you the truth, because I have admired their dresses for years from afar. Apparently this isn't the first time they've dabbled in copyright theft either: I've just found out that some Alannah Hill dresses are copied from indie designers too! After hearing all of this news, I'm not so bitter that the label won't extend their collections to plus sizing.
This kind of thing is completely uncool. It's hard enough to be a young graphic designer or illustrator and working your butt off to break in to the market, while big brands are just plucking whatever they like off the internet for their own means. Google Image Search is not your own personal OR professional stock images collection. I don't care if you're Alannah Hill, whoever she hires for graphic design work, or ANYONE!
I'm pretty pissed off right now and I hate to post on such a sour note, but graphic designers are sick to death of being ripped off like this – especially by big companies who should have legal departments AND in-house/ contracted graphic designers who know better and should advise against this sort of disgusting practice.
Boo Alannah Hill. As a graphic artist and someone who likes fancy clothes, I'm really disturbed by this.
ETA
Because this post is getting a few hits, I want to make clear that the original logotype was designed by Tabitha Emma, not me! I am a part of the indie art/ design scene in Australia and I wanted to support Tabitha and Once Upon, who've welcomed me into the community with open arms. We are a tight knit group of young Aussie creative people, and it's just sad we have to defend each other's work from being plagiarised wholesale!
@LeeLooDogBlog posted a list of the stores where confirmed sightings of the decals have been recorded: Chatswood, Paddington, Pitt Street, Doncaster. If you've seen the copycat decal in a store you've walked past, please take a photo and post it on Twitter for @LeeLooDogBlog.