I need a weekend to recover from the weekend! What a fantastic birthday! I turned 29 with my mates and my family and had bogloads of fun. On Saturday Nick and I went down the coast to a family Christmas dinner, then zoomed back to Brisbane to hang out with friends and sing karaoke in our own private room. We sung, and shouted and laughed so hard that my voice was completely ruined the morning after – but it was so worth it! Then we went to my parents' for a whole bunch of awesome food that my Mum spent all day making including a fantastic cake made with my favourite fruit.

Holding my cousin's gorgeous baby girl.

My fancy birthday outfit.
Dress: Yours Clothing
Tights: Kmart
Shoes: Softspots
Necklace: Lola and Bailey

My friends Viv and Mem singing Queen!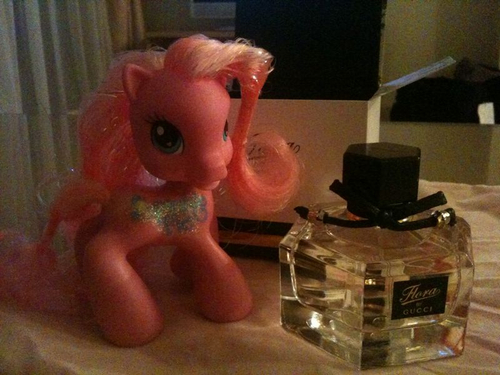 My wonderful husband got me Flora by Gucci and a (My Little) Pony! YAY!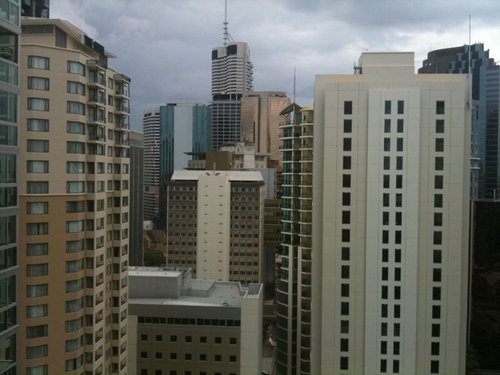 Fantastic views of Brisbane's skyscraper forest from our room at M on Mary.

Super casual in the humidity, going over to my parents' for birthday dinner.
Blouse: Kmart
Skirt: City Chic
Bow: Gift from Sonya
Thongs: No idea
Sunglasses: Giant Vintage

My Nana gave me this ring and it totally matched my nail polish.

An incredible mangomisu cake Mum made for me – it was delicious.

The lovely Nick who made my birthday so excellent!
Phew. Let's do it again in say, a year?!