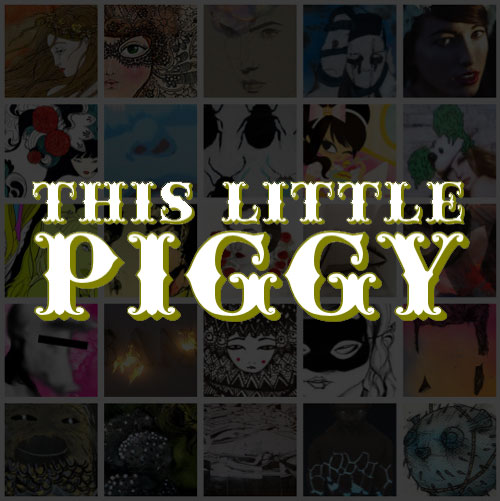 The lovely Rebecca Murphy has organised This Little Piggy, an exhibition of 25 artists and 25 little piggy banks, and it's opening on February 12th at China Heights. Indeed, I shall be one of those 25 artists and have vandalised a little piggy in the most loving way.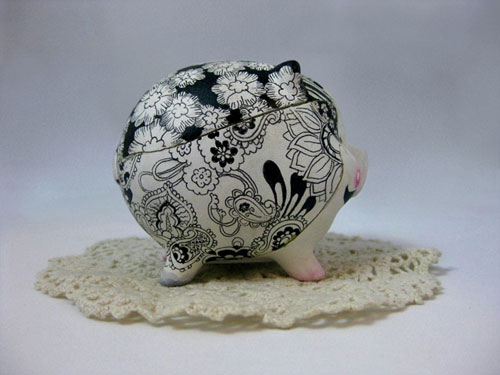 Let me tell you about this particular little pig. I received him in the mail courtesy of the brutish hands of Australia Post, and he was in pieces. I figured I'd incorporate a little of his turbulent history when creating the piece so instead of carefully gluing him back together and glossing over his many battle wounds I drew different patterns on his many portions and created Advice Pig. If you go to the show, you will see an example of his sage wisdom on the other side…!
Here's an artist list to prove how fabulous it will be: Ben Allen, Burntfeather, Caitlin Shearer, Chrissy Lau, Dreams of Grandeur, Emma Kidd, Gloz, James Carey, Jessica Klingelfuss, Kaitlin Beckett, Little Gonzales, Luke Burcher, Megan Dell, Mz. Kat-ii, Natalie Perkins, Nicole Tattersall, Qwux, Rebecca Murphy, Renee Anne, Robbie Karmel, Tiger, Tony Curran, Yewot, Yolanda Stapleton, Yuki Nakano.
If you're in Sydney town do go check out This Little Piggy
Opening night: Friday February 12th
China Heights
Level 3, 16-28 Foster St, Surry Hills.
The facebook event page is over yonder!