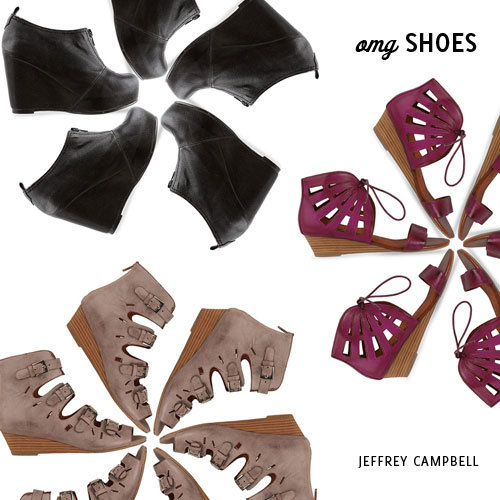 Nick never understands how I can call shoes pretty. He thinks that they are functional objects that are designed to act as a barrier between your feet and the earth, objects that should be comfortable but rarely ever are. I think shoes can be pretty. They can also be magnificent, ridiculous, fantastic, even drab… but I do agree that they're rarely as comfortable as they ought to be! Always having had a wide foot, my relationship with shoes is difficult. I love them, they can help you punctuate an outfit and describe exactly how you feel (or want to feel!) but so many wider fitting shoes are rarely fashionable. In recent years I have promised myself that I will only wear properly fitting, comfortable shoes that don't contribute to grumpy moods and crippling calf aches that wake you up in the middle of the night. But I can look.
Recently I was turned on to Jeffrey Campbell shoes by Christina and Hayley, and I am pretty much so in love that I am willing to jeopardise my foot well-being. I think I will start off with a flatter shoe like the fuchsia Roller 2 or the taupe Warrier but I also adore the 99!
When I have enough dollary-doos saved up, I will contemplate this more seriously, but until then I will gaze at this incredible footwear and daydream.