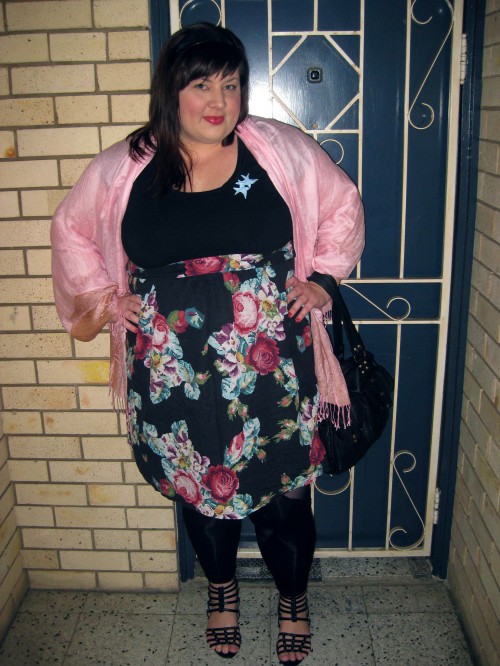 It's the most brilliant time of the year here, when the weather gets milder! My lovely friend Kathleen bought this pashmina back from India for me, a gift I really treasure because it has paisley woven into it. I wore it the other night even though it was still pretty humid! I'm still loving the mesh leggings and I'm looking forward to taking them out in Melbourne town this week, perhaps with a differently coloured pair of tights underneath them. I'm excited and scared by Melbourne's cold weather, I hope I pack appropriately!
Dress: City Chic
Leggings: Asos Curve
Shoes: Evans
Brooch: Peta Pledger
Pashmina: Gift from Kathleen
Bag: Dangerfield
---
If you are new to my blog thanks to Jezebel, or by way of any number of awesome people who reposted or retweeted it, allow me to extend my warm welcome and a plate of mushroom and spinach dumplings to you. I'm absolutely blown away at the response to my entry and I'm loving the sense of community I feel right now.
Here is a nice welcome present! My friend Kiki's band Noise Generation and a song she just uploaded. <3