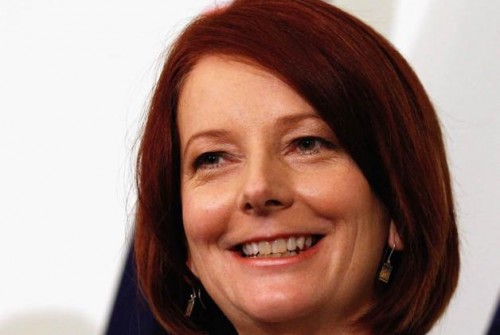 This has been an overwhelming and stressful week for me, so I have lain low in order to reflect and recuperate, but I wanted to mark this occasion with a post. Australia has a new Prime Minister, and she is a woman – an unmarried non-religious and childless woman! I've never felt so represented. It's a remarkable thing but I hope it means that it won't be remarkable in the future and I hope more people are represented at the highest offices in Australia too – not just the white males.
Change has happened so quickly in Australia this week, yet real change in terms of social justice happens so slowly. I know it scares most people, but I'm hungry for change. I am doing pretty well as a white middle-class woman with citizenship but other people in this country are not. I want to live in an Australia where Indigenous Australians have the same access to health and education as white Australians. I want to live in an Australia where women are paid the same as men for doing exactly the same damned job. I want to live in an Australia that shares its many opportunities and resources with people who are fleeing countries, desperate for help. I want to live in an Australia that invests in its young people and does not censor information. I want to live in an Australia that respects each precious individual and does not pander to corporations. I want to live in a fair country.
People have called me foolish and naive, and I have consequently hidden my politics but I have never changed them. I may support certain governments on many issues but I also hold them accountable for poor decisions on other issues with the same vigor. I can't be ashamed of that, and I won't be.
So we have a new Prime Minister, one who represents me more than any of the Prime Ministers that have looked after this country since I was born, but I am now even more encouraged to speak out about things that are important.