I don't see much theatre which is a shame because there's a lot of interesting stuff going on on Brisbane, but I did manage to catch the Queensland Theatre Company's production of Neil LaBute's Fat Pig last night. I'm not going to lie, my interest was piqued by the title and when my friend Kathleen recommended I see it, a bunch of my fat friends and I arranged to go together.
I spent most of the time sitting in the Bille Brown studio's generously wide seats angry, even though the production had played on the comedic aspects of the script. LaBute, a man, has written a story about how terribly hard it is for hetero men to select partners and play mates alike when there are only thin, shrieking women and fat pigs on offer. It really is all about the mens and their problems. The production really played up to this, and unfortunately for me it all came down to the performance of Paige Gardiner's Jeanie (as main character Tom's ex and co-worker). Jeanie exaggeratedly stomped, pouted, flopped and screamed around Tom (played by Christopher Sommers), while Amy Ingram's Helen (as the "fat pig") provided a warm and humorous alternative. I didn't understand how Tom would feel bad about letting his heart lead him because in my experience even the most insecure men I've dated have chosen to stick with the fat chick they really like over societal pressure to date a more acceptable thinner woman.
Perhaps the issue is of place and context. The play was written by an American, and set in the United States. In this Australian production, no Americanisms were changed. Units of measurement, imperial; visiting imaginary colleagues, from Chicago; and the final heartbreaking scene, July 4th. Perhaps I can't understand the experience of a busy and important white business man working in a big American city. The thing is, I don't have to. I am a Fat Pig. If a play is going to use an insult frequently hurled at me, I'm going to be very critical of who it represents.
I can't say that this is was altogether an unneeded production of the play, because I think it did have enough scope to get people thinking about size and love and standing up for what makes you happy. I just wish more was localised beside the accents. I wish Jeanie hadn't served as such a literal counterweight to Helen – a way for the men in the audience to get a chuckle away at their own recollections of the insecure spurned women in their lives. I feel as if Helen was written about a woman who was significantly larger than Amy Ingram, otherwise the characters in this play were awfully sensitive to size.
The really successful and heartwrenching elements of the production: the minimal and flexible set design; cute use of colour vs greyscale in costuming; Steven Rooke's misogynist and very punchable Carter; and that final scene. The actors took their bows with tears streaming down their faces. Many in the audience left patting theirs dry, while I was prying my fingernails from my palms.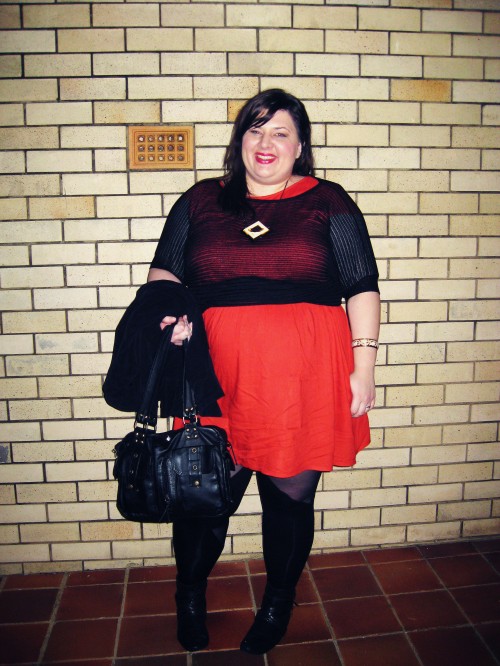 And now you've suffered through my amateur review, here's what I wore! It was a mild Brisbane winter night, jacket not really required!
Top: Jens Fashionplus
Dress: Asos Curve
Leggings: Asos Curve
Boots: Target
Necklace: Lola and Bailey
Jacket (slung over arm): 1626 (now Autograph)
Bag: Dangerfield
Bangle: Evans