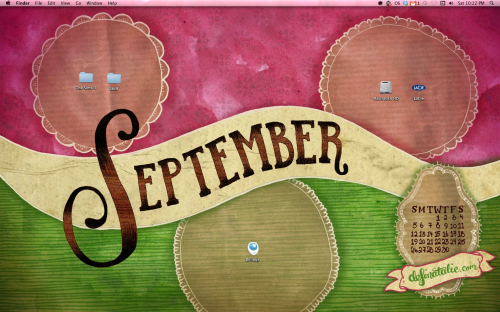 September is here, only four days late… can you forgive me?! I hadn't forgotten, it's just I was busy you see and I have a funny feeling the first few days of the month are going to set the trend for the next few weeks. The colour inspiration is quite obviously taken from a juicy watermelon, one of my favourite fruits of all time. Pretty and delicious!
Don't delay, start downloading your desktop right now:
1920×1200
1920×1080
1680×1050
1600×1200
1280×1024
Wallpaper for iPhone (320×480)
Wallpaper for other phones (240×320)
I spend around 12-24 hours on each desktop, inking and drawing each element before scanning everything and pulling it all together in Photoshop for each desktop resolution. If you'd like to throw in a couple of bucks to contribute to the time spent drawing each desktop as well as my general hosting costs for definatalie.com and my flickr account, your donation will be much appreciated. <3

This work is licensed under a Creative Commons Attribution-Noncommercial-No Derivative Works 3.0 Unported License.
You may not upload this desktop to other websites, nor may you use it for any other purpose than to wallpaper your desktop. This also means it's uncool to alter it and reupload it somewhere as your own work.