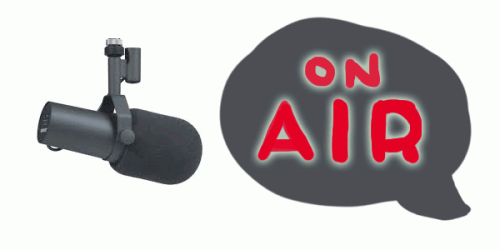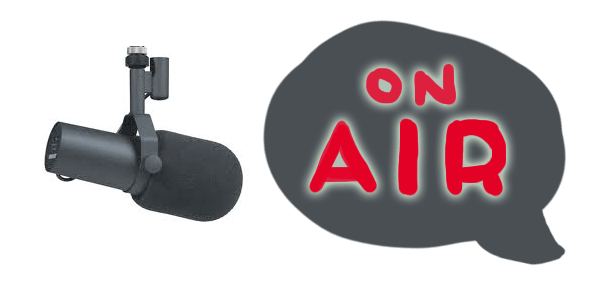 This morning I had a chat with Chris O'Brien on 612 ABC Brisbane and we talked about fat acceptance and the burgeoning movement within Australia. I'm still really sick so I sound all sultry and crook, so I invited Nick to come with me because I was worried I'd pass out or trail off into a cold and flu medication inspired delirium. Also he's very good at dealing with media stuff! He's been on MTR, Today Tonight and a few other things – Nick's certainly the media fatty in our household.
I speak a little bit about the Fat Studies Conference which is happening this Friday and Saturday in Sydney! Finally, it's here! I'm still putting the finishing touches on my presentation and I'm really nervous. Further jangling my nerves: the doctor put a potential damper on my conference plans when he told me that I had an ear infection that put me at risk of a ruptured drum if I flew before it cleared up. ARGH! I'm adamant that I will still fly, because so many of YOU donated towards getting me to the conference, and if I was let down at the last minute by my stupid infected ear and sinuses I would be really angry at myself and wouldn't be surprised if you guys were too.
I'm confident my ear will be ok. I have an arsenal of potions, sprays, and tablets and the will of an angry fat lady.
Anyhoo – go here to listen to the audio of the interview.
Transcript courtesy of @nanoraptor:
CHRIS: Thank you for coming in. We're told that being overweight is very bad for our health, would you disagree with that, Natalie?
NATALIE: Generally for most people you can only take this on an individual basis, and most of the studies done are on statistical population basis, and so you get things like the BMI saying that it's very very bad to be overweight towards morbidly obese.
CHRIS: That's the body mass…
NATALIE: The Body Mass Index. But that's been soundly thrown out by lots of people including doctors and universities, and we think that health should be viewed on an individual level, and so you find that a lot of overweight and morbidly obese people can be perfectly healthy and while the media, other individuals, think they totally can't be because they are fat.
CHRIS: So did you say that there is doctor's and scientific agreement with that theory?
NATALIE: Yes, absolutely, and it's coming out more and more
CHRIS: Does that mean therefore that even the term morbidly obese is not correct?
NATALIE: It's a classifier, people still stick with it, it's sort of a hangover, and doctors still actually use it. A lot of fat acceptance advocates actually use it in a sort of tongue in cheek way, so some of us call ourselves 'death fatties' it's… they're trying to phase it out because they think it's too easy to make fun of, but yeah, people are owning it and taking on the label.
CHRIS: So explain to me then the scientific reasoning, the doctor's reasoning, what we've always been taught is that your weight can affect issues like cholesterol and heart, and so on, so where is that theory wrong?
NATALIE: It's not wrong, it's just that the research they've done is on a population level of thousands and thousands of people, and a lot of the studies that were done are actually biased, and they're taken out by weight loss product companies and gastric banding manufacturers, and a lot of the research done that fat acceptance people refer to is actually biased in that way, and the doctors are actually paid out by these companies, so the stuff that gets to the media is often not checked out.
NICK: And it's also important to note that a lot of studies that are done these days are, I don't know the correct term, but they're done after the fact, so they're sort of a meta-study, where they go back and they look at studies that have been done over the last ten-fifteen years, and they ask, they pose questions like "OK, what trends can we find within the statistics that we have?" and quite often it can be looking for a trend rather than actually doing a study from scratch and using the gold standard double blind tests and actually looking to see what the outcome is, so instead of proposing a study where you say "Let's look at these morbidly obese people and find out what health issues they've got" it can be "Let's look back at these studies of people and find out whether they've got high cholesterol" and they can say "OK well they have got high cholesterol" because that's what they're looking for.
CHRIS: It's a quarter to ten on 612 ABC Brisbane, I'm speaking with Natalie Perkins who's going to be addressing the first Australian Fat Studies Conference. What's that about?
NATALIE: The Fat Studies Conference has been organised to get in people from around Australia and overseas to talk about fatness and health and all the issues around it, the social issues, because it's never been done before, and it seems like everything when it's done in the media about the obesity epidemic, which is totally not there, people talk about fat people not to fat people, so I think this conference is organised to get fat people to speak for themselves on their own behalves.
CHRIS: And what sort of issues will they be talking about?
NATALIE: Well, you know you've got things like health, you've got sexuality, you've got exercise and movement, you've also got health preventions, like gastric banding and things like that, and you've got doctors, you've got bloggers like me, and activists from around the world.
CHRIS: And you're not afraid of the word fat?
NATALIE: No, absolutely not, I've got a necklace on right now that says fat!
NICK: Yes, and I mean it's all about trying to own the word 'fat', because for a long time now it's been used as a pejorative rather than as a descriptive word…
CHRIS: An insult…
NICK: Yeah, and realistically it should be in the same class as 'tall' and 'short'. It's not an insult to say that I'm a fat person, it's just a descriptive word, it's like saying that someone's a skinny person – I don't think that's an insult to anyone, it's just that they're a skinny person, so where's the sense in calling fat, using fat, as an offensive word, I guess.
CHRIS: Alright I'm going to happily embrace that for the rest of this interview. I've been skinny all my life, have you guys been fat all your lives? Has it been an issue that's been something you've had to grow up with?
NICK: Well I've been fat all my life, I was always a big boy, my mother reminds me that I was probably four when she couldn't pick me up any more, I mean I was born as a very large baby and I've always been a very large man, and I don't think I'd ever go back, I don't think there is a way I could ever go back. People often say to me well why don't you just become thin, or why don't you just become a normal weight? and I say to them well I don't choose to be fat, it's not a choice that anyone really makes, it's just the way that my body is, now I don't choose to be discriminated against, I mean if it was as easy as pie to lose weigh, you would because the discrimination goes away…
CHRIS: OK, I'll just jump in there, you've been saying that you don't worry about the fact that you are fat, but you said you would lose weight if you could?
NICK: No, if it was as easy as people say it is…
NATALIE: Because people treat skinnier people much better
NICK: Yeah
NATALIE: You know, there's a whole industry based around making people feel bad for being fat, and if you could lose weight to fit in more, to buy better clothes, why wouldn't you? that's what most people think.
NICK: Yeah, it's not a desire I have to be a thin person, it's just that I guess anyone who is discriminated against might dream that it would be so much easier to live my life if I just changed myself to be out of that group that's discriminated against, but I've come to accept that that isn't going to happen and that I have to live with this discrimination, work against it, and try and fight it.
NATALIE: And there's actually health risks involved in crash dieting and dieting over and over again.
CHRIS: So, just recapping then, it's difficult to maintain a healthy self esteem is it, when you're bombarded with the images in the media and from the general public?
NATALIE: Absolutely, and even people who could be classified as slender, and skinny, they're bombarded with exactly the same messages, and they go through the same things, they go and consume all the weight loss products because they have this fear of fat, it's a social fear rather than a health fear I think.
CHRIS: 1300 222 612 is my number, 1300 222 612, or you can SMS 199 22 612 and don't forget to tweet on @612brisbane, just having a bit of a problem remembering the name of the city I live in…
NICK: That's alright!
CHRIS: I have a tremendously high IQ, but it just goes out the window when I'm behind the microphone!
NICK: It's that whole twitterverse thing, I understand!
CHRIS: The conference, Natalie, will that look at ways to change these perceptions? Obviously it's difficult to completely change the world in five minutes, but is that one of the things the conference will look at?
NATALIE: Yes, well I think the whole thing just getting a bunch of people together, talking about being fat, will start to get a sense of community together, and get a dialogue actually happening, you know there might be presenters who actually looking at ways to advocate for fat people for health, and other things. But I think the whole thing will help start the dialogue happening in a much healthier way.
CHRIS: And it's the first, it's never happened before? in Australia or anywhere?
NATALIE: In australia I don't think it's been done before, in the states they've got quite a big fat acceptance movement, starting with NAAFA in the seventies I think. National Advancement Action something Fat Acceptance. I can't remember!
CHRIS: Well there's the NAACP, which was the group set up for african americans, so that's interesting. So OK, so it's been done in the states
NATALIE: Yes
CHRIS: And this is the first time in australia, what sort of things can be directed at fat people on a day to day basis that maybe I wouldn't have noticed?
NATALIE: Well you know, it's environmental, it's everywhere, you go on a bus and you'll find that someone will give you the side-eyes as if you're taking up too much space, it's an issue for women in particular because we're always taught to minimise ourselves and be small and feminine, so you do get that, and you get on planes and you get people looking at you funny because your elbows reach over the sides
NICK: And then there was yesterday I was walking through the CBD on my lunch break, and I was crossing the traffic lights and some guy in the car decided to let me know just what he thought of me and my weight, which I thought was just wonderful to have on my lunchbreak.
CHRIS: hat is not good
NICK: No
NATALIE: But it's not just that kind of stuff either, you get the polite kind of conversation bombardment with the weight loss talk in the lunch room, everything is directed towards this fear of fat, even if you're not fat
CHRIS: Yes, so I can see where you're coming from, you're saying you'd be tremendously happy to embrace it and get on with life and be happy about it…
NATALIE: That"s what I'm trying to do!
CHRIS: …and people aren't helping.
NATALIE: No, no but I don't think it's an intentional thing at all, this is just our society, and it's just what's been happening through our health policies and the media, and things like that, it all helps to encourage this… the fear of fat.
CHRIS: Do you see any role for legislation in terms of discrimination, I mean there are so many laws about discrimination in other areas of life, discriminating on the basis of gender, discriminating on the basis of race etcetera?
NATALIE: It's been brought in in one state actually in America, I think it'd be good to have legislation in terms of employment, and things like that, but
CHRIS: Have you either had job problems because…
NATALIE: Yes
NICK: I haven't myself, but I used to work in the public service, so that was very much not an issue for that sort of industry, but I know in the private sector it can be, it's just purely because of perceptions by employers that you're a lazy person if you're overweight, you don't pull your weight which is funny if you think about it.
CHRIS: Yes if you pulled you weight, you'd be giving…
NICK: I'd be giving more than everyone else wouldn't I! But it's just a perception, and I guess if you think about it, fifty to sixty years ago there were so many perceptions within Australia that if we had those now it would be so inappropriate, and it's just a matter of educating people over time that you know, opinions need to change and the way we think about people has to change, and we've changed so many things, so why not this one as well?
CHRIS: Did you Natalie say you have had job…
NATALIE: Yes, I had an employer who wouldn't let a few days go by without saying something about, you know, running's the best way to lose weight. Actually running is a high impact sport, and runners often have more health problems than fat people!
CHRIS: You klnow your stuff!
NATALIE: Yeah, well, comments about when I was buying a new chair – "Make sure you get the wide one to fit your arse in it" so I was like hmm thanks, that's not actually appropriate.
NICK: It might be nice advice, but I mean, it's something that you don't talk about
NATALIE: It was completely inappropriate
NICK: It was inappropriate for workplace, yes
CHRIS: So the conference is on in Sydney next week, I hope we get some media coverage of it, and we can see how it went for you.
NATALIE: I hope it goes really well.
CHRIS: Well thank you for coming in.
NATALIE: Thanks for having us
CHRIS: It was great to meet you
NICK: great to talk to you
CHRIS: Natalie Perkins and Nick at 612 ABC Brisbane.