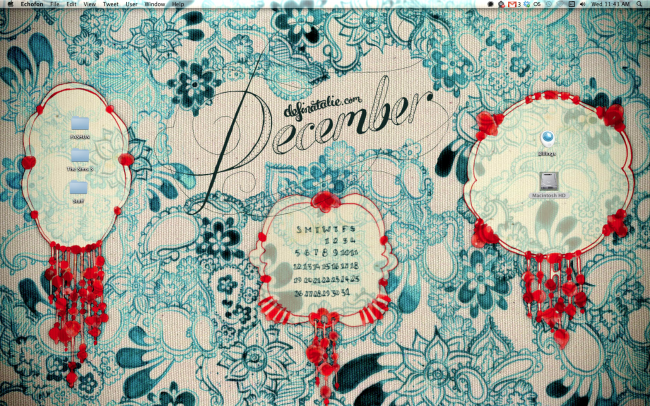 I don't really do Christmas and it's hard to know what kind of colours will best suit all around the globe for these desktops, but I settled on a lovely turquoise, coral and canvas colour scheme for December's desktop because it's one of my favourites. It reminds me of the beach… hot sand, cool water and sunburn!
This design is actually going to be my last in the monthly desktops. Over the last two years I have drawn 24, can you believe it? It's been a fantastic exercise in finding my aesthetic, without it I really don't think I'd have found a way to integrate my drawing style with my graphic design style. In the future I will probably design desktops when I have down time, and they'll be the kind of thing you can use any time of the year! I may even revisit some of my favourite desktops from the past two years and make them appropriate all year round.
So go download a resolution!
1920×1200
1920×1080
1680×1050
1600×1200
1280×1024
Wallpaper for iPhone (320×480)
Wallpaper for other phones (240×320)
I spend around 12-24 hours on each desktop, inking and drawing each element before scanning everything and pulling it all together in Photoshop for each desktop resolution. If you'd like to throw in a couple of bucks to contribute to the time spent drawing each desktop as well as my general hosting costs for definatalie.com and my flickr account, your donation will be much appreciated. <3

This work is licensed under a Creative Commons Attribution-Noncommercial-No Derivative Works 3.0 Unported License.
You may not upload this desktop to other websites, nor may you use it for any other purpose than to wallpaper your desktop. This also means it's uncool to alter it and reupload it somewhere as your own work.