I have no words to explain the sheer amounts of bullcrap that happened yesterday, so I drew a comic. Basically it began with Biggest Loser starting it's newest season in Australia, then John Birmingham writing about it being good pityporn for his kids so they don't get fat, and then a trillian jerks thought they'd abuse Nick on Twitter because he has feelings.
So I made him into a super hero, Dastardly Donut. He sounds villainous, yes, but his enemy is actually diet culture and people who say rubbish things about fat people. In this installment he takes on pityporn, specifically the fat pityporn bonanza that is The Biggest Loser.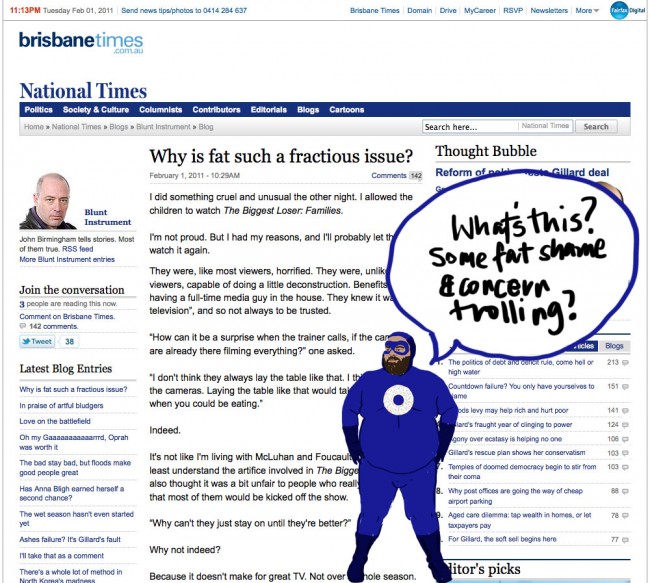 [Image – A screen shot of a Brisbane Times blog post entitled "Why is fat such a fractious issue" with a fat blue-clad superhero type figure standing down the bottom saying "What's this? Some fat shame and concern trolling?"]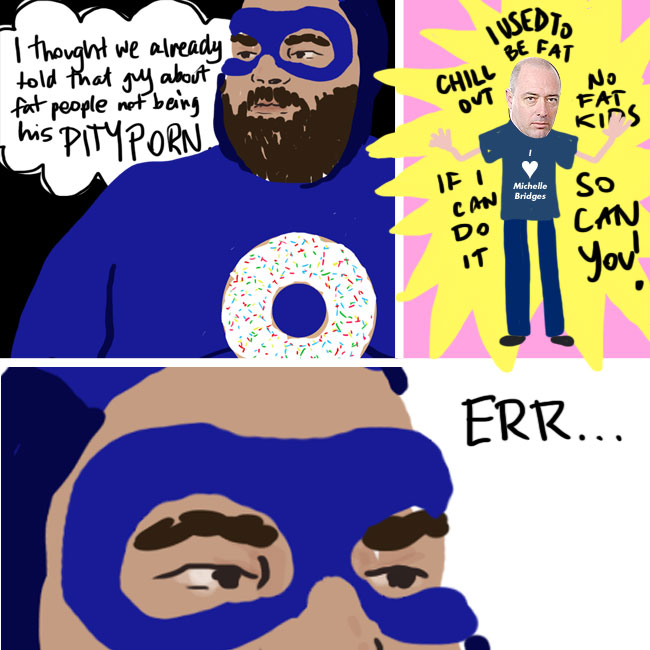 [Image – A comic split into three panes. The first is a close up of our superhero's face and shoulders, he has a donut on his chest, and he thinks "I thought we already told that guy about fat people not being his PITYPORN". In the next column that guy, John Birmingham the author, standing in a starburst saying "Chill out; I used to be fat; No fat kids; If I can do it so can you!" Oh and his t-shirt says "I heart Michelle Bridges" (a Biggest Loser trainer). The third pane is a super close up on our hero's eyes as he says "Err…"]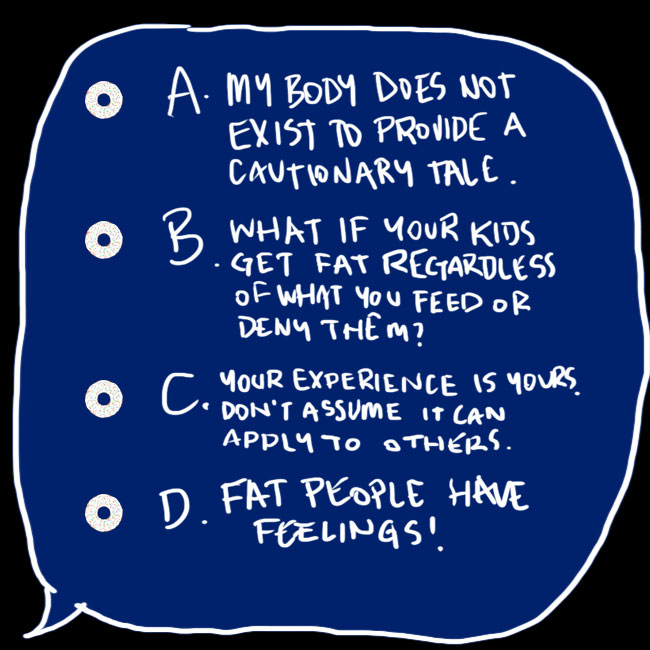 [Image – A digitally drawn speech bubble saying: A. My body does not exist to provide a cautionary tale; B. What if your kids get fat regardless of what you feed or deny them?; C. Your experience is yours. Don't assume it can apply to others; D. Fat people have feelings!]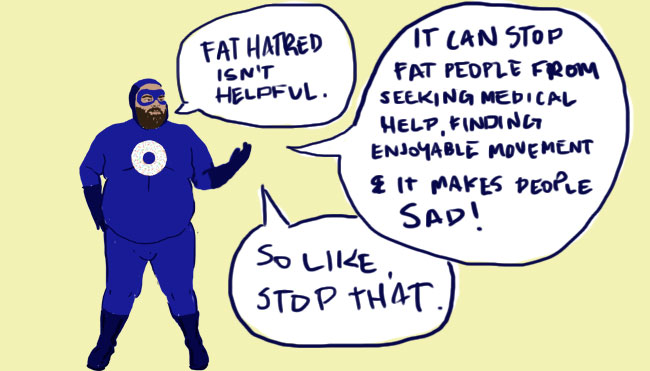 [Image – An illustration of our superhero standing one arm raised and speech bubbles saying: "Fat hatred isn't helpful. It can stop fat people from seeking medical help, finding enjoyable movement and it makes them sad! So like, stop that."]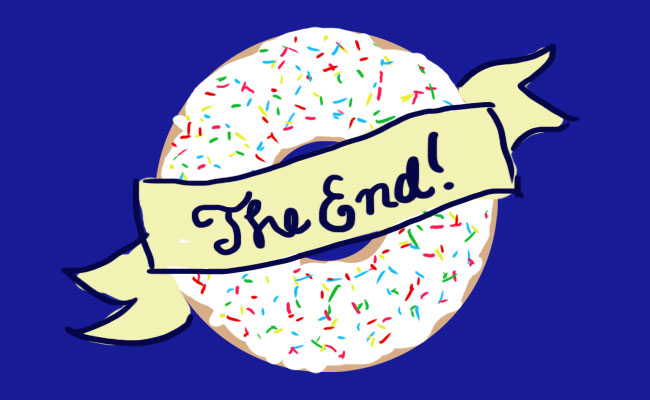 [Image – An illustration of a vanilla iced donut with a banner saying "The End" wrapping around it.]
I did this in like an hour and it's the first comic I've ever made. EEP.
Elizabeth wrote an excellent response to Birmingham's post and you should go read it for more back story. I'm not linking to the original post because it and the comments are absolutely awful!
So, maybe I'll trot Dastardly Donut out again… whenever and wherever injustice prevails, any time and any place!
Note – You might have noticed I'm putting image descriptions underneath every image, this is going to be happening from now on. While I have been writing these descriptions within the image html, I want to ensure maximum accessibility and inclusion. Here is why!