Have you heard about Fa(t)shion February? It was started by jessidress on Tumblr for femmes and friends in order to gain fat fashion visibility. I think it's a grand idea but in the last two days I've not had the energy to take a photo of my (admittedly unfabulous) outfits because it's been ridiculously humid here in Brisbane. Too hot for clothes, even.
Nick and I made an appointment to go out for dinner and discuss exciting new plans for a joint business so I grudgingly put on clothes. And oh, see my hair? Yep it's a lovely lilac colour now. I bought some Mystic Heather dye from Manic Panic off the internet like AGES ago, and it finally came the other day.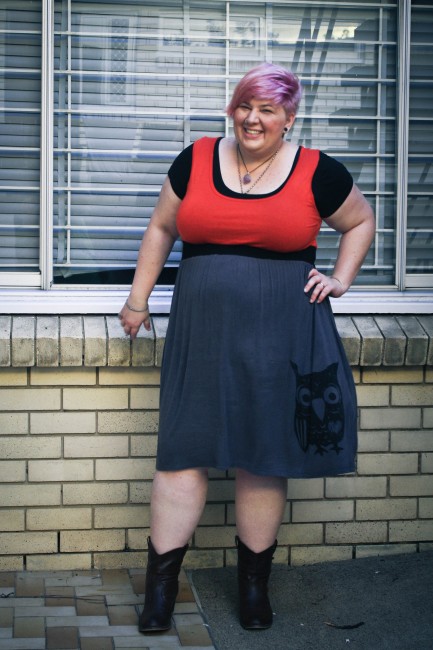 [Image – Outfit photo of me standing in front of a window with my hand on my hip. I'm wearing a black tshirt under a dress with a red top, black under bust band and grey skirt with an OWL on the bottom! Also brown cowboy boots. ]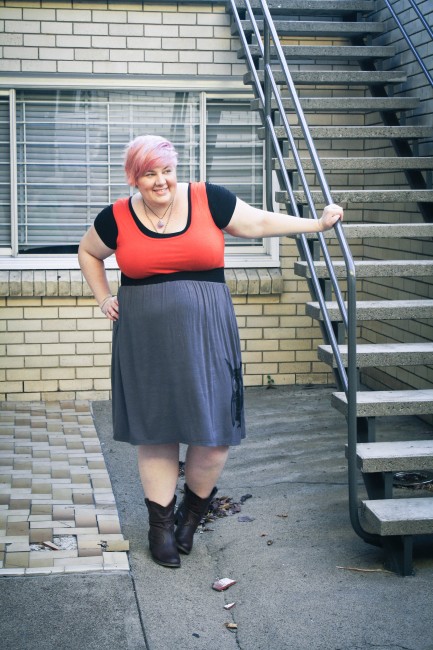 [Image – Outfit photo of me wearing the red and grey owl dress with black tshirt underneath and cowboy boots. I've got one hand on an external stairway rail and the other hand on my hip.]
I'm not sure I'll be able to keep up with every day of Fa(t)shion February but you might see more outfit photos than usual! If you'd like to join in you can submit photos to the Tumblr, or post them on your own and tag them as "fa(t)shion february".
T-shirt: City Chic
Dress: B&Lu (Thanks Zoe!)
Boots: Target
Necklaces: ebay and gift