I went as Ursula to the fancy dress birthday party last night. Did you guess? (Or you might have already known after seeing me talk about it on Twitter!)

Let me prime you with a video of Ursula singing Poor Unfortunate Souls. The lyrics are over here.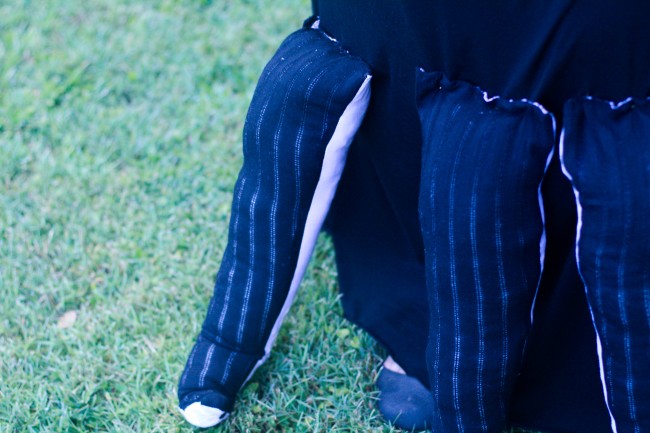 [Image – Photo of a couple of stuffed toy-like tentacles attached to the bottom of my skirt. The tops is a black fabric with a pin stripe and you can see underneath there's hints of purple fabric.]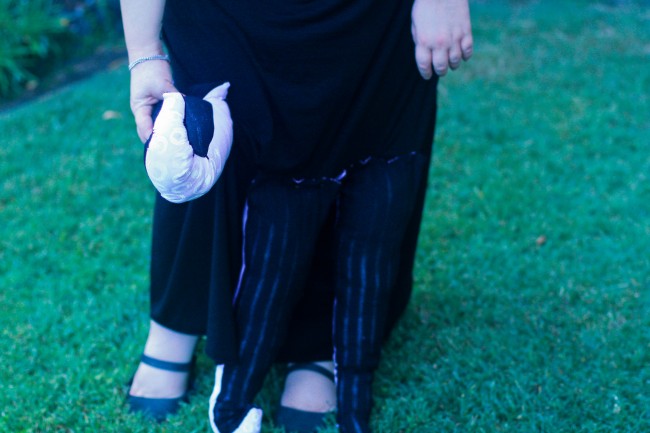 [Image – Photo of me holding up a tentacle so you can see the purple underside with white suckers painted on.]
My costume was actually pretty simple. I made Ursula's six tentacles by sewing up long triangles of fabric and then stuffing them with the innards of an old pillow. On some tentacles I curled the ends up and secured them with hand sewing.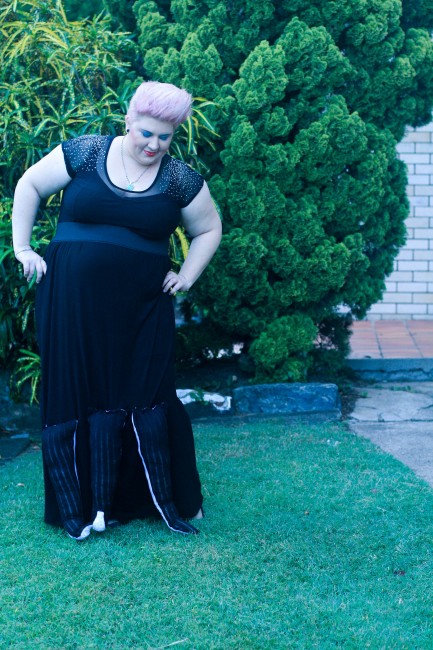 [Image – An outfit photo of me, fat and pale skinned, wearing my Ursula costume consisting of a black top with sheer sparkly shoulders and a long black maxi skirt with stuffed tentacles haphazardly attached to the bottom third of it. My short hair is sticking straight up with some white hairspray on the ends. ]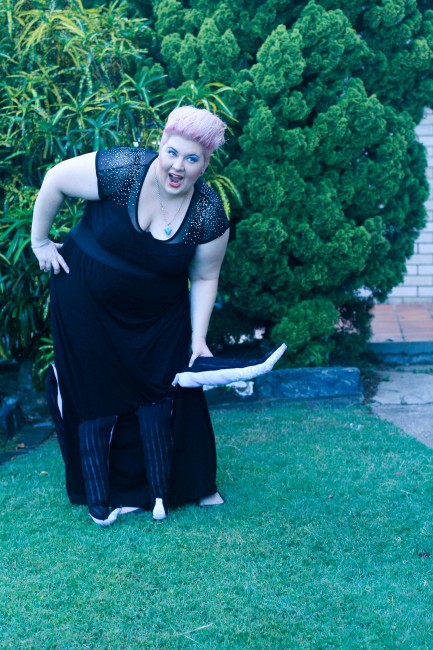 [Image – Outfit photo of me wearing the Ursula costume and bending over to pick up a tentacle. ]
So here it is, here I am! I was quite pleased with my efforts even though it was difficult to pin the tentacles on in an orderly fashion. But you get the idea, yes? I made that maxi skirt by attaching a wide band of elastic to some black knit fabric. I think the fabric width was around 160cm and I bought a metre, so I attached the long edge by gathering the fabric a little to fit the elastic band, and then securing it with a zig zag stitch. The skirt still managed to be maxi; I think perhaps the sales assistant gave me more than a metre! By pinning the tentacles on I could remove them and keep the skirt to wear in my regular wardrobe. Rather nifty huh?!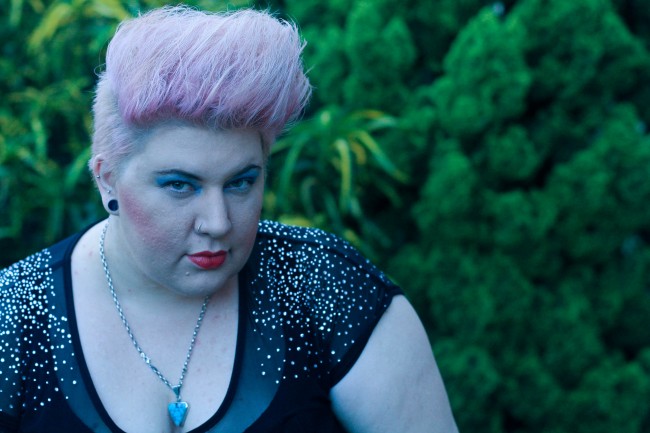 [Photo of me with my short lilac hair teased and sticking up with white hairspray on the ends. I'm wearing a heap of blue eyeshadow and blush with red lips.]
My hair was pretty much perfect for Ursula, all I had to do was tease it and hairspray it, adding some white hairspray (from my unicorn costume) to the ends. I used lashings of blue eyeshadow, right up to my brows, with strong blush and a red lip.
Nick went as Peter Russell-Clarke but I didn't get a photo of him! DAMMIT! He wore a chef's hat, carried a plate of cheese and swore a lot. (That links to Peter's infamous blooper reel, lots of swearing ahoy!)
We actually attended two parties last night, and today I'm thoroughly pooped from all the socialising. We had more fun than should be legal! I got lots of comments at the second party about my hair and make up, I had to explain so many times that it was a costume but yes, my hair was shaved all around the back. My Nana hates it but lots of people liked it!