In an unprecedented move I wore clothes today, thus I can keep up with Fa(t)shion February for the second time ever. Let's hear it for me! Yeah! We went to breakfast and then to the consumer adventurelands that are Spotlight and Garden City to get some bits and pieces for an '80s fancy dress birthday party we're going to tonight.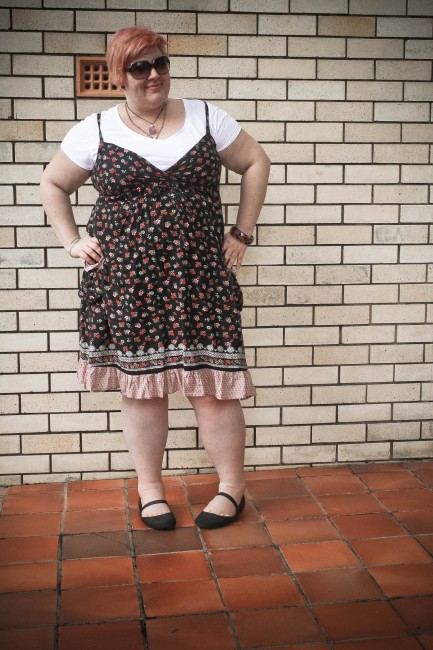 [Image – Outfit photo of me, light skinned fat lady with short lilac hair, standing in front of a brick wall. I'm wearing a dark floral sundress with a white short sleeved tshirt underneath with black mary jane crocs.]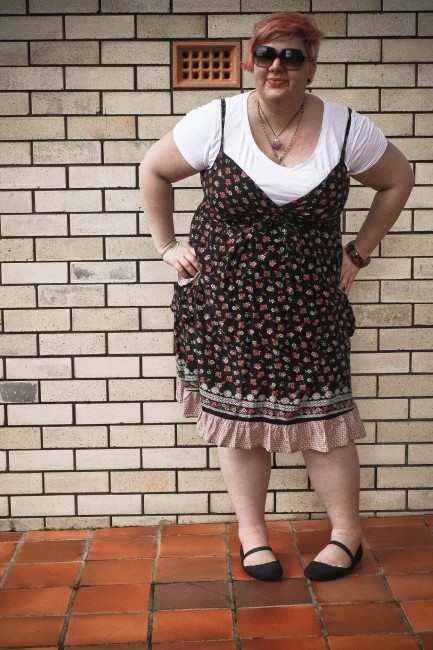 [Image – Outfit photo of me wearing the sundress and tshirt; my hands are on my hips and I'm bending over a bit oddly.]
No matter how many times I get Nick to take my photo, I always feel super self conscious! Let's hope that in time I can aspire to Crystal Renn levels of posing.
Dress: Big W
T-shirt: Asos
Shoes: Crocs
Necklaces: ebay and gift
I'll leave you with a cliffhanger and post photos of our costumes tomorrow. HINT: I'm wearing tentacles and Nick's bringing cheese.