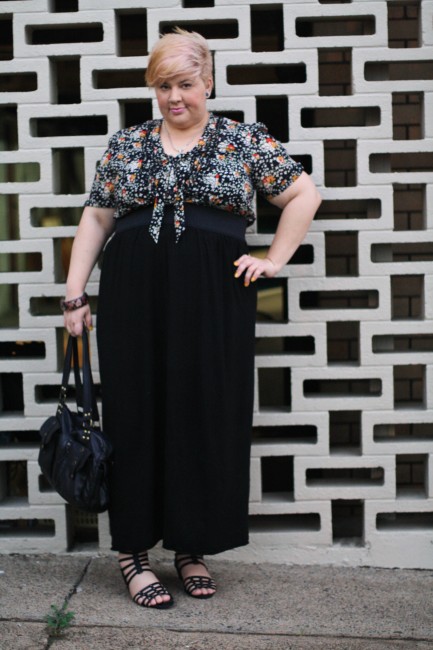 Tonight I went out to dinner with my family to celebrate my Dad's birthday. I haven't worn anything worth documenting in the past few days, but then I think that maybe my daggier outfits are worth documenting just to prove that I'm not fully dressed and done up every day of my life. In fact, some days I don't even put on pants because I just don't feel like it. This week I went three days without washing my hair even (for some people that's no big deal but for me it's a HUGE deal!)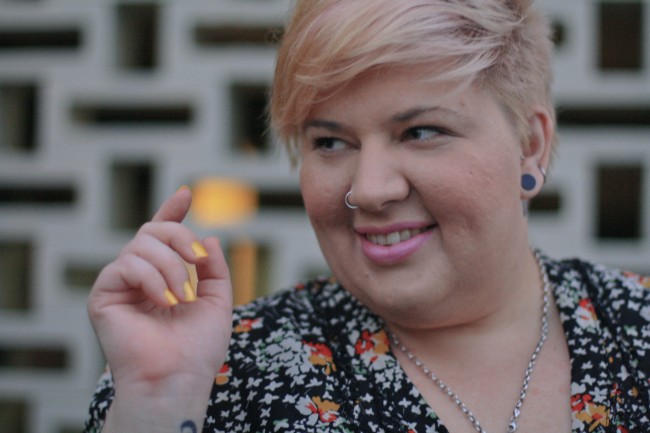 Last night at the chemist I bought two really cheap bottles of nail polish on the premise that they were fluoro colours. I put the orange one on and it's sort of a pumpkin/ gold colour… after three coats. Why do I never learn my lesson about cheap nail polish!? The other colour is fluoro yellow and I hope it's as eye-blastingly yellow as the bottle. I really do. At least my nails matched my blouse tonight.
Blouse – Target (I think?)
Skirt – Made by me
Shoes – Evans
Bangle – Evans
In other news, I have figured out something about image descriptions and WordPress. If you put the description in the caption field, it places the text underneath the photo. Before, I was putting the text in the alt field and repeating it below the photo – so if you read my site in with a screen reader or a text based browser you'd see the image description twice. Clunky hey? But NOW with Nick's help I've discovered the caption field! One description for all! HORAY!