So, sometimes I wear the same piece of clothing more than once. Sometimes I wear it twice in a fortnight. And being a fa(t)shion blogger, it's apparently not good to do this. I don't know why… the rules are not written down anywhere but from all my reading and looking it seems as if many bloggers don't remix things. There seems to be a lot of buying clothes and reviewing new things, and while I don't begrudge that at all, it's just not an option for me. I just don't have an infinite Narnia of garments when I slide open my wardrobe door!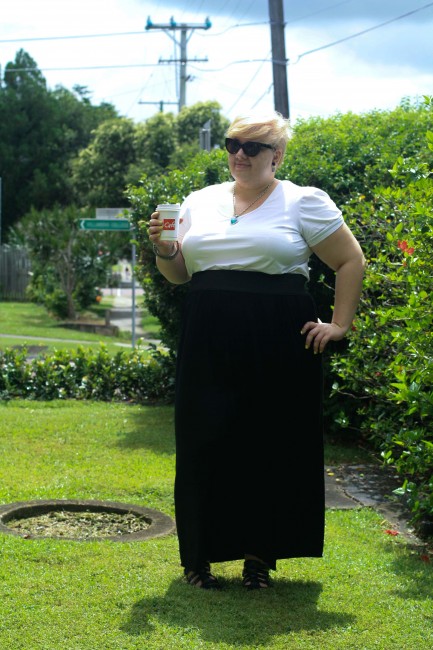 So I made this awesome maxi skirt for the fancy dress party and I think it's the best thing ever. I never want to not wear it! This morning I had a doctor's appointment and I paired it with a plain white t-shirt and a cappuccino.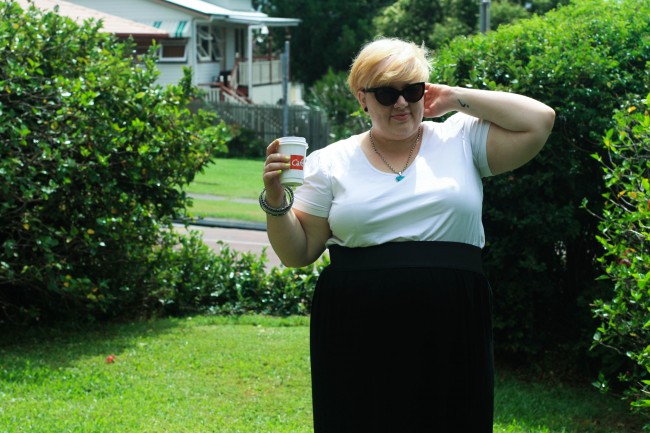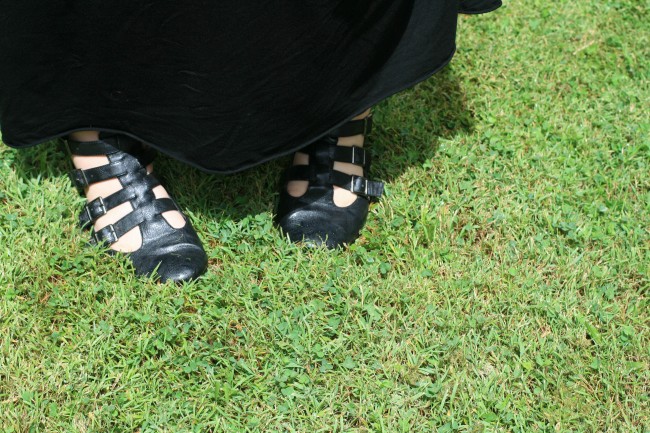 I think this Fa(t)shion February will show that I remix clothes a lot and I hope it helps me feel less shameful about it. The blogs I actually subscribe to are ones that are more about style than new things or reviews. I appreciate how people put together outfits rather than just putting on clothes. There are very few times that I post outfits that are not actually worn out. Sometimes when I get something new I'll get Nick to take photos, but generally these are the things I wear when I go outside into the world.
My outfits aren't haute couture or high fashion (as if it includes me?!) but they are part of my days, and I post them on the internet as part of my activism. It's me saying, "Hello I have to wear clothes as deemed by society, and these are the things that fit me, that I can afford and feel comfortable in and I want to be represented."
T-shirt – City Chic
Skirt – Made by me
Shoes – Evans
Bangles – City Chic
Sunnies – Witchery
Coffee – Cafeine