I've been seeing kale chips all over the internet for the last year or so but because kale is oddly hard to find where we live I never tried them until today. If you're already a kale chip convert feel free to nod knowingly and scroll on, this post is for the newbies.
My mother-in-law is the president of our local community veggie garden, so until we moved in with her I'd never had the chance to get close to kale. One of her lovely friends has been letting us "borrow" kale from her patch now and then, and we've made a few different things with it (it's good in veggie spaghetti bolognaise) but today I thought I'd seize the day and raid the kale for chip making purposes.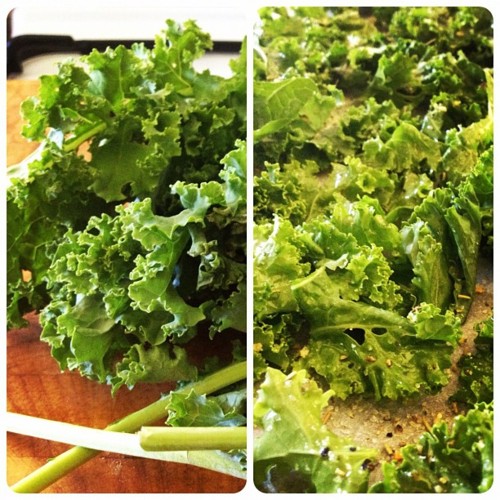 You will need:
Kale (grab just a handful for your first time!)
Oil (I used rice bran oil spray)
Salt or any other seasoning (I used Masterfoods Tuscan Seasoning and parmesan)
What to do:
Preheat the oven to 180˚.
With a sharp knife cut the leaves from the stem of the kale and rip those leaves into mouth sized bits.
Rinse the leaves in a colander and dry with a tea towel (or use a salad spinner.)
Get out a cooking tray and put some baking paper over it.
Lay the dry, ripped up kale pieces on the paper and drizzle/ spray oil over leaves, then add the seasoning of your choice.
Cook for about 10 minutes in the oven until every bit is crispy. You might need to turn the pieces, or reduce or lengthen the cooking time depending on your oven.
Grab the long ends of the baking paper and transport your chips to a bowl, or pour directly into your mouth.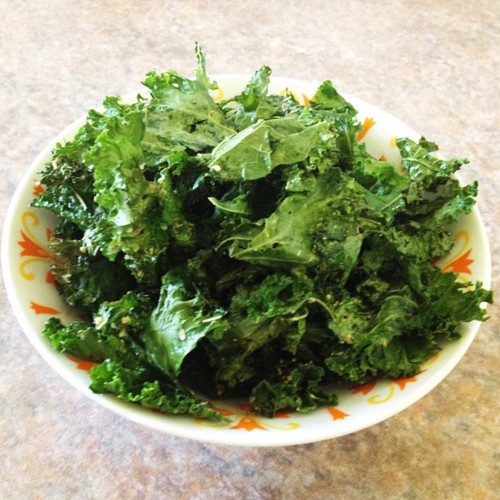 The chips aren't even really hot fresh out of the oven! It's a super quick tasty snack that you can do all kinds of things with. I'm going to try garlic seasoning next!