Listen up! I am not going to feel bad about having a blog holiday, orright?! Sorry about the defensive opener, but yes, I have been away. No I haven't been doing anything too exciting, in fact I've been focusing on looking after myself. Not in a frozen meal "looking after yourself" lifestyle brand way but in a meaningful, tender and reflective way. (Bossy Femme has an intro to self care if you want to chase some great links and subscribe to Iris' fabbo new blog!)
Things have been rolling along, sometimes gently and other times with a few bumps, but generally we're heading in a good direction here at Rancho Perko. I'm doing very well on my new medication, and not thinking/ worrying too much about the implications it has on a bipolar 2 diagnosis. My focus is getting my mentals functioning better. Some other things have popped up, like maybe being a Grown Up and taking a rung on the Property Ladder, but we'll see how that plays out in the weeks to come. I'm being pretty cool and easy going about it but it's actually bloody scary.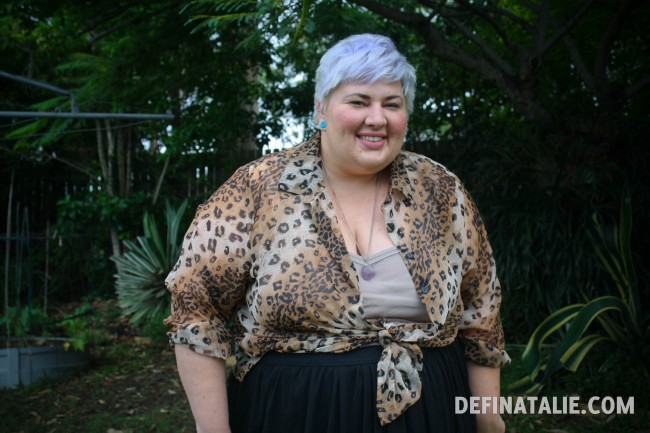 Anyway, I have been wearing clothes all this time but haven't really been motivated to document them. It's hard when you don't have new clothes/ energy/ inspiration and you see all the fatshion bloggers around you doing the whole outfit thing so much better. I prefer just to document and represent instead of compete, but I have been feeling like quitting the outfit photo deal all together. Instead of being all or nothing, I'm going to make peace with documenting and representing when I am moved to do it, without obligation.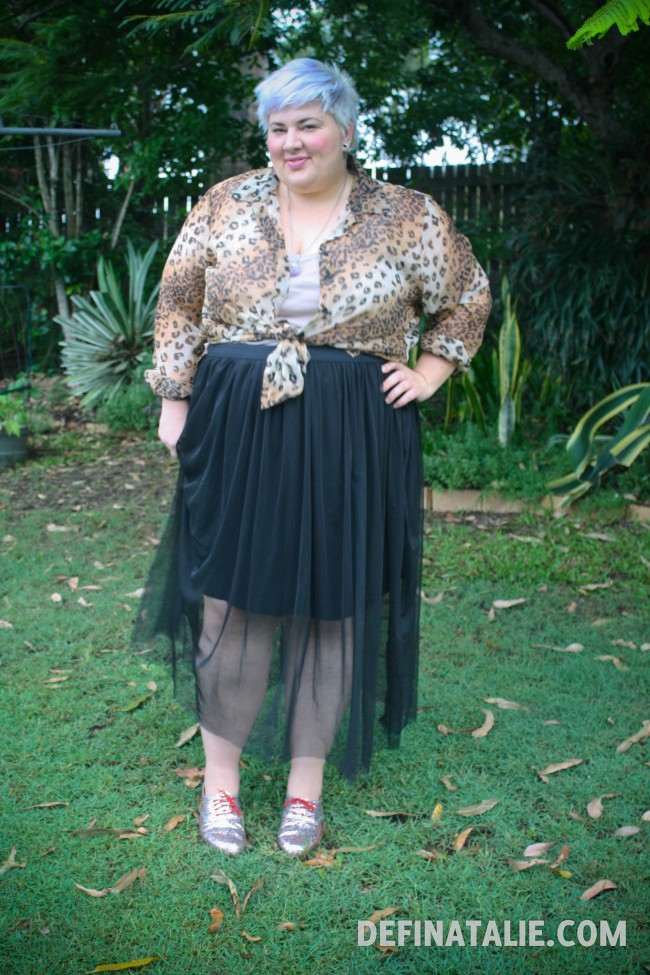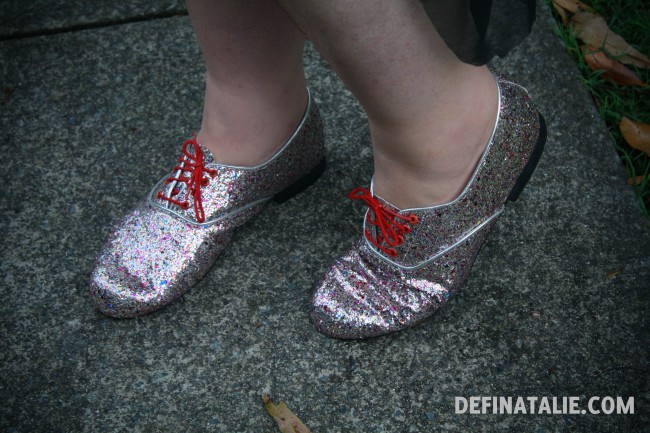 These shoes basically told me to document them. They were lovingly made by a label called Golden Ponies, and if you've got large wide feet prepare to weep glittery tears of joy because you can be shod in these babies too! I requested their widest width (4 inches) and a UK 8, and my shoes fit perfectly. They're comfortable and have a cute sole too (but of course I forgot to photograph them). DO be prepared to wait up to 2 months to get your shoes in the mail, because they are individually hand made to order and I think they're absolutely worth it.
Shirt: ebay
Singlet: Kmart
Mesh skirt and short skirt: Made by me
Shoes: Golden Ponies