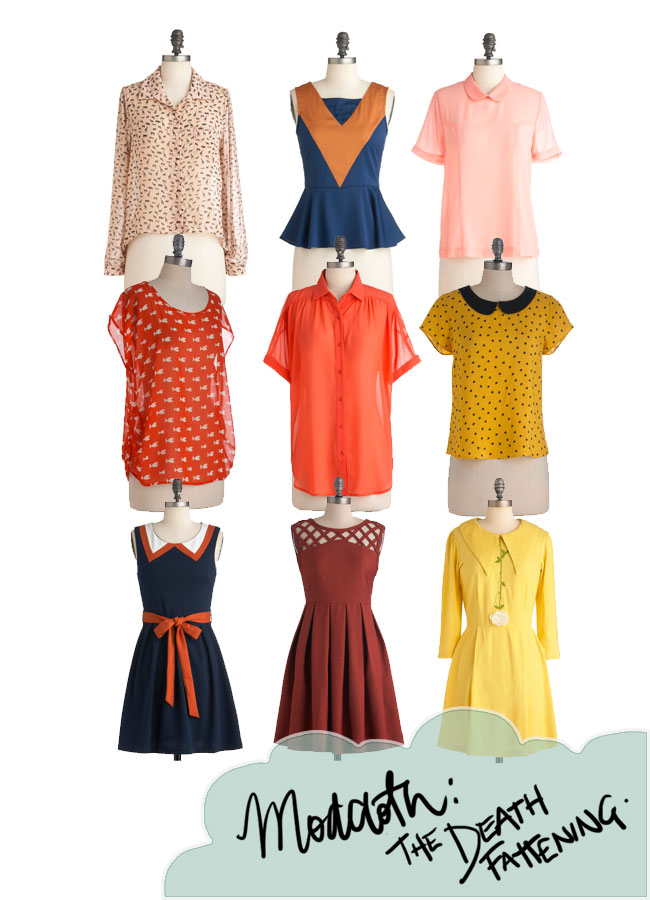 I've been altering the famous Colette Sorbetto top but then I ran out of sticky tape, which is basically a nightmare; so to scratch the sewing itch I've been browsing Modcloth for inspiration and venturing boldly into the land of billions of clothes that are Not For Me and that are all named so obnoxiously I gave up after three pages.
I do not have any qualms about making clothes inspired by retailers who do not deem to serve my body size. I know Modcloth have a plus size range but it is frankly pathetic and doesn't have a very expansive (lol) size range anyway. So, whatever Modcloth, I'm going to be over here plotting the deathfattening of your garments.
A number of these I could theoretically make from existing patterns I have on hand, with a little altering. I'm thinking that the pale pink and yellow polka dot blouses could be made by bringing the Sorbetto neckline up (after I grade it up four sizes!) and popping on a collar and sleeves. The orange fish print top would be a snap to make, just double a square of fabric over, cut a neck hole and sew up the sides then bind all raw edges. The navy and dark red dresses I could possibly make from my altered McCall's M6085, and what a handy pattern that has been!
I would love to get my hands on a decent shirt pattern that I don't have to grade up, because I really want to make some cute sheer shirts. (I'm open to recs!) I've had my eye on this Butterick Connie Crawford pattern but I'm not fond of the shoulder darts.
This has been another sewing post!