I haven't posted much about our new place mostly because I'm still working on it. The garden has come a pretty long way since we moved in and I may as well show you the progress!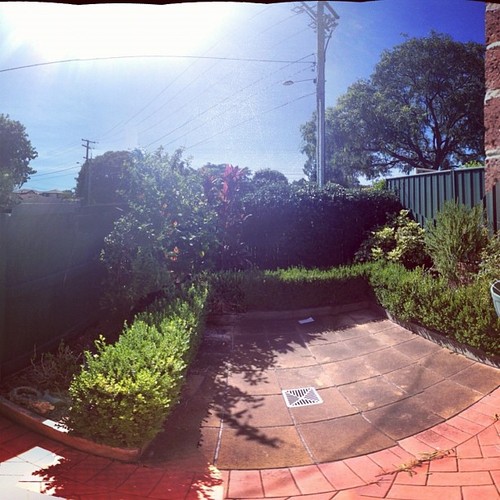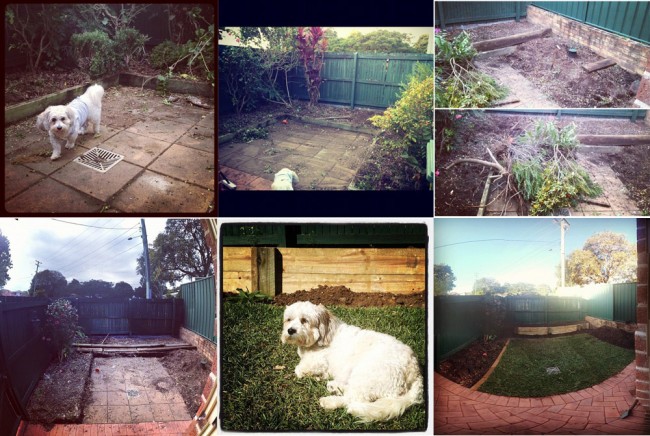 We don't have a large yard, and we weren't fond of having the small space made even smaller by claustrophobic hedging. Miffy needed a place to go to the toilet and sun herself too! The whole yard was ripped out (mostly by Nick!) but we did keep the lovely pink camellia tree on the left hand side. The garden beds were pushed back a little on each side to allow for more grassed area.
The backyard blitz was done on the cheap: we pulled out plants on the weekends (a good thing to do because some were damaging our front fence!), recycled the tiles and sleepers into garden edging, and housewarming gifts bought our turf. We had (and still have) a heap of dirt which has been great for potting up cuttings from my mum and Nick's mum. Sharing cuttings is FANTASTIC for getting a garden started! I never knew you didn't really need to buy plants! (It sounds so basic, right? But I never knew!)
I have plans to put lattice up on the big fence (on the right side) and train vines up it, and to hang small pots of colour and herbs on it as well. The right side fence extends down the length of our property and could do with some softening! I hope to scour junk yards for cheap lattice – I checked on pricing at Bunnings the other weekend and discovered it'd cost $25 a piece of lattice and we can't afford that!

I took a video this morning as I did my regular garden check up and prepared to plant seedlings given to me by my gorgeous friend Erin. I thought I'd share it here so you can see what I've been working on. Gardening is something I've wanted to do, but never had the chance; any pot plants I'd ever had died rapidly in my care so I was really nervous in the beginning. It's nice to have things to take care of, that you can watch growing. It all seems very magical to me!
* For non-Australians, my punny title refers to Burke's Backyard – a long running gardening show on the teev that starred Don Burke.