I have never worn a jumpsuit in my life. My long torso, short waist proportions mean they have been perma-wedgie garments in my experience. Plus, shorts always do a weird thing and ride up between my legs and I hate feeling stressed by my clothes. So, I have avoided jumpsuits because even though they look like they promise ease of wear, I am suspicious.
The Caramiya Caladium jumpsuit came up in my sewing travels and I bought it because it looked simple and so cool, but I hadn't done any sewing in about a year so the file sat on my computer and percolated for a while.
In 2018 I bought a 2 metre length of the Cheeky Dogs print from Injalak Arts, an awesome art centre in Gunbalanya, Northern Territory, that has a bunch of brilliant First Nations surface pattern designers (amongst other artisans) who produce hand screened fabric prints. Like the Caramiya jumpsuit, this length of beautiful cotton has been tucked away in my stash waiting for a garment to do it justice. Unfortunately I only bought a 2m length, as there were no 3m lengths available at the time. Every project I brought to the Cheeky Dogs was turned down due to lack of yardage!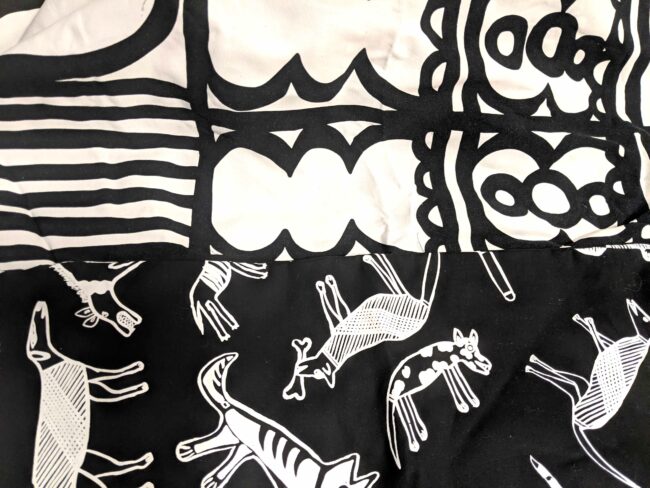 This week, fresh off some test sewing that I hope to be able to share soon, I decided the time for the Caladium had come. And I had a little germ of an idea that I could combine another too-short length of Ikea fabric with the Injalak Arts print as they are similar weights. But it'd be a bit of a pattern clash! After conferring with Instagram, we decided it was ON!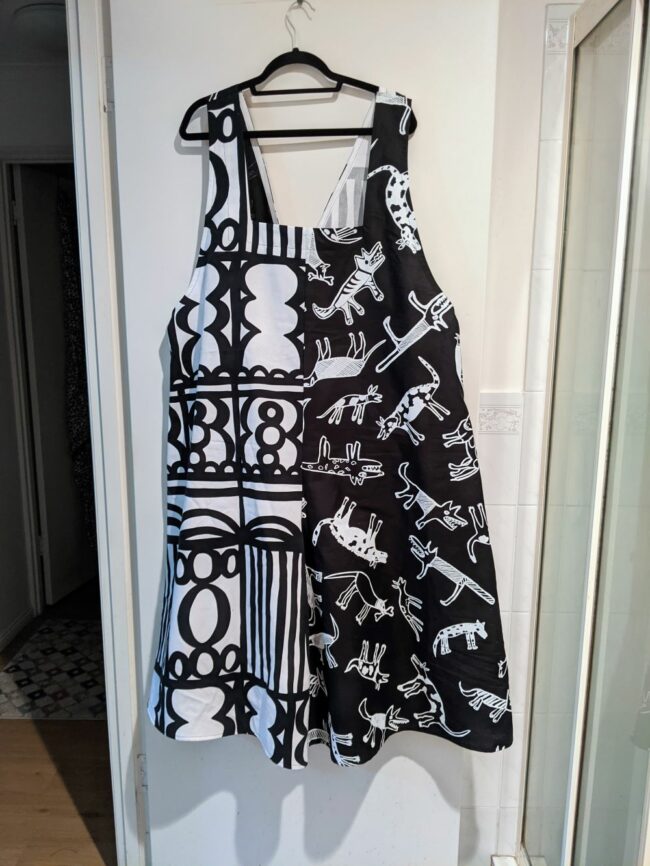 In my first version of the jumpsuit I discovered the waist did indeed need some length so I added about 6.5cm for this iteration. I cut a size 24-26 and used a 1cm seam allowance as I was only juuuuust eking into that size. The pattern suggests making 1.5″ (3.8cm) bias tape but I was lazy and used premade 12mm bias.
It's a simple and satisfying make, taking me about 4 hours as I fiddle faddle, day dream and take breaks as per usual when I am sewing. I actually made the first and second jumpsuits in one day so you have absolutely no excuse not to muslin!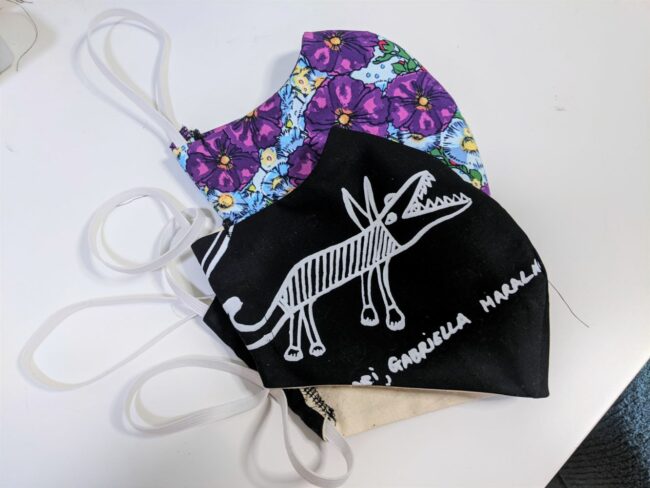 This morning I woke up and figured if I was in the sewing mood I simply must make up some more masks because all the ones I made last year have evaporated into the aether. I love that I can coordinate with my jumpsuit now!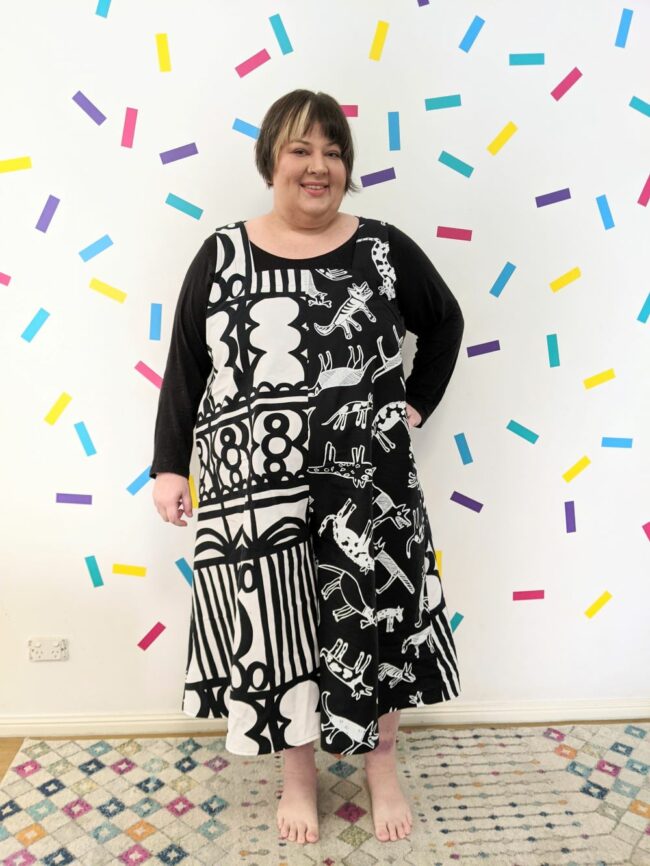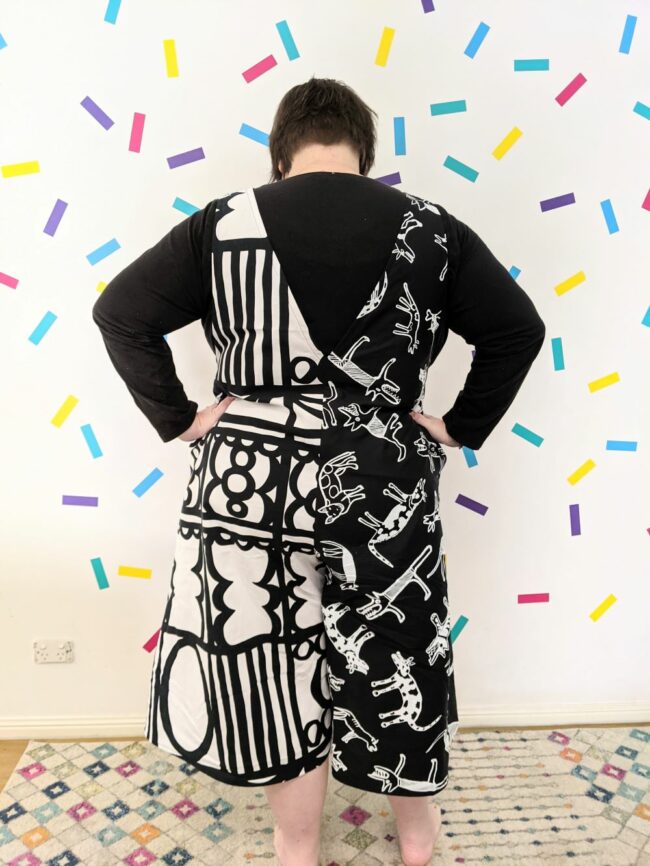 I'm a big fan of this reversible style. The wide legs are so freeing and not at all like the leg prisons of skinny jeans we've all been wearing for 20 years. I am so excited about the wide leg revival! The crotch seam hasn't ridden up while I've been walking around the house but all bets are off when you're out in public. Clothes have a way of sneaking up on you.
It's a surprisingly cold winter here in South East Queensland, as indicated here by my wearing of a long sleeve. Yes, I can hardly believe a three quarter length sleeve is not cutting it this year! I envision a LOT of summertime jumpsuit wearing because it's just perfect for humid days like we have here, that is if you make it in cotton!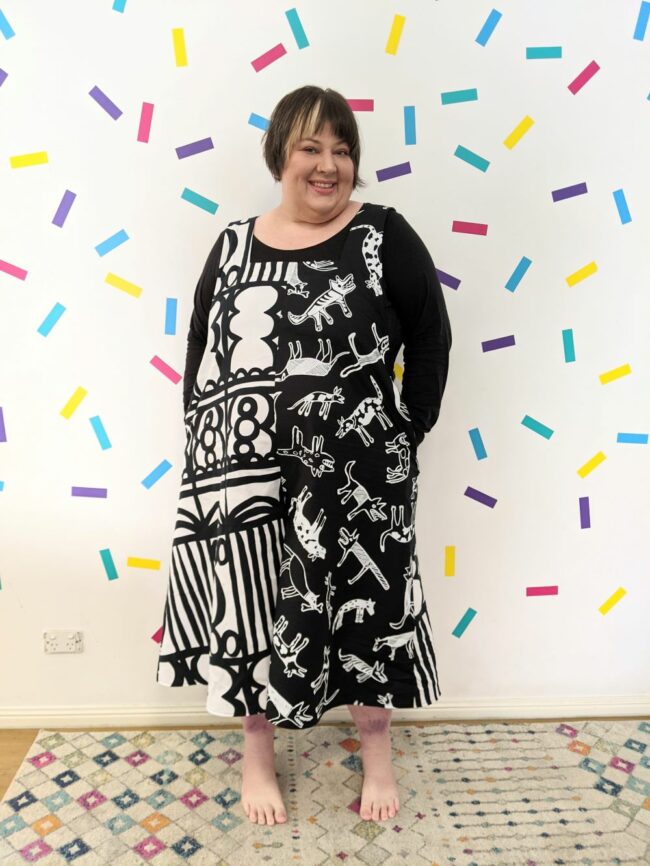 My plan is to buy some pink and red drill and concoct a Valentines themed jumpsuit!