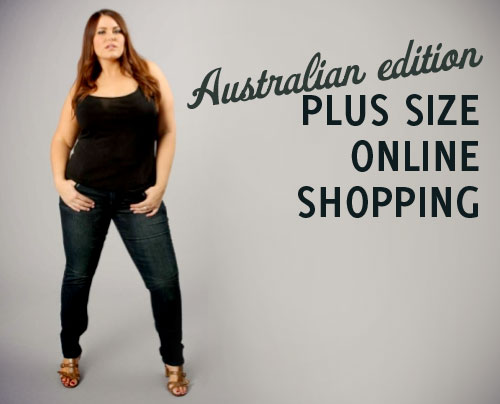 I have been shopping online for a few years now, and having a bunch of local plus sized friends who do the same I just figured that it was something that was quite common. I'm always surprised when people ask me if I am hesitant to shop online, because of international sizing differences, the shipping costs and because it's hard to tell if a garment will suit but I have honestly never been that worried about it! I was asked to do a post on my recommendations for plus size online shopping via my question form on Tumblr (if you have any burning questions, go nuts!) so I thought I'd do a fairly thorough round up of my experiences and opinions of the various online retailers.
AUSTRALIAN PLUS SIZE RETAILERS
City Chic
Quality: The collections are usually on trend, cater to a younger market and include a lot of smart casual pieces as well as some dressier dresses. The quality of clothing swings with huge variation from a little bit dodgy to really good. The jeans I have bought from City Chic typically stretch out in the waist, so buying down a size in denim might be a consideration.
Sizing: City Chic offers from AU 14- 24, and garments are sized fairly accurately.
Cost: This is one of my main concerns about the City Chic brand, as I have felt that many of the garments aren't of a high enough quality to warrant the pricing. That being said, if I am ever in a situation where I need something to wear at the last minute I will bugger the cost and purchase anyway because there really isn't any other option for smart casual wear!
Shipping: City Chic ship domestically and internationally, and the site suggests that domestic shipping costs AUD$10 and are typically received within 5 days and international shipping costs are priced on destination and are typically received in 2-4 weeks.
Sara
Quality: Very good quality basic pieces for every day, work and smart casual occasions. This brand doesn't really offer much on trend unfortunately, but the basic pieces can be layered and styled with a little trickery!
Sizing: Sara offers clothing from AU size 16 – 28, but the larger sizes are often scant (hint hint, that means there ought to be more!) Sizing is true, but if you've got broad shoulders like me you should go up a size in the jackets.
Cost: The pricing of the Sara range is really decent, right where it should be!
Shipping: Standard delivery within Australia is under AUD$10 and within 10 days, and Sara offer a Priority service of 2 day shipping as well. I can't see any indication of international shipping available on the site unfortunately.
Autograph
Quality: Autograph offers excellent quality clothing, but sadly the collections are rarely on trend and their target market is probably for ages 30 upwards. I buy basics from Autograph, and they last for years even putting up with rigorous abuse from housework and my art messes!
Sizing: Autographs sizes cater to AU 14 to 26, and in my experience run a little large.
Cost: Newer collections can be on the upper end of reasonably priced, but Autograph has some incredible sales where you can pick up garments for $10! Because the pieces aren't really on trend, you can buy your end of season basics for a bargain.
Shipping: Autograph and City Chic are under the same umbrella company and have the same shipping costs and policies.
My Size
Quality: Garments are of an excellent quality (from my limited experience!) but My Size doesn't do many trend pieces, instead offering basic smart casual collections.
Sizing: The sizing caters to the typical range of AU 14 – 26, and runs pretty true to size though the t-shirts are a little large from memory.
Cost: Pricing is on the high side, but the quality is pretty good. International customers must pay with Paypal, and incur an AUD$25 fee on top of shipping!
Shipping: Australian customers can expect to pay between AUD$11-15 depending on how much they order, and international customers will pay shipping dependent on where they live and how much they order.
Embody Denim
Quality: Embody's denim pieces are of fantastic quality, and I can't rave about them enough! They have a variety of styles ranging from skinny jeans and flares to skirts and jackets. The fit is quite incredible, I highly recommend a pair of Embody jeans!
Sizing: Depending on the style, the label ranges from AU 8- 26. I usually go up a size in denim, and I wasn't disappointed when I went up a size in the Body Love style. They fit perfectly for me, but your mileage may vary. To assist your purchase they have an email consultation service too!
Cost: These are high end duds at around $250 a pair! If you sign up to the VIP list you'll be notified of half price sales and seconds. That's the only way I could afford my pair!
Shipping: Postage is free Australia-wide, and while Embody mention that they ship worldwide they don't have any indication of what shipping costs are.
Some other retailers I haven't yet bought from:
Dreamdiva
UnderCoverWear
Entitled Clothing
Stay tuned for the UK and USA post!