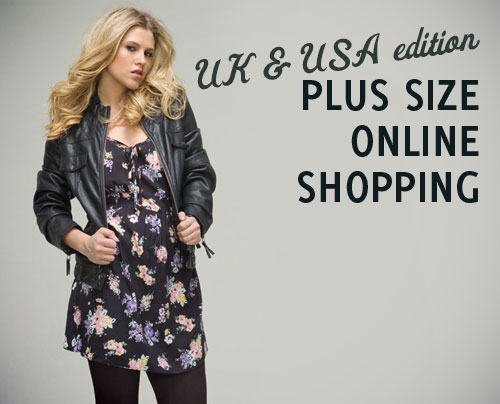 Following up on yesterday's Australian edition, I present the UK and USA edition of "Where I shop online"! It's not as long as the homegrown plus size shopping post because I have grown to love the UK retailers, Yours Clothing and Evans in particular, and give them my custom regularly! I've included links to other online shops that I browse frequently – if you've had any experience with them or other plus size shops do leave a comment.
UK
Yours Clothing
Quality: Yours Clothing have a huge variety of garments, which have a huge variation in quality. I've bought things that are fantastic, yet others are constructed in arse-about-face ways that obviously save the manufacturer money. Regardless, Yours is one of my favourite places to shop because there is so much to choose from!
Sizing: The best thing about Yours is that they also stock a huge variety of sizes, from UK 14-32. In my experience UK sizing is pretty much the same as Australian sizing, but as always do make sure to consult the size chart and your measurements!
Cost: You can browse the site in a few different currencies, which is fantastic, and all the garments are very well priced. Yours have great sales too, so it's worth signing up to their email list to get a heads up! You can pay with Paypal without any dramas either – I love retailers that accept Paypal!
Shipping: Postage to Australia is £10, and depending on the conversion rate it's pretty good. It's definitely worth it at sale time! I usually receive my orders within a week.
Evans
Quality: I adore Evans – their garments are really well made, on trend and totally my style. Evans and Yours are tied for my favourite plus sized online shops, because while Evans doesn't have as many clothes as Yours they make up for it with a great collection of footwear for wide fitting feet.
Sizing: With a range from UK14-32, Evans offers fantastic on-trend clothing to fatshionistas who miss out on a lot of plus size brands that stop at size 26. I've always found the clothes true to size, but be careful when shoe shopping as most of the shoes are EE fittings (a nice change from having to pass up all the shoes that are too narrow!)
Cost: I find Evans a little pricey at times, but the sales are great. I am a huge stinge, obviously ;)
Shipping: A super duper £7.50 to Australia, which always makes me happy! Shipping usually takes around a week, which also makes me happy.
USA
Torrid
Quality: I read a lot of complaints about Torrid's quality from stateside fatshionistas but the pieces that I have bought over the years have been of great quality! The brand is very young and full of statement pieces, sometimes a little too much so for me, but there's a lot to choose from if you've got a fearless sense of style!
Sizing: Torrid offers from US size 10 – 28 but in my experience their sizing conversion is totally funky. I always go a size up from my Australian size, sometimes two, yet their chart says Australians should go down a size! Always have your tape measure handy and pay attention to the measurements, NOT the conversion chart.
Cost: Unfortunately it is pretty spendy for what you get, especially if you're an Australian shopper because you get stung on conversion and pay a whopper for shipping.
Shipping: As I mentioned above, shipping your Torrid gear to Australia costs a bomb! They say it's based on weight but it's usually around AUD$60. Ridiculous!
Other retailers I haven't bought from yet (but check all the time!)

USA
B & Lu
Igigi
Kiyonna
Size Appeal
SWAK Designs
UK
Phew! That was an epic round up, but I hope it was of some value. If you've never shopped online before, start with the clearance sections first and make sure you take your measurements (honestly!) and pay close attention to the sizing charts.
If you can recommend other plus size online shops, go nuts in the comment section!