There is nothing more thrilling than being roused by the postie making an early morning parcel delivery and then sitting in bed ripping everything open like a 4 year old on Christmas day. Oh wait, there is something more exciting… trying everything on and having it all fit perfectly!
It seems like I've been waiting weeks for my packages from Asos and Evans, and for the last few days I've had to endure the torture of two public holidays and the weekend. When it all came I had to take photos straight away so I could show you my brilliant purchases!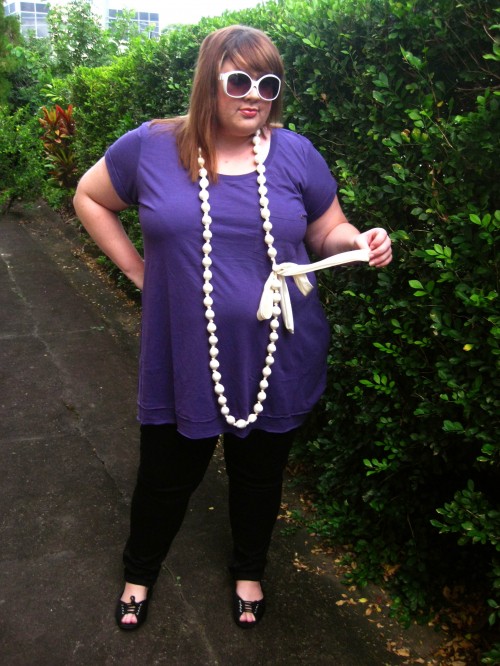 I'm feeling the oversized tunic right now, and this Evans purple tee is very cute and comfy. I ought to have photographed the back – two brass buttons and a fabric loop cinch it a little tighter! When my Mum gave me this necklace I loved it but wasn't sure what to wear it with but I think its opera-fance clashes nicely with this comfy everyday outfit. The Asos Curve skinny jean replaces my much-worn Smile Land jeans which gave up the ghost promptly when we arrived home from Melbourne. They're a sturdy denim, so I hope they'll withstand the amount of trudging I do!
T-shirt: Evans
Skinny jeans: ASOS Curve
Necklace: Gift from my Mum
Sunglasses: Some chemist, somewhere.
Shoes: Evans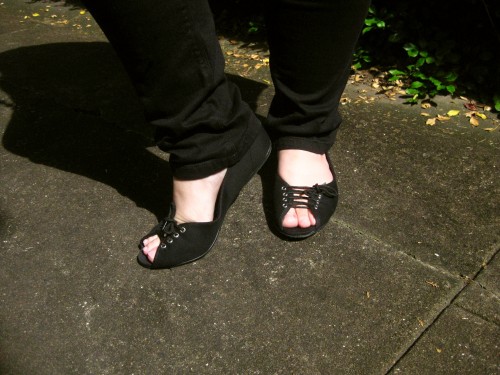 These Evans canvas shoes are so cute! I bought them in the E fitting, as I find the EEE is often too wide for me (and I have pretty wide feet!) Surprisingly, they were a little narrow but you can re-do the lacing. Fabulous.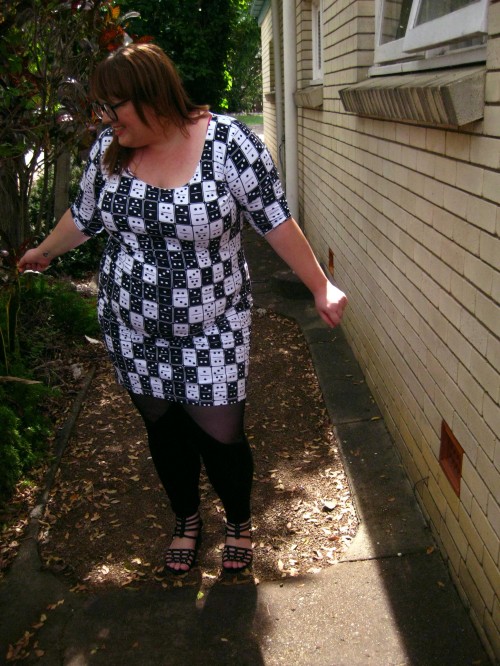 The weather is almost mild enough to wear the infamous domino dress, but I wanted to pair the Asos Curve mesh leggings with something kind of OTT. I bought the leggings because Black Milk don't want to take my money, but never fear, the Asos leggings are definitely a good stand-in!
Dress: Beth Ditto for Evans (Not new!)
Leggings: ASOS Curve
Shoes: Evans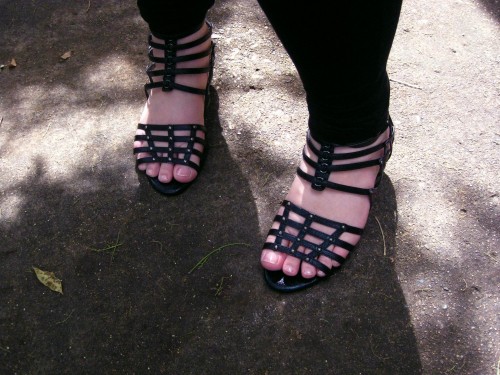 Hayley has had me craving some sandals for months now, so I was overjoyed to be in possession of these fabulous Evans cage sandals. 11/10!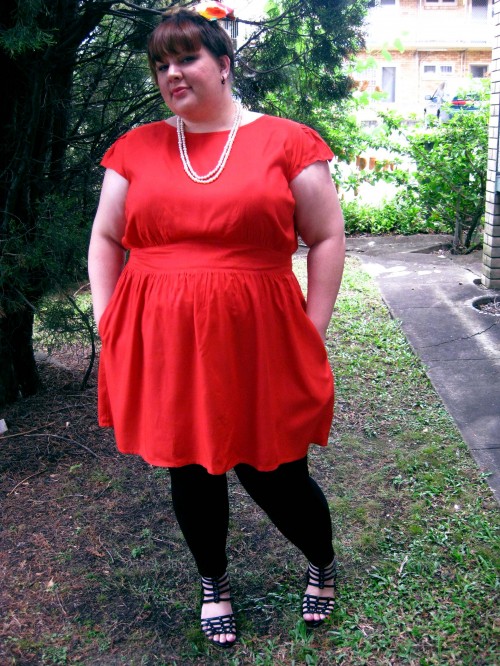 My favourite, FAVOURITE thing: the Asos Curve fitted waist dress. When I've got the dosh I'm definitely doubling back for the navy and black versions.
Dress: ASOS Curve
Leggings: ASOS Curve
Shoes: Evans
Necklace: Diva
Hair bow: Chapeau Claudette – a gift from the visionary Makalita