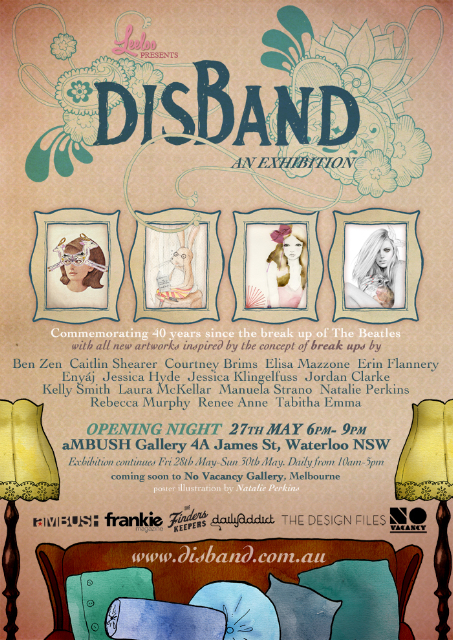 I have been completely remiss in letting you know about the new Leeloo exhibition, Disband! Considering that I am a part of it, and I drew the poster illustration, I ought to smack my own wrist.
Here's a bit of info on the show – if you're in Sydney you must go check it out!
Inspired by the 40th anniversary since the break-up of The Beatles, the theme of this carefully curated exhibition, titled Disband, is the end of relationships, be they romantic or otherwise. With the support of one of Sydney's favourite indie art venue's, aMBUSH gallery, Renee and Angela will be creating somewhat of an installation where visitors will tour the apartment of a couple undergoing such a split, and the featured works will be on the wall of their "living space".
Expect to see original pieces by Australian artists Kelly Smith, Ben Zen, Laura McKellar and Elisa Mazzone (examples shown in image) as well as talented peeps like Natalie Perkins, Jordan Clarke, Courtney Brims and Jessica Hyde and many more. On the opening night, you can also expect to see a cute 10-minute play titled "A Toothbrush Tale (We'll Always Have Peach Tiles)" which was recently a finalist in the international Short & Sweet Festival, by Sydney's own Anika Herbert.
Opening night will be Thursday May 27th, 2010 at aMBUSH gallery from 6pm to 9pm, with the exhibition open daily from 10am to 5pm through to Sunday May 30th. Artworks will be available for sale, and we will again have a small Leeloo "pop-up store" for the public to have a hands-on look at some of our gorgeous online goodies from the Friday to Sunday. All walks of life are welcome for the duration, and we look forward to seeing you there!

Do you like sneak peeks? If you don't, you're S-O-L folks, this is one of the pieces I am probably going to show in Disband. Probably… because I have quite a few ideas and I'm still working it all out!
Big thank you to Renee and Angela, they are wonderful, creative and generous people and I'm so proud to be part of this show!
Here's a facebook event page, go and RSVP right now :D