I've had a pretty exciting week, and not all of it due to the crazy amount of blog love (and a bit of stern e-disapproval!) This past few days I've been in Melbourne taking part in a body image project and meeting the fabulous Jacqui, and then last night I got news that I will be speaking at the Australasian Fat Studies conference to be held at Macquarie University in September. You could say it's been Fat Week, because the phrase has most certainly passed my lips in the last few days! I'm feeling very awesome about my little place within the movement, and grateful to know so many fantastic activists.
So anyway, I've been wearing clothes again, which has been excellent since I've been in Melbourne, an absolute fashion playground. I am always inspired by what people wear down there. It's pretty cold at the moment – about as bad as a really cold Brisbane winter and it's only May! I had to learn to love the layer, and fast.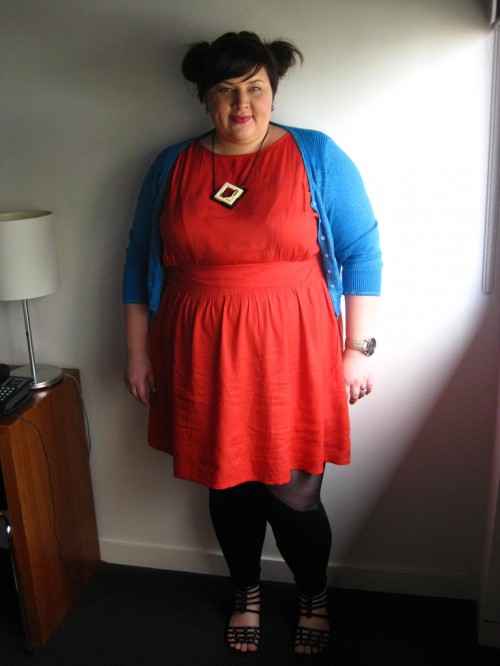 They say people wear a lot of black in Melbourne, and it's always been something I doubted, however it was pretty much confirmed on this trip. I have a lot of black clothing but also some really bright garments, so I decided to go a bit nuts with the red and blue. It's a pretty jarring combination that vibrates a lot! I got a lot of glowering looks, as if they were somehow trying to mind-wrangle my eyeball-gougingly cheery outfit into submission.
Dress – Asos Curve
Leggings – Asos Curve
Cardigan – City Chic
Shoes – Evans
Necklace – Lola and Bailey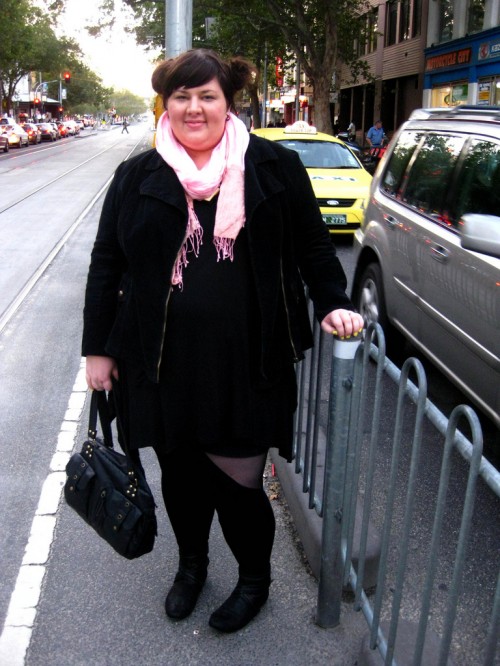 When we went out to get dinner I decided that head to toe black was necessary. If only I had a black pashmina! I bought the sparkly boots I'm wearing from Target that morning. They are quite magical.
Dress – Target
Jacket – 1626 (now Autograph)
Leggings – Asos Curve
Cardigan – City Chic
Boots – Target
Necklace – Lola and Bailey
Scarf – gift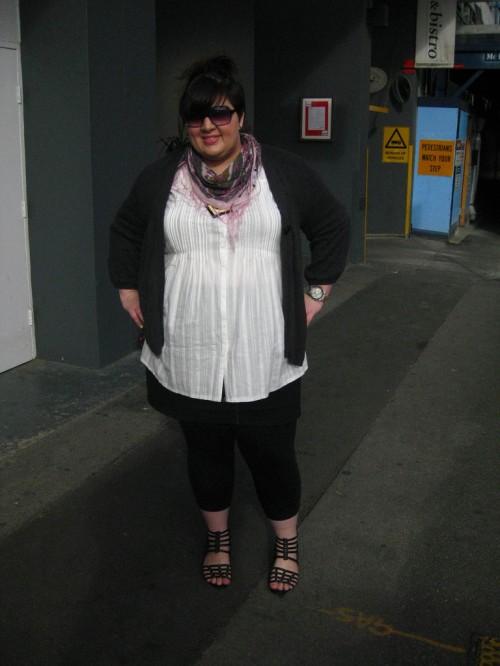 And today I wore grey, cream and black with the gorgeous scarf Sonya gave me a few years ago. This shirt is also from Target in Bourke St – it never disappoints for plus size shopping, in fact, I would like to meet their buyer and take them out for lunch.
Shirt – Target
Cardigan – Kmart
Skirt – Yours Clothing
Leggings – Big W
Shoes – Evans
Scarf – Gift
Sunglasses and watch – Bijoux Terner
Life is pretty chaotic at the moment, and things seem to be moving really quickly. This is problematic because I need time to tend to all my stuff, it just doesn't seem to be tending to itself! If you don't see many posts from me next week I'm most likely digging my way out of my inbox or working on commissions and artwork for exhibitions. It's not fair, I have so much I want to write about!