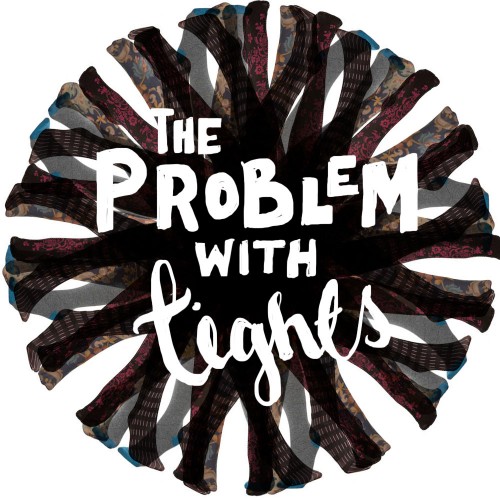 I am a lady who loves tights. Several of my recent (and most popular) posts are about tights. Or leggings. By now you might have noticed that I use those words interchangeably but yep, I mean the stretchy tubes you put on the lower half of your body. I'm sorry if that annoys you but that's just what I do, I can't explain it!
Anyway, the important matter at hand is not my distracting and improper use of nouns, it's tights. And how I can't find any cute ones. Am I taking crazy pills? The only tights I can find for plus sizes are in bright colours, and while I'm partial to a lurid garment every now and then, I have filled that wardrobe requirement and I want to have the options in legwear that straight sizes do!
My specific desires in super stretchy leg gear include (but are not limited to): florals, geometrical, mesh inserts, foil, lace, ribbed and fishnet. The tights I've used in the above graphic all come from ModCloth and I'd save up money to purchase them all except they don't come in my size. I'm looking for ankle length if they're footless, and properly sized if they're stockings. Queen size does not fit me, and it annoys me that these are sold as a "one size fits all" solution for every person above x number of kilograms.
Another issue when it comes to tights is my lack of access to them. Brick and mortar stores sell opaque black in my size if I'm lucky, and in order to have any kind of chance I must look online. Many online stores that sell tights in my size don't ship to Australia, and because I'm Australian I need to be very careful about selecting the right size. So it's a pretty tortuous process to get through just to keep my legs warm and even then the end product isn't exactly what I'd wanted in the first place.
So, my solution is to whinge about it because I know a few plus size fashion labels keep tabs on the fatshion blogging world. Hear my pleas for more fashion forward options and I will give you money in exchange for tights that will make me look fabulous and recommend you a million times over. I know a couple of indie designers, naKIMuli and Decadent Industries, who are making amazing patterned tights in straight and plus sizes. Nikki of Decadent has recently had to put orders on hold for a while because she has been so overwhelmed with demand. My other solution is to try and DIY myself some leggings; I've found this pattern, which I will have to grade up to my size (like usual). But this option is only available to people who have the time to make a pattern and sew it, who have sewing skills and access to a machine.
There is a market. We have cold, unadorned legs and we will buy tights!
So while you wait for the plus size market to catch up, here's a list of DIY resources if you're inclined:
Shelby Kaava #302 Vuokatti Tights
rokkmeamadeus' DIY leggings tutorial
Cocorosa's embellished tights tutorial
Cocorosa's miu miu tights tutorial
The Coveted's gradient tights tutorial
Shini's cloudy pearl tights tutorial
ljenmf's cutout/ bow tights tutorial
Threadbanger spiked leggings tutorial