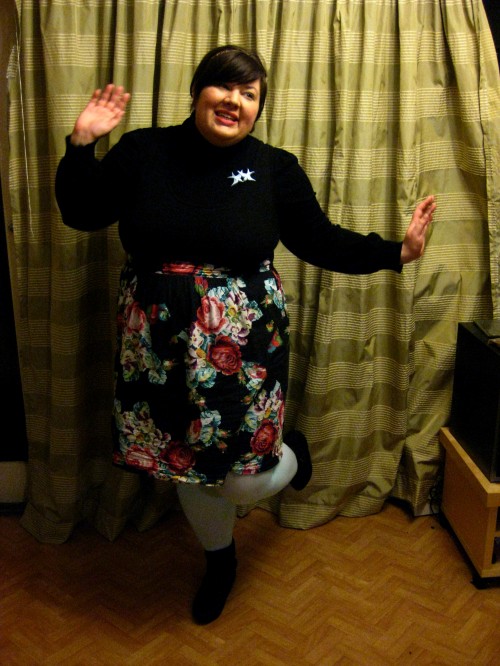 I am suffering with a head cold at the moment and last night we had to go out to dinner with various people that Nick works with. Having received this pair of pastel mint tights from the lovely Cara at We Love Colors during the week, I really wanted to pick an outfit that went with them! Unfortunately, I own a lot of black and dark clothing and had to put this turtleneck on at the last minute because it was a bit nippy, so the outfit isn't really what I was after. I think these tights would be gorgeous with a light coloured baby-doll dress and some chunky tan high heel sandals, but alas alack, none of these items can be found in my wardrobe!
In this photo you can see I am doing a pre-dinner warm up so I could go out and be social.
Turtleneck: Myer, I think.
Dress: City Chic
Tights: We Love Colors
Shoes: Target
Brooch: Peta Pledger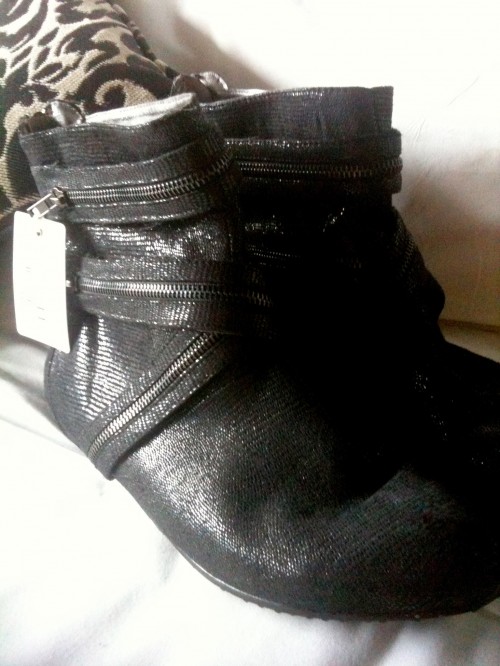 I'm so pleased I bought these sparkly zipper boots in Melbourne. I've worn them quite a bit. They cheer me up when I'm feeling glum.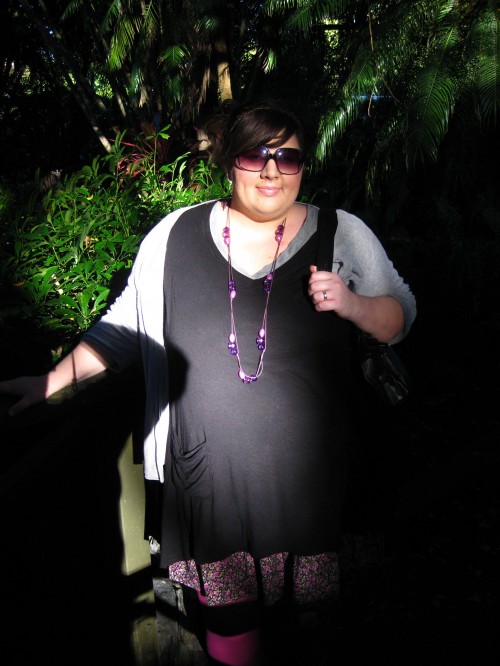 Today, even though I couldn't breathe properly, I implored Nick to accompany me to the Botanic Gardens at Mount Coot-tha. I think I'm still on a bit of a nature kick, and it's nice going outside instead of resting all day. I hate being sick and not having the strength to do anything! It was nice to get out for an hour and get some vitamin D.

Yep, you can just look at my face to see I'm totes not into posing for an outfit photo. That's my "I CAN'T SMILE, MY MOUTH IS MY SOLE BREATHING APPARATUS RIGHT NOW!" look.
Black top and grey top: Target Moda
Skirt: City Chic
Tights: We Love Colors
Cardigan: Urbane Woman from Myer
Shoes: Evans
Necklace: from Mem
Bag: Dangerfield
Sunnies: I can't remember
I know I haven't posted many outfit photos lately but it's hard to get photos when the light disappears in the early evenings of winter. Also, I am feeling super self conscious posing for photos outside lately. Does anyone else feel like that?
Here, have a photo of (half of) Nick and I at the Botanical Gardens: