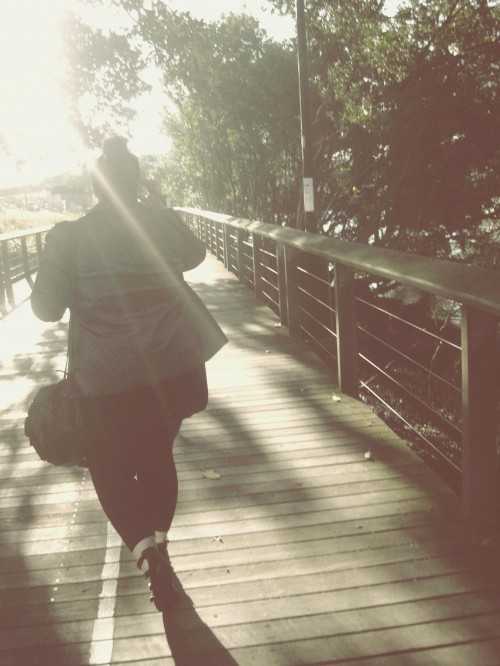 If you like checking out other people's outfits, you'll have come across this sort of photo before. Now it's my turn to bastardise the whimsical outfit photo! (I'm not hating, I swear!) Yesterday was a day of huge amusement, with all the Lane Bryant/ #teamfance drama so I was feeling a bit playful and asked Nick to take a bunch of silly photos so I could run them through the whimsy machine (i.e: Photoshop).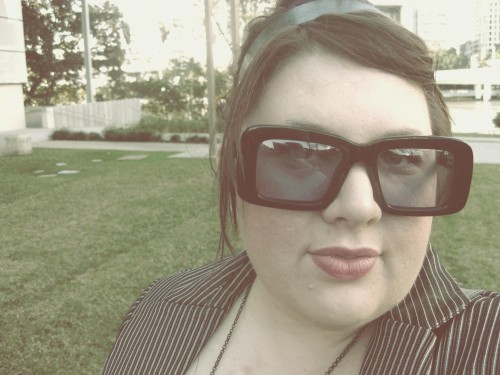 I think my day started off on just the right note when there was a knock on the door and I got a big parcel from Kiki that included these AMAZEBORLZ Karen Walker sunglasses. I won them in her giveaway, can you believe it?! I feel shit hot in them, pardon my Français.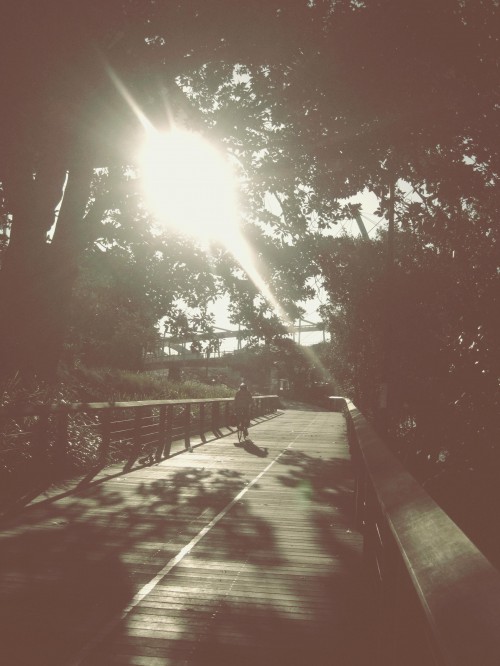 Nick and I managed to get out of the house in the afternoon to visit the Ron Mueck exhibition at GoMA. We'd made a date earlier in the week to see it Friday, but the morning drama threw a few spanners in our planning. We simply HAD to see the Mueck show, because it's closing this weekend and neither of us had seen it yet.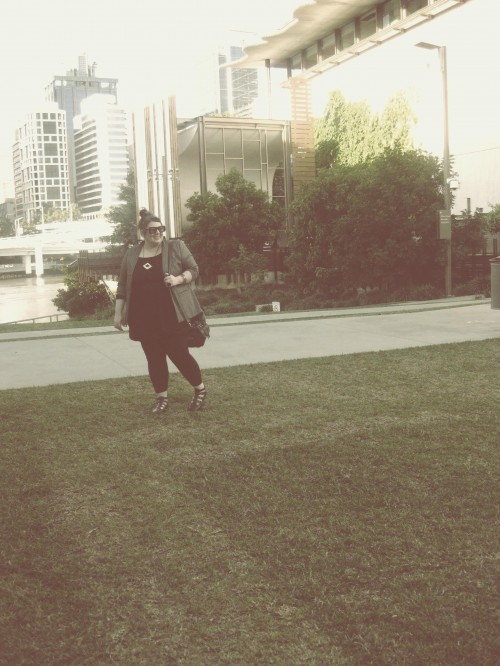 I'm not usually the type of blogger to post lots and lots of photos of my outfits. For me it's strictly about documentary and visibility, because my camera's not so great and in order to pull off the editorial style of other bloggers a lot of time and effort must be invested. (I'm also convinced I need a fancy DSLR for that kind of thing.) When I throw the camera at Nick and order him to snap a photo of what I'm wearing, we're usually running late with no time to dilly dally! I'm also pretty shocking at posing, I just feel so awkward. And not lookbook.nu kind of awkward either, sadly.

Let's come back from whimsy land so you can see what I'm actually wearing!
Bubble dress: Yours Clothing
Leggings: Asos Curve
Blazer: Ebay score for $11 (including postage!) from years ago.
Shoes: Evans
Sunglasses: Karen Walker Sir Bookies
Rose and circular gem ring: City Chic
Amber rectangular gem ring: Evans
Floral bangle: City Chic
Scarf in my bun: Gift from Sonya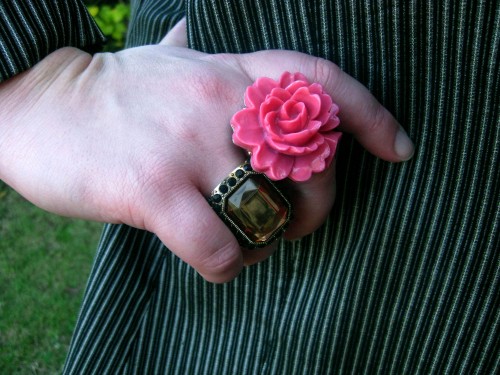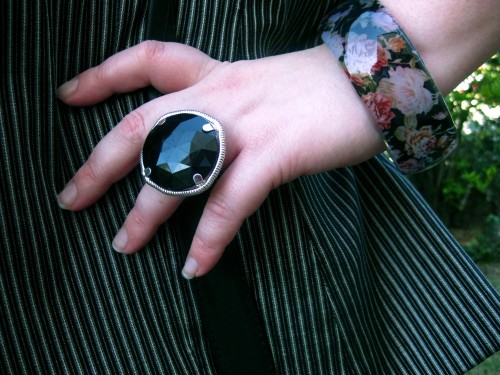 And don't you love these massive rings? I do. I would love nothing more than to have hands clad in grotesquely ginormous jewellery. (Oh yes, in posts I need to write in the future: How Fat Girls Don't Always Have The Best Accessories, Because Things Like Rings and Bangles Are Usually Too Small.
So I hope you enjoyed this epic outfit post. I'll endeavour to spend more time taking photos of what I wear but it does require a big time and effort investment. I honestly can't hate on the bloggers who do edit their photos like this and post multiple shots. Lots of toil goes into it!
The Ron Mueck exhibition was wonderful, by the way. If you're local to Brisbane you have until Sunday to get yourself to GoMA!