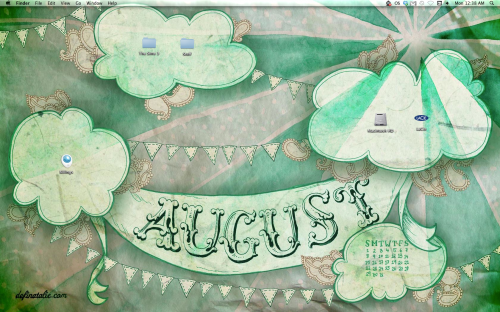 Down this part of the globe it's been the 1st of August for a whole day and I hope you won't hold my tardiness against me. Maybe you're only just starting the month in your part of the world? Then I hope I'm posting this in time!
I quite like august as a word in its own right, if you've never heard it used before here's a definition:
au·gust

   /ɔˈgʌst/ [aw-guhst]
–adjective
1. inspiring reverence or admiration; of supreme dignity or grandeur; majestic: an august performance of a religious drama.
2. venerable; eminent: an august personage.
from dictionary.com
1920×1200
1920×1080
1680×1050
1600×1200
1280×1024
Wallpaper for iPhone (320×480)
Wallpaper for other phones (240×320)
I spend around 12-24 hours on each desktop, inking and drawing each element before scanning everything and pulling it all together in Photoshop for each desktop resolution. If you'd like to throw in a couple of bucks to contribute to the time spent drawing each desktop as well as my general hosting costs for definatalie.com and my flickr account, your donation will be much appreciated. <3

This work is licensed under a Creative Commons Attribution-Noncommercial-No Derivative Works 3.0 Unported License.
You may not upload this desktop to other websites, nor may you use it for any other purpose than to wallpaper your desktop. This also means it's uncool to alter it and reupload it somewhere as your own work.