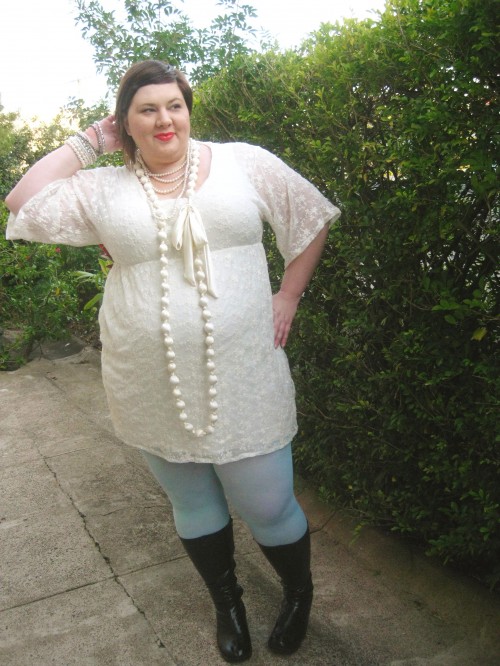 After simply forever I finally got the t-shirt and dress I bought from the Asos Curve sale weeks and weeks ago. I've been sick this week, so it took me a while to try everything on and I can't say I was very enthused about my purchases. The t-shirt, just a simple long white number, seems too small for the size and the dress is… well, a scandalous length. As you can see right here.
I threw on a bunch of bracelets and necklaces, my beloved pastel mint stockings from We Love Colors, and a pair of Torrid boots from a few years ago and dragged Nick outside to document my Mama Cass-inspired outfit. As a freelancer and blogger, you can bet for damned sure that I take advantage of the non-existent dress code and avail myself of shapeless and comfy clothes; though it's nice to play dress ups, especially when you're welcoming a new garment to the wardrobe.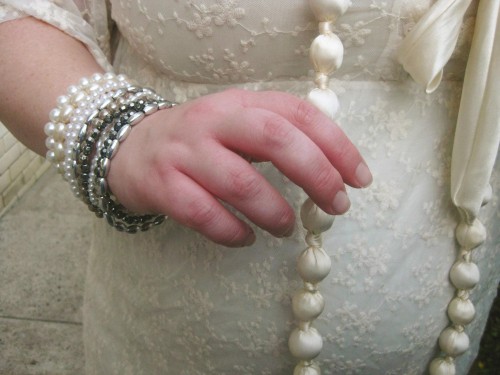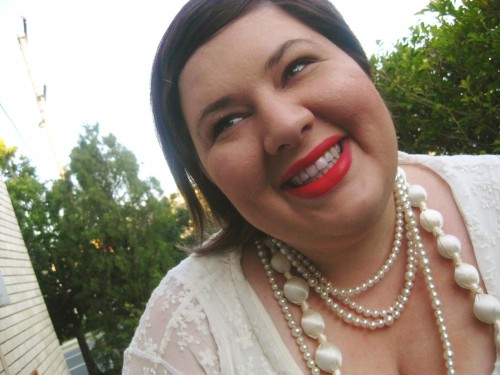 I often struggle with categorising my blog. I am very hesitant to call myself a fashion/ fatshion blogger because it's not the only thing I care to write about, and at any rate I simply can't afford to be one! On the other hand, I blog about my outfits (real and ridiculous) because I'm passionate about the visibility of fat bodies. I don't care if people don't like what I wear and I don't care about trends – I blog because fat people are dehumanised and made invisible and if I've got a platform and an audience, I'm going to take advantage of it to normalise my body and bodies like mine.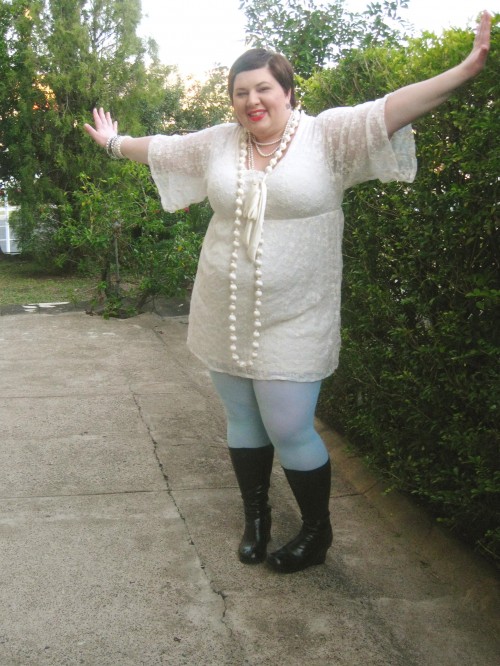 What I'm wearing:
Dress: Asos Curve
Stockings: Pastel mint nylon/ lycra from We Love Colors
Boots: Torrid
Necklaces: Gifts and Diva
Bracelets: City Chic
Bodies like mine usually don't get to dress up in designer clothes. Instead of "supporting local designers" or collecting pieces from super designers, most of us buy our clothes off the internet from the "high street" stores. The funny thing is, bodies like mine would absolutely consume designer fare if it were made in our size. But it's not, so fat people remain in a position where they're portrayed as unfashionable and unattractive, when being fashionable and attractive is rewarded! It's so frustrating and circular, I'm baffled when people fail to see this cycle.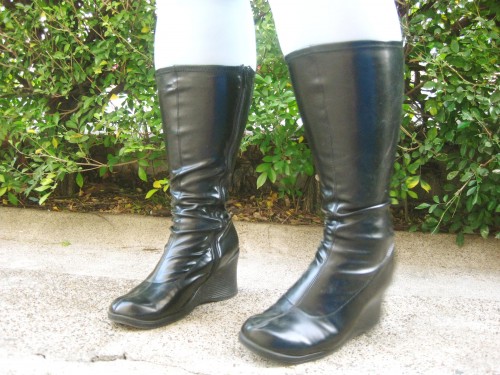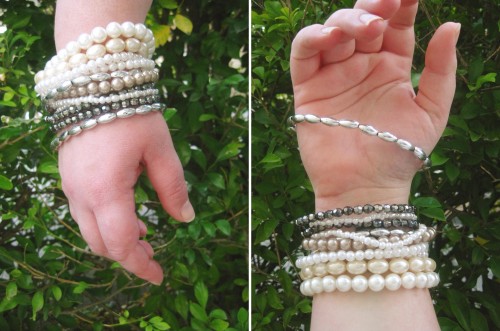 One of the things that frustrates me the most (because I'm so used to being disenfranchised from actual fashion) is the accessories thing. Fat girls apparently have the best accessories. Except if their limbs are bigger than normal sized limbs. I am big (not necessarily fat) all over, so that means I can't just trip into a store and pick up some shoes, bangles or rings when I'm feeling sad about being sized out of garments. Wide fitting shoes are very expensive and until City Chic released their range of accessories, my wrists and fingers were pretty much naked. For years I have relied on Evans in the UK for my fill of footware and bling because it simply wasn't available here. Gratefully, CC have started to fulfill this need but the pickings are still slim. (Pun, um, intended? I don't know anymore!)
I just can't treat fashion in a lighthearted way. For many of us, fashion is linked with distress and disappointment. It's pretty obvious from many conversations I've had with local fashion designers, and some straight sized fashion bloggers, that the industry just doesn't get how plus size bodies are othered by the industry they're so in love with. Even more disheartening than not fitting into fashion is that lots of industry people are resistant to the idea of inclusion because it subverts a hierarchy that rewards the most normalised and accepted (i.e: middle class, white, slim, able bodied). Because fashion is apparently "aspirational" (it grosses me out how that's a perfectly acceptable defense of exclusion of different bodies in glossy mags and on catwalks!)
One of the most fabulous and powerful things to happen in the last decade, beside plus size shopping online, has been the fatshion blogging movement. It's about time fatties were given back their heads and their humanity, along with a glimmer of inspiration and solidarity through community. And that's why I take photos of my outfits and post bitter diatribes against the fashion industry!
The end.