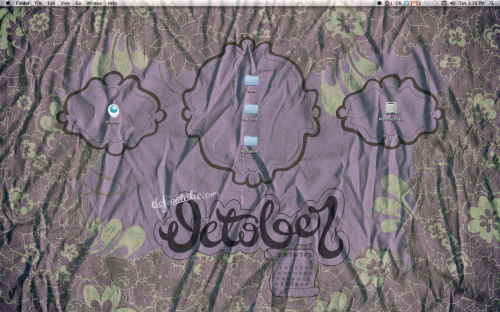 If I sneak in and deposit these desktops right here, no one will have any idea that they are five days late…. right?! Unfortunately, no. I know you've been waiting and I'm so sorry for the delay. My sister got married and I've been doing all manner of things but now October can officially begin!
The fabric texture you see here is actually a scan of the silk dupion used in my wedding dress. No, it wasn't purple! It was red! I tweaked the colours ;)
Get your resolution right here:
1920×1200
1920×1080
1680×1050
1600×1200
1280×1024
Wallpaper for iPhone (320×480)
Wallpaper for other phones (240×320)
I spend around 12-24 hours on each desktop, inking and drawing each element before scanning everything and pulling it all together in Photoshop for each desktop resolution. If you'd like to throw in a couple of bucks to contribute to the time spent drawing each desktop as well as my general hosting costs for definatalie.com and my flickr account, your donation will be much appreciated. <3

This work is licensed under a Creative Commons Attribution-Noncommercial-No Derivative Works 3.0 Unported License.
You may not upload this desktop to other websites, nor may you use it for any other purpose than to wallpaper your desktop. This also means it's uncool to alter it and reupload it somewhere as your own work.