I got my parcel of Beth Ditto for Evans stuff on Friday when I was actually at my mother's preparing for my sister's wedding! Nick called me up to tell me especially, pretty cheeky or caring husband? HMMM! I tried on my stuff last night and was super excited to take photos so I could report back to the fat-o-sphere with my findings. Let's go!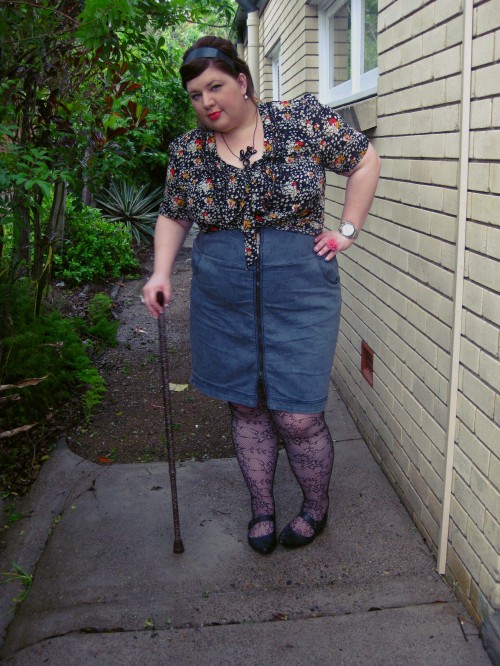 Firstly, allow me to introduce you to my walking stick. Since my foot is pretty much buggered I need help walking around and this leopard printed number does the job. Now, here you can see the floral print denim skirt in a kind of late 90s style outfit (well, the kind I would have worn back then). I have a big tummy and I'm not very fond of the way this sits on me, it just wants to keep sliding upward!
Blouse: Target
Skirt: Evans
Stockings: Evans
Shoes: Payless? Spendless? I can't remember anymore!
Necklace: Me
Ring: City Chic
Watch: Bijoux Terner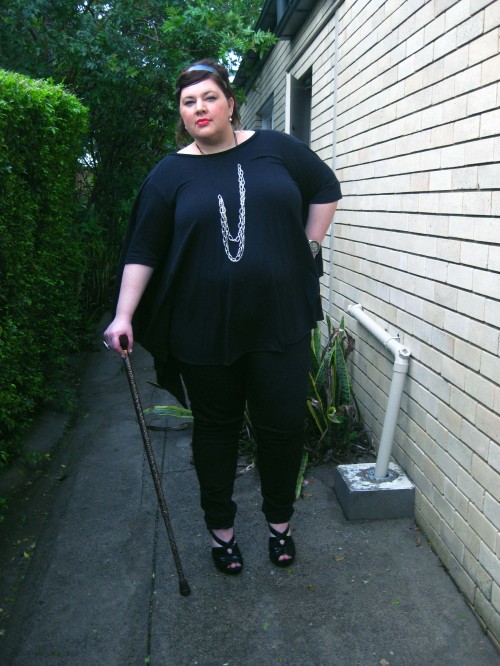 I was in love with the idea of the oversized hanky hem top because it looked like something I'd enjoy figuring out. The photo on the Evans site is SO misleading as the top is actually a square of fabric with a neckhole and two sleeves. I still really like it though!
Top: Evans
Jeans: Asos Curve
Shoes: City Chic
Necklace: Me
Ring: City Chic
Watch: Bijoux Terner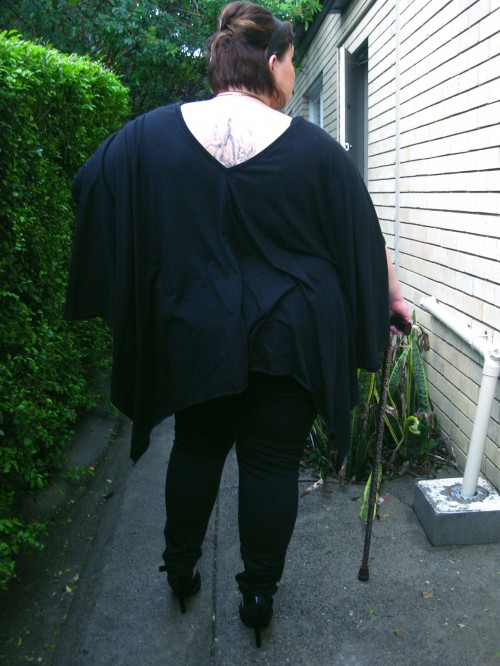 This was a surprise – the back neckline is V shaped! It actually came with a ribbon connecting the shoulders (at the neck seam) but I snipped it off as it strangled me. The product photo does not show you this feature, and I have no idea if it was even meant to be snipped however the neckline does stretch now that I have removed it.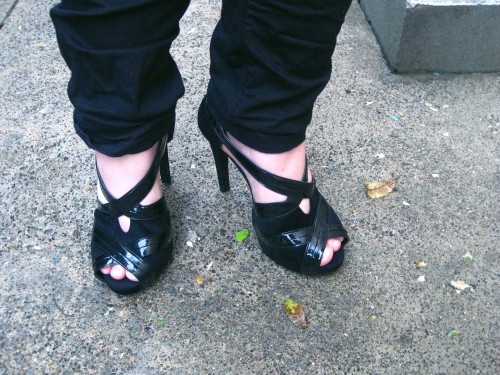 These shoes are responsible for screwing up my foot so bad that I need to use a walking stick. Thanks, City Chic. >:( I only wore these for the photo, never fear!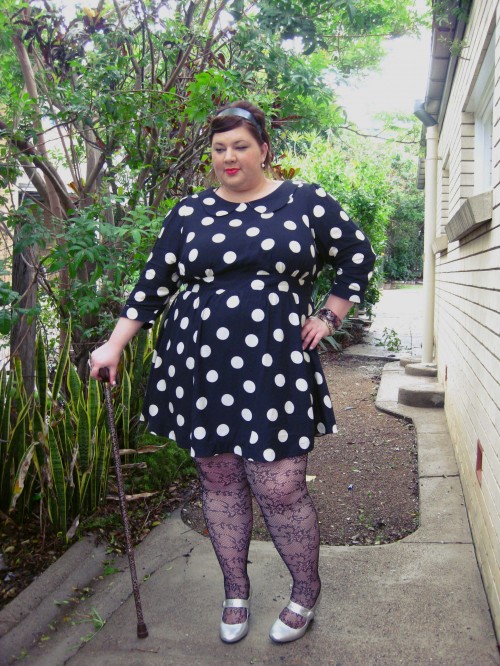 HELLO POLKA DOT DRESS! I knew that I must have this dress when I saw all the promo photos and while everyone adored the red chevron print dress, it was this one that really spoke to me. I am somewhat disappointed that the dress went into manufacturing without the contrasting black collar.
Dress: Evans
Stockings: Evans
Shoes: Evans
Floral bangle: City Chic
Brass bangle: Evans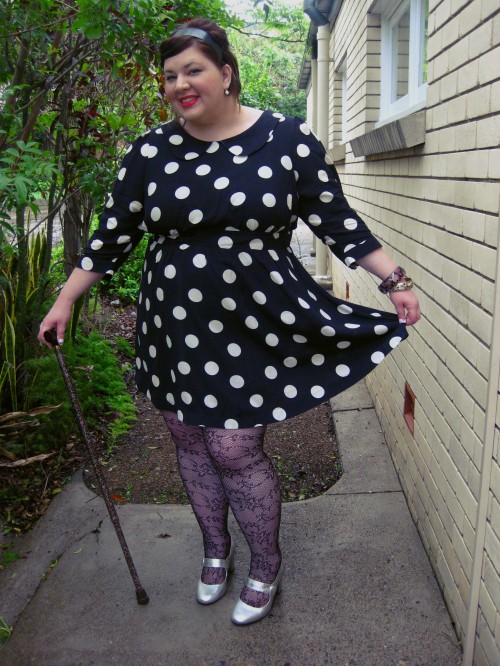 It is very short on me! I kind of want to find a petticoat to make the skirt fuller. The dress comes with a slip that is far too short and kind of useless; the polka dot fabric is not see-through from my observation. (Though I haven't done the Princess Di and the See Through Skirt test yet.)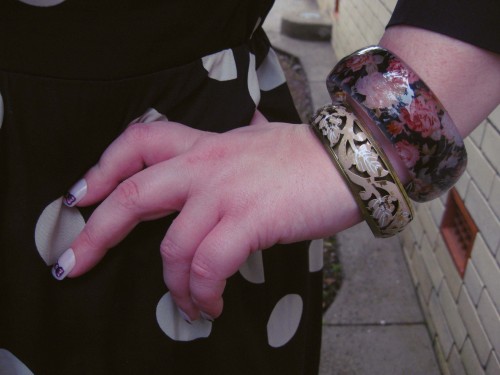 I told you all I would try to copy the bow nails I posted on the last Friday Fance! It was hard to do it without a nail technician's skill and tools, but I'm pretty happy with the outcome. I wore these nails (stick on ones!) to my sister's wedding and they've stayed stuck on since then – I totally recommend Nailene nail kits (thanks Miss Violet for putting me on to them!)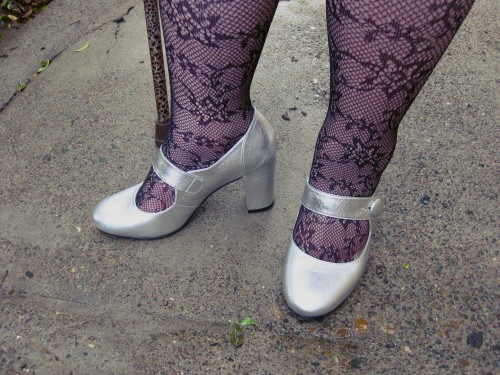 Final things from Evans – the silver mary janes and some lace tights that aren't part of the Beth Ditto collection. I have bought tights from Evans before only to be disappointed so I was really apprehensive as I tried these on. I was so happy when I discovered they fit! For the record: I am 175cm tall, UK 24/26 and bought size 3.
I want to do a post where I show off all the fabulous fatshionistas who bought the polka dot dress – if you bought one, would you leave me a link to a photo of you wearing it in the comments? We will polka-dot-wash the world!