Before we start you need to watch Shoes by Kelly to get you in the right frame of mind. Forget about all those other blog posts you were just reading, this is all about shoes. My shoes. Ok… hit play and I'll twiddle my thumbs until you're done.
So, I've been inspired by Memily's Shoetember and Marianne's "It's never just about the shoes…" and decided to do a stocktake of my shoe situation. Footwear is a difficult issue for me as I've got large and wide feet with high arches, scarred and destroyed ankles as well as large calves. I have never just been able to go into a shoe store and pick out any pair of shoes. I thought I had a pretty modest shoe collection until I actually went through my wardrobe…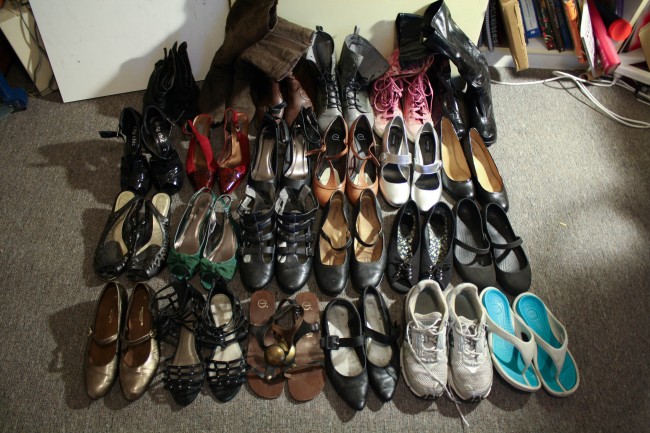 I thought I had about 10 pair… turns out I have double that. This doesn't even include the 6 pairs of shoes I need to throw out because they've either been worn to death or are simply too narrow for comfort!
I have such a tortured relationship with shoes. Those that fit my feet are very hard to find in brick and mortar retailers, and the very select stores that do cater to my flippers stock footwear that is very much out of my price range. Finding online retailers was a huge revelation for me, in particular Evans who stock wide fittings (in E and EE) in larger sizes for very cheap. I think my shoe collection doubled after I started shopping there!
Let me tell you some stories.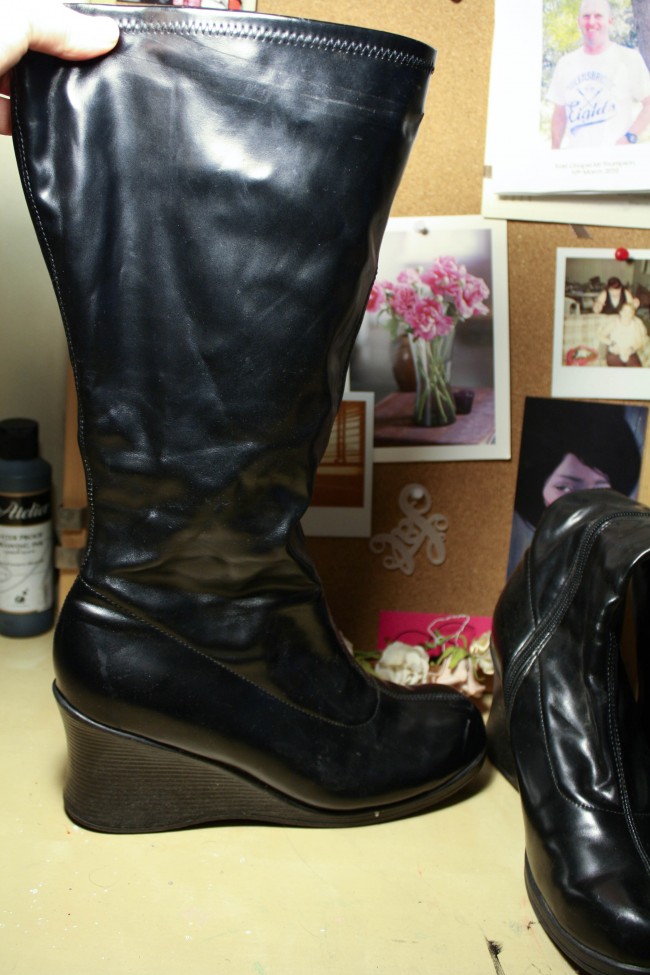 The boots that changed my life.
In 2007 I was so frustrated with not being able to find any boots to fit my calves that I decided to go ahead and buy a pair of boots from Torrid. It was a big deal for me because I'd never bought shoes online before much less from another country, so I did a huge amount of research before settling on these black shiny boots. A friend in the States actually went into a Torrid store to purchase them for me and shipped them over, so I didn't have to pay the ridiculous shipping charges that Torrid STILL want Australians to pay. The delivery person came, I actually yanked them out of their hands and ripped the package open and put them on straight away. I had ordered a size too big, but they actually FIT my calves! It was a revelation. I still wear these.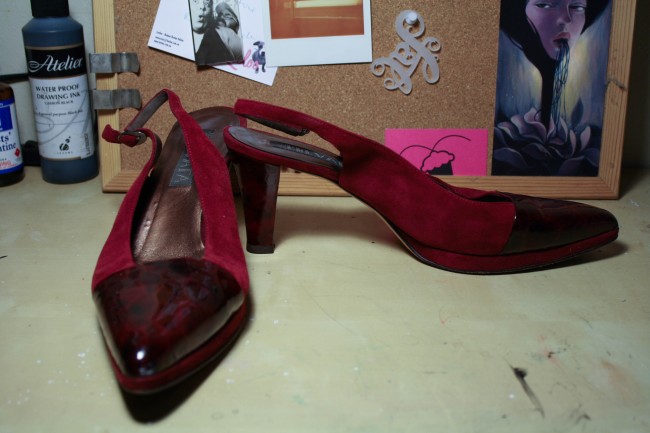 The most special shoes.
I wore these Prevata shoes when I got married in 2008. Let it be known that I have 10cm on Nick when we're both barefoot, so I actually towered over him on our wedding day. I'd been searching for wedding shoes for weeks and out of desperation went into Peter Sheppard in the city. They're apparently known for catering to "hard to fit" feet and for that you pay a huge "hard to fit" tax, so it was definitely a last resort situation. I don't know if the Myer center store was fresh out of size 10 E fittings that day but the sales assistant swore they only had like three pairs of shoes that would fit me including this pair. She also swore black and blue that I was a size 11… something that hasn't been true in any other store but theirs, curiously. Anyway, I really loved these. I had to put them on layby to purchase them because they cost a metric buttload, and even though I haven't worn them since my wedding day they're still my most special pair of shoes.
The most badass boots.
These Evans boots are only relatively new to my collection but they have been long anticipated. In the 90s I had a pair of Doc Martens but they were never comfortable because I needed a wider fitting and because my foot was so high (due to my arches?) the top of my feet were usually bruised after wearing them at uni all day. When I saw these boots on the Evans site I was like BUY BUY BUY! I look forward to wearing these with mini skirts and lace tights. It's a pity winter has run out, but there's always next year…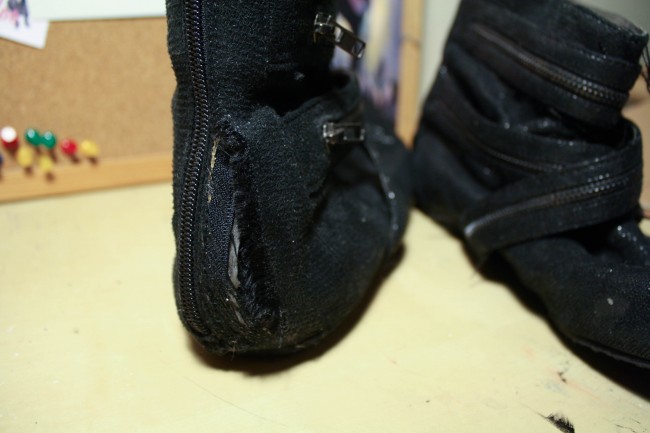 Oh god, just throw them out already.
I found these sparkly zippery boots in Bourke St Target when I was in Melbourne earlier this year and was filled with glee when I found that they could accommodate my foot. I wore them to death. I literally actually wore them to death. And I still don't want to throw them out. In fact, I shall call these my zombie boots. They have a huge rip in the back of them but I'm going to hand sew them and restore life to these boots because I always have fun when I wear them. I'm not a superstitious person but it's just a simple fact: These boots make things better.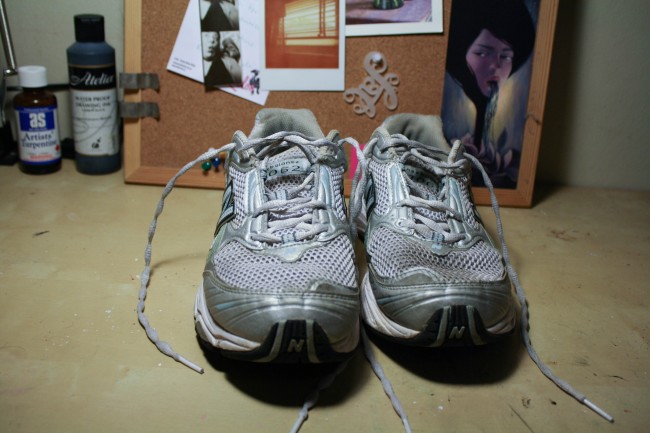 I have walked so many kilometres in these shoes.
Before buying these New Balance trainers last year, I'd been wearing a pair of 10 year old Adidas joggers. I realised I'd have to trade them in when I saw that when they sat on the floor you could tell my ankles roll in when I walk because the sole was worn down in a very slanty way! So, we toddled off to whichever sports shoe shop that does the imprint thinger to tell you just how much money you need to drop on a pair of fancy exercise shoes, and we spent about $250 EACH on a pair of these trainers. And we did actually buy the same trainers, funnily enough! Nick's pair have a dark blue "N" and mine have a light blue "N". Do you wanna vomit yet?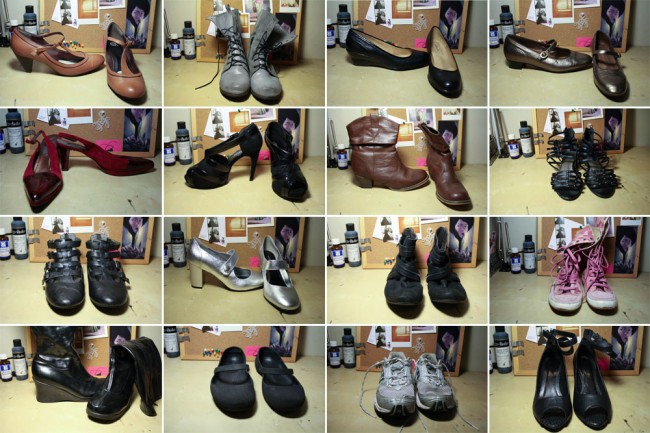 These are some of my favourite pairs of shoes. I don't wear them all as much as I probably should, but I've had problems with my feet in the last few years and tend to wear flatter and more supportive shoes just because, well, I don't like being in pain. I damaged my ankles and arches quite badly wearing stilettos as a teen, and since then I've never been able to last more than a couple of hours wearing heels. One of the things I always think about when considering a pair of shoes to wear is, "will I be able to run in these if the need arises?" I tend to let the answer guide me in my footwear choices more and more as I get older!