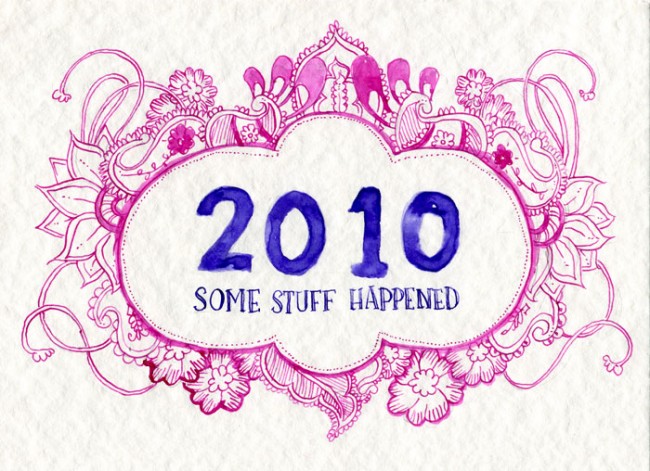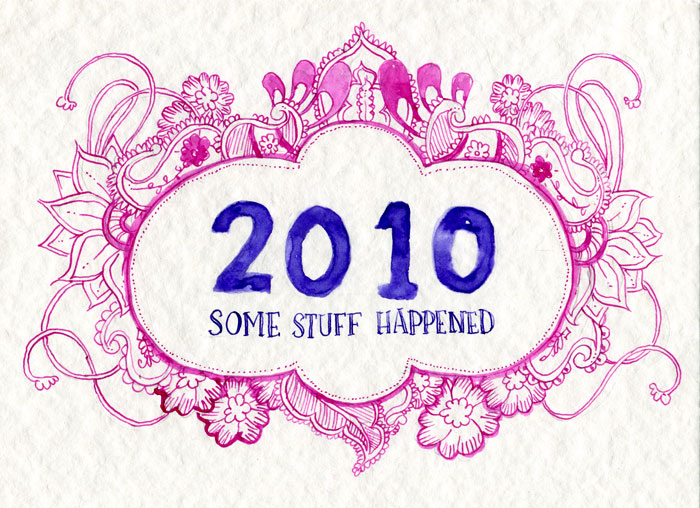 It's the last day of the year and I've seen a bunch of blogs do recaps of the highlights of their year, and so I thought I'd do mine too. This year was packed with fun and challenge and sadness, and I can't say it was a terrible year but I can say it was a year of growing as an artist, a writer and a person. I did some stuff that astounds me even now, I just can't believe it was me who flew alone to interstate fashion events and presented at an academic conference!
Here's some of my favourite blog posts from this year, I hope you enjoy reading them again or for the first time.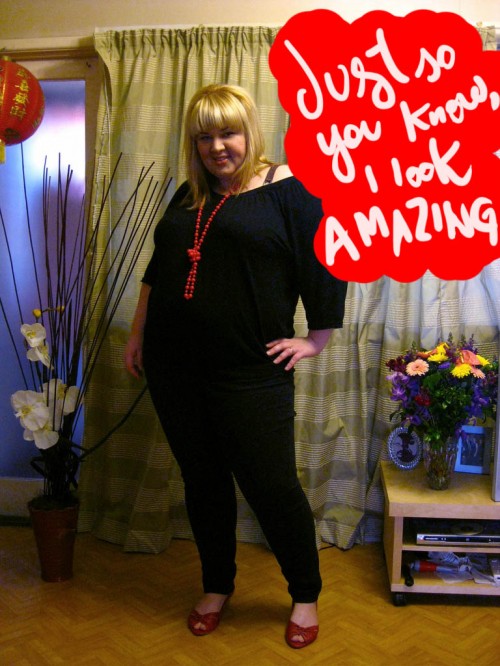 Body Image
Tights are Tights
After being so horrified at the amount of body and fashion policing I saw when it came to the issue of "tights as pants" I wrote a post about tights just being tights. The reception was split quite evenly in half, with the anti-tights as pants group dealing in a lot of body shaming which was frankly awful to read when I was moderating comments.
You can't bully me out of my skinny jeans
I wrote this post after I found a photo of me wearing skinny jeans had been posted to a fatphobic facebook group. It was republished on Jezebel and I found me a whole bunch of new readers (hi!)
No more Frock Watch Mia, please.
A plea to the chairperson of the National Body Image Advisory Board, Mia Freedman, who runs body and fashion shaming posts on her blog. This was reposted in full on Mia's site with "pure fucking tripe" added at the bottom by Mia's assistant Lana. Mamamia is considering running advertorial content by a weight loss company. Mia Freedman clearly knows nil about body image and actively participates in making people feel bad about their bodies.

Confessions of a former snarker.
Following up the Frock Watch saga, I decided to publicly admit that I have participated in hurtful behaviour by snarking people based on their bodies and what they wear. Admitting you are wrong is not the end of the world, it's just the decent thing to do.
My feral leghair, and why I'm going to grow it.
Wherein I decide that my body hair is mine to do with as I please, after I saw a segment on The Gruen Transfer about the marketing campaign in 1915 to get women to shave their armpits.
Performing beauty, editing out my flaws.
I still feel quite raw about this post. I have scarred and blemished skin, and I have been wearing makeup to cover it up for over 15 years. Beauty is a performance, a ritual and a burden to me, and I talk about feeling like a liar when I use makeup and use Photoshop to fix my skin.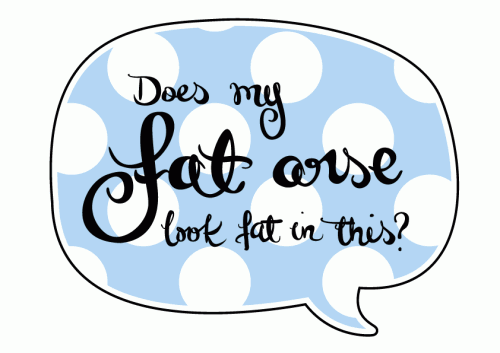 Fatshion and Activism
DIY Project – Fringe Skirt
Make a cute swirly, flappy fringed skirt out of t-shirts!
The best argument against the evidence of democracy in fashion is a conversation with a fat woman.
I talk about feeling othered as a fat woman within the fashion world, particularly after I went to a few events and felt very odd not having the "right" clothes and hair. For all the talk about blogging heralding the democratisation of fashion, well… I just don't think it's there yet and I doubt it will be for a while when a whole bunch of people are excluded from participation.
Rejecting the notion of the flattering outfit.
If you're a person who doesn't have an "ideal" body, you'll be familiar with the word "flattering" and how it acts to erase bits of your body. In this post I write about how I actively reject the practice of flattering as a way of finding acceptance of my body.
Lane Bryant, your market is changing #teamfance
Someone in charge of Lane Bryant's twitter account took umbrage at my reclaiming of the word "fat" and teaming it with "arse". Amazingly, twitter's fat brigade fought back!
#teamfance is the best team.
Photos of some fabulous people wearing my fat stuff!
Ridiculous outfit, serious topic.
Talking about fatshion blogging as a way of normalising bodies that are made invisible in mainstream culture.
Help me get to the fat studies conference.
After being invited to present at the Fat Studies: A Critical Dialogue conference in Sydney I realised I didn't have enough money to get there. So many people donated so I could fly down there and speak about fat embodiment on the internet, and it was really freaking amazing.
You Sound Fat: Fat Embodiment Online
I made the paper I presented at the fat studies conference available in text and video format.
Reflections on and photos from the fat studies conference.
This conference blew my mind, and it was amazing to be present at the first ever fat studies conference in Australia. So many of us from all over Australia (and the world!) met for the first time and being amongst community was especially enthralling. Sam Murray tells me the conference will be an annual event, so I encourage Aussie fats to get there (I want to be there too!) in 2011.
Thirty and angry and fabulous, darling.
Musings on turning thirty, wearing clothes and being passionate and angry.
As my year closes, I am struggling with mental illness and I think it's going to be something that stretches into my 2011. My anger at the way mental illness is treated in our culture has been renewed, and I want to be really candid about how I navigate this episode because people with mental illness are frequently silenced and dismissed. Sometimes I feel like I'm being a bad blogger by being so confessional, I feel guilt that I don't have regular content and that I am often pissed off, but this place is my platform and I must remind myself that if I don't speak my truth then no one will.
Lately I have felt like the reason why I don't get the opportunities that other bloggers get is because I am candid and very critical of a capitalist culture that ignores so many people. I took part in one blogging advertorial campaign this year, and I did it because I'd never done it before and because I had anxiety about traveling alone that I wanted to confront. It was a lot of work and probably didn't compensate me for the work I did, the time I spent on it and the work I had to give up in order to participate. So, I will probably run ads next year but I will also be very careful about which campaigns to take part in, and considering I am a blogger who primarily writes about fatshion I doubt I will be considered for very many of those campaigns.
Next year I want more fun and challenge. I want to travel interstate even more and maybe even overseas for the first time (I don't even have a passport!); I want to build on my speaking and writing achievements; and I would love to hold a solo art exhibition. There are things I didn't quite finish off this year too. I wanted to put out a body image zine but it involved a lot of drawing and dealing with some very complex issues, so I had to put it aside. There was also that dress I wanted to scale up for plus sizes but I realised I didn't have the skills!
I'm not the kind to make resolutions, but I am going to commit myself to self care, challenge and personal development. If I slip up, I'm going to treat myself kindly and try again; and when I achieve things I'm going to take a moment and congratulate myself. Here's a list of things I am proud I achieved in 2010:
Published in a few books and zines: Semi Permanent, Curvy, Hair 'em Scare 'em.
Had a blog post syndicated on Jezebel.
Discovered I had over 1500 fans.
Flew interstate by myself to attend events.
Got my poster for Finders Keepers in Frankie (inside full back page!)
Exhibited my work in a few group shows.
Drew lots of commissioned stuff and designed an EP cover and band posters.
Saw the movie I drew a prop for.
Spoke at the fat studies conference and felt like a Bonafide Fat Activist.
Was more conscious of my digestion and decided to go vegetarian. Good decision :D
Started going to the gym on my terms.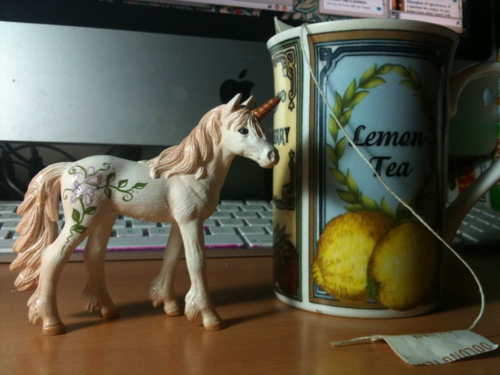 I hope 2011 is filled with opportunities and excitement for you. Dudley the unicorn says, "be fancy."
xoxo