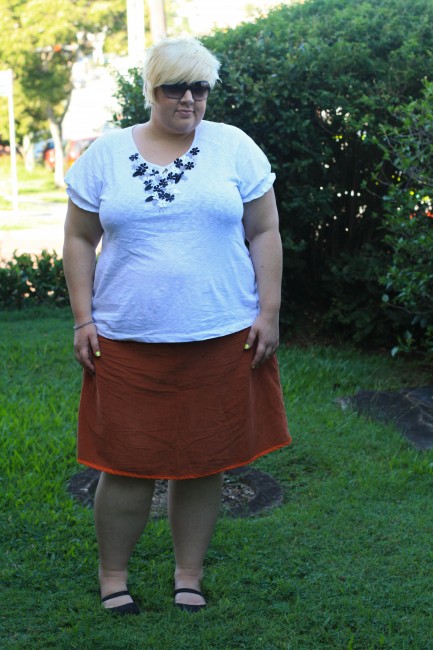 It's the last day of Fat(t)shion February and even though I don't feel like telling you about this day or the clothes that covered me throughout it, I feel like I need to. Because some days I don't want to pick clothes to wear. It's just too hard. Some days I just pull on random things just to pass for minimally clothed because other things are on my mind; and instead of being pathologised as lazy or sloppy I want to represent me as far more complex than a t-shirt and a skirt. I want to be represented as a human being with mental illness and other shit going on instead of being minimised or demonised. So I present you with my last Fa(t)shion February outfit. It's not for high fashion, it's just for representation.
So I went for my first session with a new psychologist today. It was hard and I'm sure it's not going to get easier before a bit more hard stuff. I think it's important to be realistic. I'm not sure how long my patchy blogging will continue for, or if I find a rhythm in routine. I'm trying not to feel guilty about it but it's very hard to shake off. I don't know if I'll write about it here because it's quite personal but I'm sure it will inspire tangents that get written about.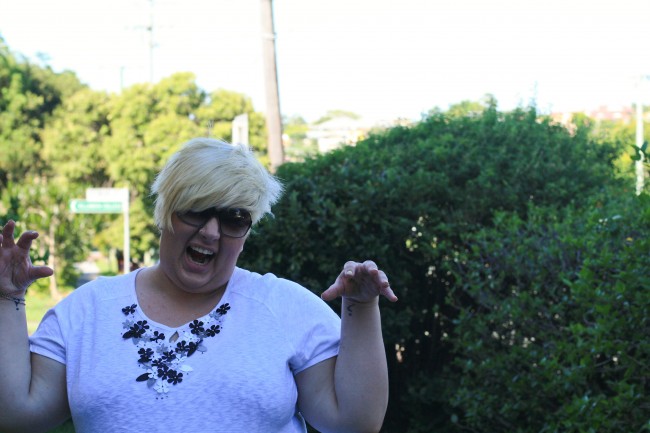 I usually deal with things by smiling, being goofy and shrugging things off. Unlike water rolling off a duck's back, these things fall into a big box in the back of my mind that I promptly forget about and deny. The pressure to appear like everything is ok, everything is fine, really gets to me. The therapist said I might be a perfectionist and I cried, "but I never manage to achieve perfection no matter how hard I try!" He scribbled on his paper and nodded saying, "well… that might be something we have to talk about later on." I'm just like an onion with the layers and the stinging eyes, and oh dear!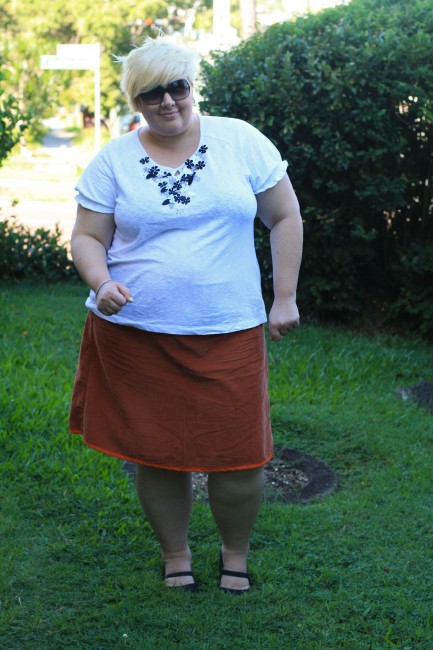 So yep. I managed to wear clothes today, thanks to Mum for giving me the t-shirt last night and pulling this long neglected DIYed skirt out because I liked the colour. It's not fancy and it's not totally fashionable but it's my life.
T-shirt: Kmart (I think?)
Skirt: Made by me
Shoes: Crocs
Sunnies: Valley market vendor