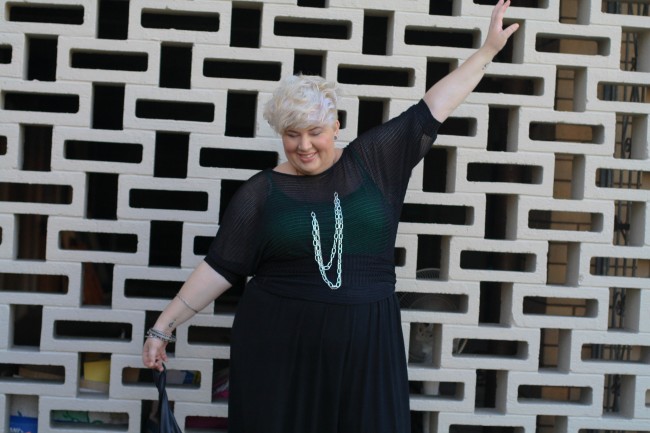 Last night I went to Nick's Dad and aunt's 60th birthday party. They are twins, and after learning of all the twins in Nick's family I am even more unsure of having kids. It's a big job just having one kid at a time, eep. But yes, I wore clothes and got Nick to document them. Horah!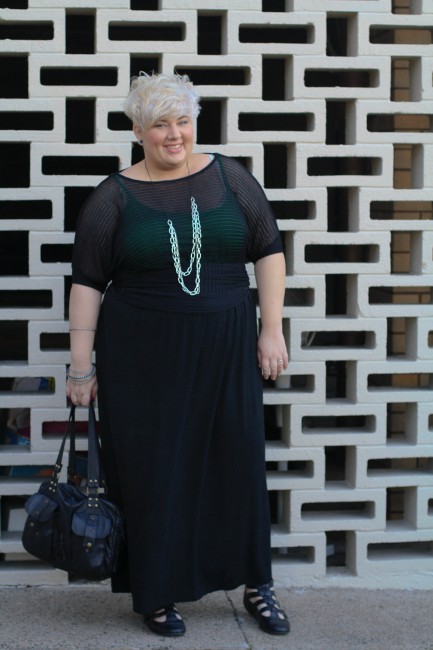 I own a lot of black clothes. A lot. Most of the time I can not tell one garment from another which makes it very hard when there's a particular thing I want to wear but some days it makes things easier. I simply grab something, chuck it on and go. Today was one of those days. I'm glad I grabbed this loose knit top, I want to wear more texture when dressing monochromatically. It's more interesting.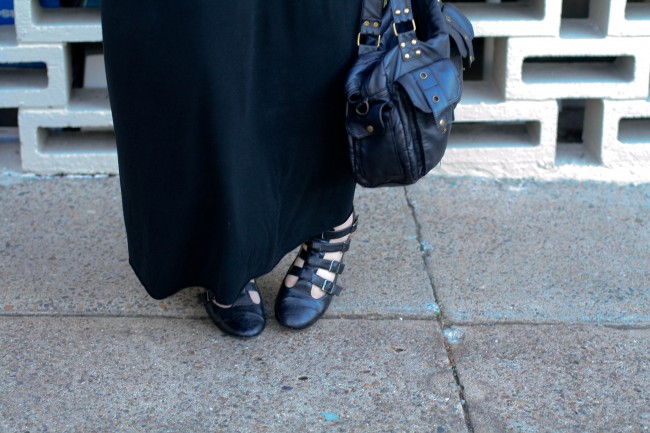 Got anything blacker?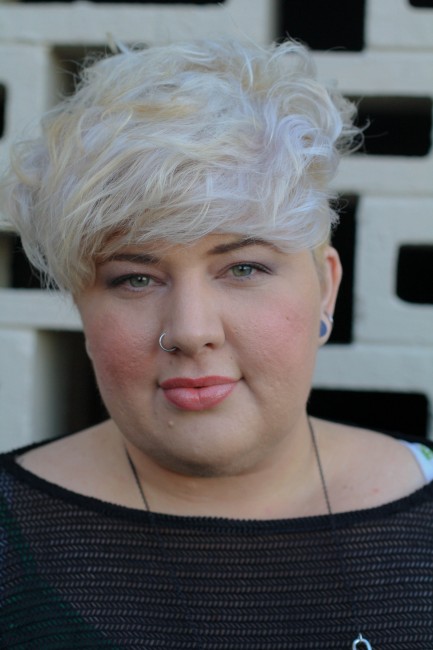 I have a tortured relationship with make up. For a long time I could not not wear it. It was my armour and made me feel better about having acne. When I am depressed I often can't be bothered, and more recently I just don't want to wear it if I'm just going to run errands. But there are days when I avoid doing things because I can't be bothered to wear make up. So it's still a thing I contend with, and not really a pleasurable thing either; most of the time I just wear foundation and blush as a mask.
However last night I did my eyes and brows because I felt like paying tribute to the late Dame Elizabeth Taylor. I watched a couple of her movies the other night and spent a lot of time in awe of those brows. I have a Benefit brow kit that I bought off eBay and I've been astounded at the things it can do! Lots of people can't stand dark brows with blonde hair but I think it looks ace. Good job me, and thanks for the inspiration and loveliness Liz.
Top: Jen's Fashion Plus on eBay (Has the shop closed? I'm getting dead links!)
Singlet: 1626 (Now Autograph)
Skirt: Made by me
Shoes: Evans
Necklace: Made by me
Bag: Dangerfield
Just a note – my site has been up and down and all over the place in the last week due to hacking and changing hosts and doing a complete reinstall of WordPress. The hack involved getting in through a folder that shouldn't be vulnerable and it redirected many links to another site which had been hacked and replaced with, ahem, dodgy pharmaceutical products. I'm sorry for any interruptions to normal service, and if you see anything suss please do let me know so I can fix it up!